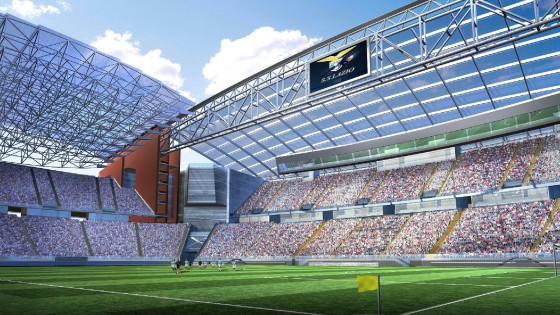 Back in 2005, Lazio President Claudio Lotito spoke about a future project which would see the Biancocelesti play out of a new stadium. Set to be named the Stadio delle Aquile, it would see the club leave the Stadio Olimpico after playing at the venue for most of their existence. 
While most of society expected further information or updates following this announcement, there was radio silence regarding this project for nearly 15 years until Arturo Diaconale (Head of Communications at Lazio) spoke about bringing Virginia Raggi (Mayor of Rome) to the Formello Sports Centre in June 2019, along with the press. This was to illustrate all of the redevelopment that had been made to the facility, explain what updates are to occur in the future, and outline the plans for the club's new stadium. However, this did not occur; since then, nothing has occurred with regard to the facility – just a few statements that have been made by Lotito…
"In Germany, Bayern Munich receives €80 million from television rights, and the rest comes from merchandising and stadium revenue. This gives them a total of about €700 million. In Italy, we have the complete opposite situation."

"The first idea I launched as soon as I entered football in 2004 was that of a multi-purpose stadium; that is, a facility open 24 hours a day. This would have brought Lazio additional revenue apart from those related to ticket sales and TV rights."

"Juventus, with their new stadium, have succeeded thanks to a series of initiatives, which I would have liked to carry out in Rome; creating a shopping center which would be an alternative way for the club to make money."

"I have land by the Via Tiberina – 550 hectares to be exact – that I made available to the club, free of charge. I had a project ready where the internal railway station would operate, leading directly to the stadium. We only needed a stadium sponsor which would pay a minimum of €50-60 million"

"However, filibustering occurred, saying that I wanted this to be approved only to build houses, which is completely untrue. Then there were hydrogeological constraints, which have since been solved. These were just attempts to not to let me start construction of this new stadium."

"Imagine. If our new stadium would have been built when I first proposed it in 2005, the proceeds from the constriction sector would have already repaid the system, Lazio would have had higher revenues, and perhaps we would have been in the UEFA Champions League for many years."
While Juventus already has their own stadium, Milan and Inter are carrying out a project to build their new stadiums, Roma is pushing for their new stadium, and Fiorentina is also arguing with the municipality of Florence to build their new stadium, Lazio pays rent for the Stadio Olimpico, an old and uncomfortable stadium, which costs Lazio €4 million a year, and their project is at a stand-still.
Since COVID-19 has hit, Italy as a whole has suffered massive losses; especially that from the football sector. As it stands, the Lega Serie A is in discussions with CVC Capital Partners (a private equity and investment advisory firm) in regards to the firm purchasing as much as 20% of Serie A for about €2 billion. This would include them managing Serie A television rights, in addition to creating a company responsible for building new sports facilities for Serie A clubs.
As it stands, the idea is that Serie A builds new stadiums for and together with the clubs. However, with CVC Capital Partners' entrance, this could all change. It would not only be a turning point for Italian football as a whole, but also Lotito, Lazio, and its fans, who could finally build the Stadio delle Aquile.