Nigel Gan is a dedicated Lazio fan from Singapore who is the author of '10,000 KM FOR YOU – The Travel Diary of a Football Fan: The Rome Derby'. Written entirely in English, the novel focuses on Nigel's adventurous journey to the Derby della Capitale between Lazio and Roma while also briefly touching upon both history of the club and how the rivalry between the Biancocelesti and Giallorossi kick-started back in 1927. In collaboration with Nigel, The Laziali will be releasing the book chapter-by-chapter (on the website) to promote his work to Lazio supporters worldwide; below is Chapter II: Formello.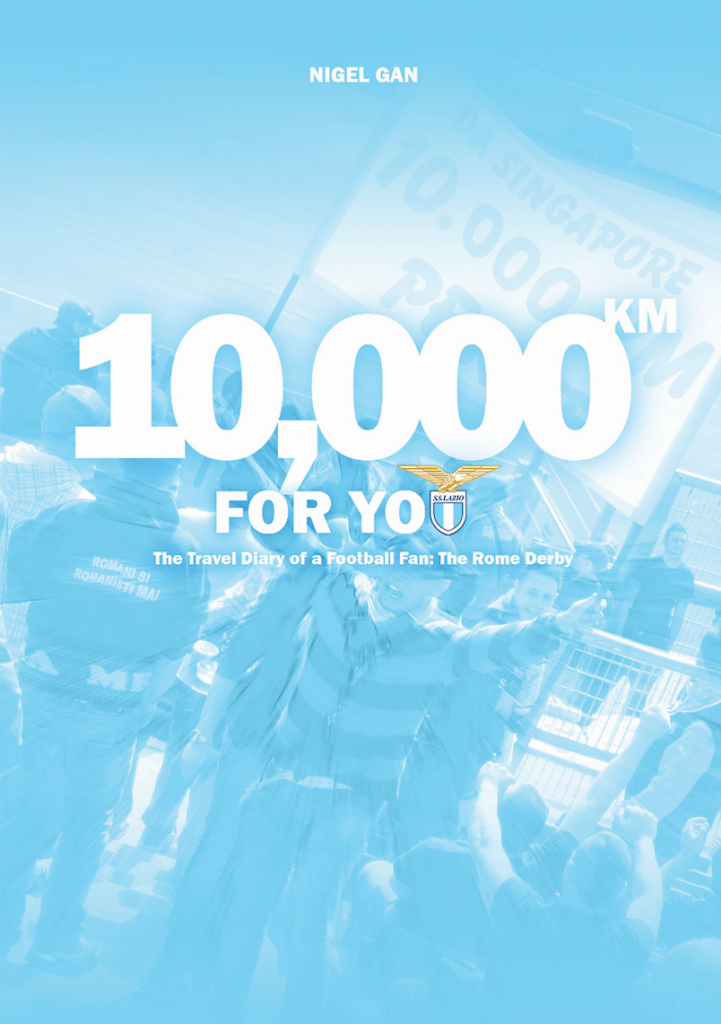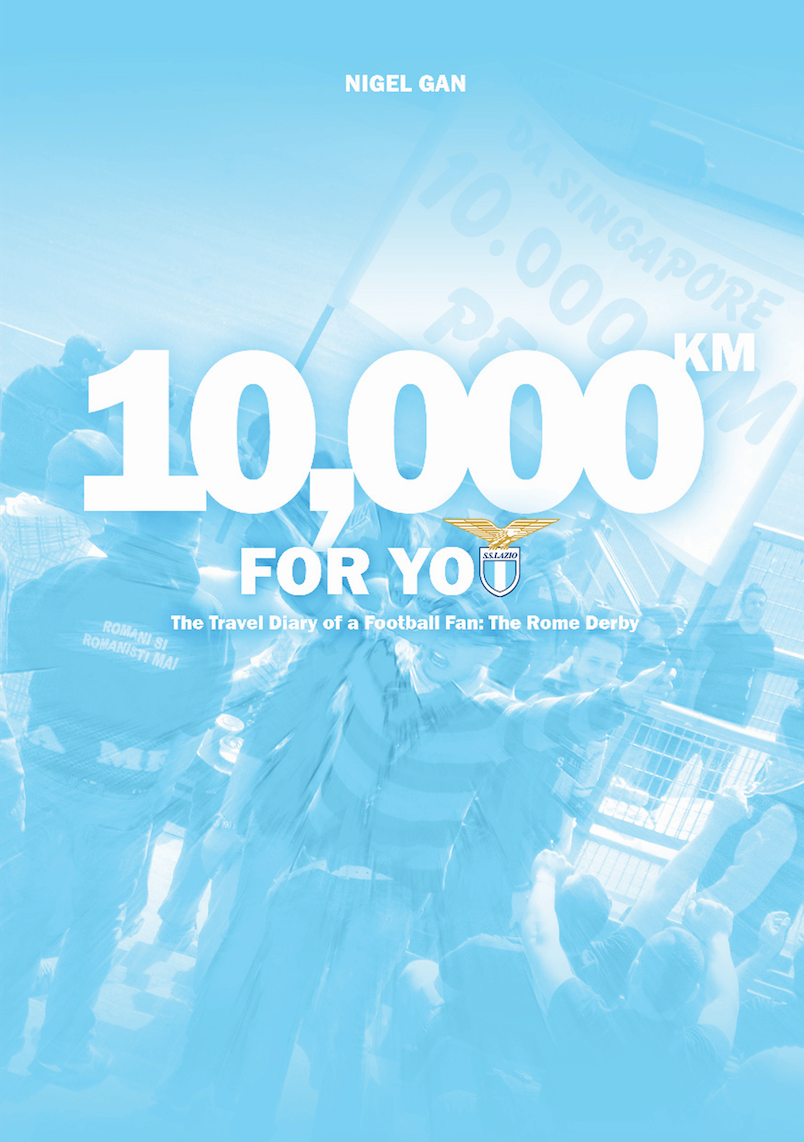 "Nigel, don't worry! I will take a day off from work and pick you up from the airport. We can go to Formello together!" The cheerful message was from Massimo, a friend I had met through Facebook. He had offered to pick me from Rome's Fiumicino Airport to Lazio's training ground, given the inconvenience of getting there without a car.
After a long hold-up, I finally exit immigration. It's impossible to miss Massimo and his red curly hair, which stands him out distinctly from the crowd. We hug and chat as if we had known each other for ages. A born-and-bred Roman, Massimo, under the influence of his father, he too became a Laziale.
When he was a boy, his friends often made fun of him for supporting Lazio – especially the supporters of Roma, who would brag about how strong their team was back then.
"The taunting by the Romanisti motivated me to support Lazio even more because they are so arrogant," Massimo had once confided.
Into his mid-thirties, Massimo speaks fluent English and is married to a beautiful Japanese girl. I'm introduced to his wife, Itsuko, who works at the airport. The hospitable couple chat with me cordially throughout the entire journey in the car.
"Formello will be opened to the public from 1400hrs!" A message on my cell phone reads. It's from Stefano, another Roman, although he's plying his trade in Singapore. We became good friends after he came across my Lazio blog on the net, and we started watching all the Lazio matches together.
However, due largely to the hold up at immigration, Massimo and I only arrive in Formello at four in the afternoon. The friendly match between Lazio and the amateur team has ended. Players are seen leaving in their cars and there are fans mobbing them for photographs and autographs.
"Let's go, we need to rush!" Massimo put on his Lazio scarf. We park our car illegally on the side of the road, which doesn't matter as everyone else is doing it, and make our way towards the huge crowd that has already formed around a black car outside the gates.
"It definitely has to be a superstar!" I say while doubling up my pace. And I'm right – it's Hernanes! The new Brazilian player that Lazio has just acquired from São Paulo is driving through the gates as all the fans mug him. Being a Singaporean, (and Singaporeans are infamous for rushing for everything) I dash forward and participate in the jostle, snapping away at my camera. It's fire at will! In spite of my enthusiasm and haste though, there's no chance left for me to get near the car, let alone secure an autograph or photograph with the Brazilian star.
Not about to give up on my quest to get his attention, I lift my white canvas banner that reads: 'Da Singapore, 10,000km per te' (From Singapore, 10,000km for you), and still it fails to attract his eyeballs. The supporters around me, however, could hardly miss it.
"What's that? From Singapore? This guy came all the way from China?" A man asked his friend. (It's a common misunderstanding that Singapore is part of China.)
Some others walk up to me, shake my hands and say, "Ciao, Grande!" However, that's as far as my Italian goes, so when they begin speaking to me in longer sentences, I simply reply, "Roma merda!" They all break into laughter and cheers, which surely represents a good sign – a sign of being accepted by the local Lazio fans. It feels great.
Shortly, players such as Mourad Meghni, Lionel Scaloni, Giuseppe Biava, Fernando Muslera, Javier Garrido and Stefano Mauri showed up. I manage a picture with centre-back Biava. He's all smiles as he stops to chat with fans and pose for photographs.
Fernando Muslera, the young and talented Uruguayan goalkeeper whom I had met two years ago outside Stadio Olimpico, is also amongst the players exiting the stadium. Of course, he would not recognise me now, but there's a chance to get near him for photographs. As I jostle with the fans for a glimpse of him, Massimo shouts, "Don't worry Nigel! You go! I will hold the banner for you!"
What happened next is the sort of moment that gives people goosebumps. Muslera gets out of his car, and walks towards a fan on a wheelchair. They embrace and take some pictures together. This unexpected gesture of goodwill warms my heart to its roots.
I'm hoping to meet the captain Tomasso Rocchi and playmaker Cristian Ledesma, but that ends in disappointment too. The last player appears to have already left the training ground and I curse under my breath. Then, a fat boy around eleven or twelve years old walks up and speaks to me in Italian.
With the help of Massimo, we have a decent conversation.
Fat boy asks innocently, "Did you really travel 10,000 kilometres to watch Lazio play? What songs do you know how to sing?"
Spontaneously, I hold my banner up high and start to sing at the top of my voice,"E La Roma Merda! E La Roma Merda!" (Roma are sh*t! Roma are sh*t!)
The rest of the crowd joins in for the climactic part. "Fogna de sta cittaaaaaa!" (Stinks like the city sewage!)
There are smiles and laughter all around, and more words of compliments from the supporters, as they walk up to me to shake my hands.
"Go on go on… What other songs do you know? Let's sing it together!" Fat boy is excited. "Nel Cielo Biancazzuro Brilla Una Stella…" I sing.
It's 'Vola Lazio Vola', Lazio's official anthem, and the rest of the enthusiastic fans join in. Whilst singing, a bald man in his forties comes up to me and sing along. He reeks of alcohol.
"Duce! Duce!" He shouts happily and pats on my back.
"Duce? No!" I smile politely. 'Duce', which means 'leader' in both Latin and Italian, is the nickname of Italy's former fascist leader, Benito Mussolini.
For many years, Lazio and her supporters have been linked with accusations of fascism and racism. But let us be clear that, at least for me, these two things do not mix and never will. Most Lazio fans are from the far right politically, but that does not mean they are racists. Everyone is free to choose their political beliefs, and I respect that. Besides, the world has come a long way from the brand of fascism that shaped Italy during World War II. That era is now gone and for many, it is an ideology that is not practical in modern society.
Having said that, I am not a fascist. Through the years, I have been asked hundreds of times why I support Lazio, with her political leanings. I have grown so sick of answering that question and defending Lazio that sometimes I would rather just not talk to them, as some could never understand.
However, if I have to put my passion for the team down to something, it is to debunk the myths of popular opinion owing to the true nature of club support.
The media exerts great influence on what its publics think, especially in an information age where media content is consumed on a daily basis.
If the papers were to report that David Beckham was actually gay, I would hazard a guess that the chances of people believing this piece of news are very high. Most people almost believe everything they read or see from the papers and television these days. It is the case even when the articles sound absolutely crazy.
Marco Materazzi's story is a case in point. The day after the 2006 World Cup final, a trio of British tabloids, Daily Star, Daily Mirror and The Sun, through the help of a professional lip-reader, alleged that the Italian had racially insulted the French captain, Zinedine Zidane, by saying, 'You are a son of a terrorist who*e!' – which led Zidane to head-butt him.
Eventually, Materazzi won the libel case against these three British tabloids. The London high court ordered them to withdraw the allegations, and pay him substantial damages for ruining his reputation. The moral of the story is this: Newspapers have to sensationalise stories to capture their audience's attention and generate sales, and as a result, they would resort to anything to do that.
I do agree that a minority of Lazio supporters are racists, and that it is mainly due to their sheer ignorance. But by generalising all of them as racists, I am afraid the critics themselves are being ignorant. The truth is that these minorities do not represent the rest of Lazio fans around the world.
In a larger context, however, these minorities exist everywhere in the world. In 2006, when Samuel Eto'o was playing for Barcelona against Real Zaragoza in a Primera Liga match, he nearly walked off the pitch in protest after becoming the subject of monkey chants by a small section of the stadium. In England, Tottenham fans racially abused former Arsenal player Emmanuel Adebayor, who was playing for Real Madrid against his former London rivals in a Champions League fixture. They sang at him, "Your dad washes elephants; your mother is a whore", which was obviously insulting, but which also stemmed from a minority of ignorant fans.
Based on the above isolated cases, I am sure one cannot classify that all supporters of the Spanish Liga and English Premier League are racists. The same logic thus applies to Lazio and its fans.
Lazio supporters sparked worldwide controversy when they displayed a banner that reads, 'Teams of Negros, terraces of Jews' during a derby match years ago. The football world condemned Lazio supporters as being racists. But a Lazio ultra I know told me that the banner was meant to taunt the Roma supporters and nothing more.
"It is one of the many stadium taunts we did to Roma, and would only remain in the stadium. We did not stab any black guy in the streets."
"Supporters do not know fair play. Whatever we can sing or scream to make my team win, we will do it! I don't care if I offend the opponents because for ninety minutes, they are my enemy," he added.
"The Lazio supporters do not jeer at the opponent's black players for being black. Rather, it is a form of taunting that supporters do in order to break their concentration, handing Lazio the advantage," an anonymous Lazio fan wrote on an online forum.
I could not agree more. From a fervent supporter's point of view, what the Ultra said makes perfect sense, as I too will do anything necessary to make sure the opponent has a hard time against my team. However, I do not condone racial slurs. I would not feel morally at ease doing it, and cannot imagine what it would be like if I was being whistled or jeered at instead.
The other misinterpretation that most people have about the club is that no black player wants to play for Lazio. Such misconceptions are entirely fabricated, and without grounds. I remember growing up watching Aaron Winter play for Lazio and, it just so happens he is still a well-respected player in the Curva. In a recent interview, he mentioned his initial worries and concerns when he first joined the club (Winter is Jewish), but such thoughts quickly diminished when he won the hearts of the supporters, and became a cult hero.
Osumane Dabo is a French player of African origin who won two Coppa Italia titles with Lazio and is most fondly remembered for his winning penalty in the 2009 Coppa Italia against Sampdoria, affording him raucous applause and a heroic sending-off by the Lazio supporters when he bade farewell to them at the Stadio Olimpico.
The other black players that come to mind are Gaby Mudingayi, Cesar Rodrigues, Christian Manfredini, Stephen Makinwa, Eliseu Pereira, Andre Dias, Daniel Ola, Fabio Liverani, Claudio De Souza, Djibril Cisse, Abdoulaye Konko, Luis Cavanda and Modibo Diakite. For the record, they have not received any death threats, nor were abused racially for their skin colour. All are very much still alive and kicking presently.
Outside the gates of Formello, the supporters, seemingly impressed by my Lazialita (passion and love for Lazio), are smiling and shaking their heads in disbelief.
"If you have Facebook, please add me as your friend, ok?" I say.
The teenagers come forward to exchange emails, and take some pictures together with my banner. After the group pictures, we say our goodbyes and part ways. As we drive past the fat boy, he shouts "Grande!", while jumping and waving excitedly. It's a hilarious sight, and I burst into laughter.
In the car on the journey back to my hotel, I slip into deep thought. I had a great time interacting, and singing with the supporters earlier. It's unbelievable how well I blended with them in spite of the language barrier. So it is true that football speaks a common language and unites people regardless of race, language, or religion.
It is a pity that I could not enter Formello to catch the training session or meet our mascot eagle, Olimpia. However, the interaction with the supporters definitely made up for it all.
My thoughts drift to the match on Sunday. I'm pumped up for the game, and as we drive past the iconic ancient forums of Rome, I find myself gritting my teeth and murmuring under my breath.
"Roma Merda! Bloody wolves."