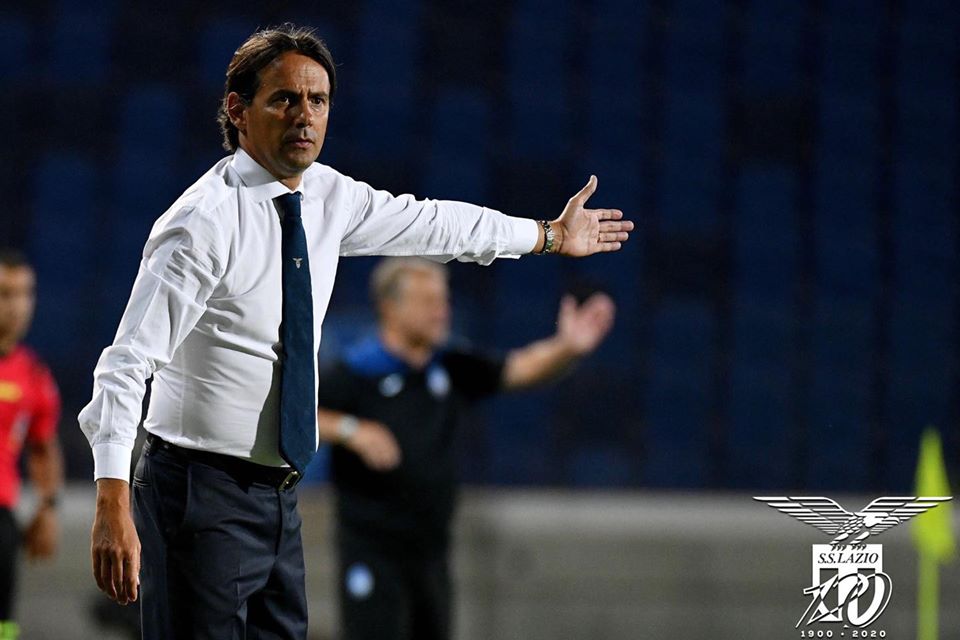 In arguably Lazio's hardest fixture left, Atalanta fought back from 0-2 down to win 3-2 at the Gewiss Stadium in Matchday 27 of the 2019/20 Serie A. The tactical analysis for this match looks at Atalanta's impressive pressing, Lazio's fatigue, how substitutions affected the game, and a look forward to the Biancocelesti's next fixture against Fiorentina.
Atalanta Press
The Atalanta front three consisting of Ruslan Malinovskiy, Remo Freuler and Duván Zapata were key to the Atalanta press. Their joint heat map below shows just how high they were throughout the game. It also shows how narrow they were despite lining up as two wingers and a striker.
The Atalanta press starts as soon as Thomas Strakosha has the ball. Patric has had to come short which was a theme for the game, Strakosha has limited options.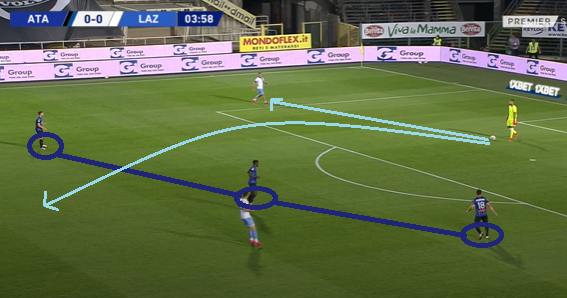 The ball is played through the line into Danilo Cataldi, however, Alejandro Gomez joins the press and closes him down. Cataldi's only option is to pass it back to Patric.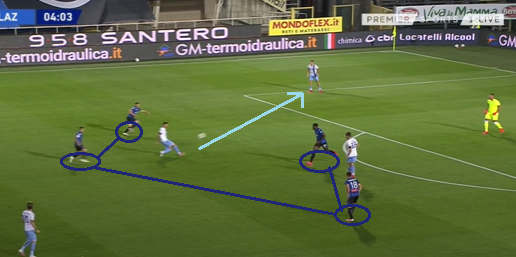 The ball is then played back to Strakosha who is forced to clear long, the clearance is miscued and Atalanta have their first good chance of the game.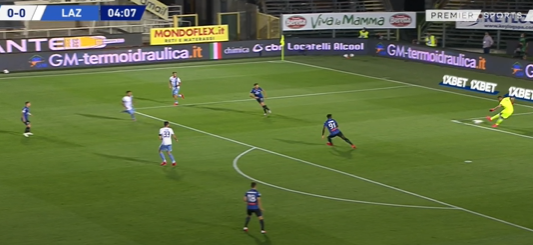 Lazio attempt to break this press by passing through the front line and flicking the ball left or right. This works to perfection for the first goal. However, when the flicks don't come off the ball is often lost. This is why Atalanta had so much possession during this game.
Atalanta Wearing Lazio Down
Lazio, much like Atalanta, are a high energy team that loves to press opponents. After the long break and only one friendly match, Lazio looked tired. The usual press was swapped for sitting deep and hoping Atalanta would make mistakes.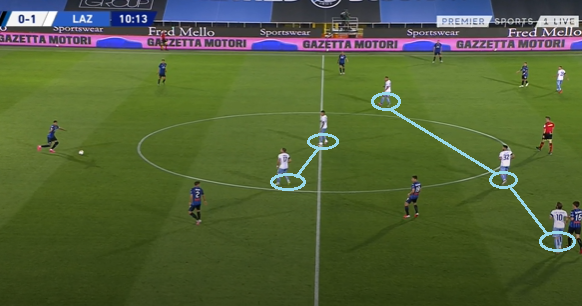 Atalanta used this to their advantage for their first goal. Luis Alberto didn't close Malinovskiy down quick enough and so the pass into space for Zapata was fairly easy.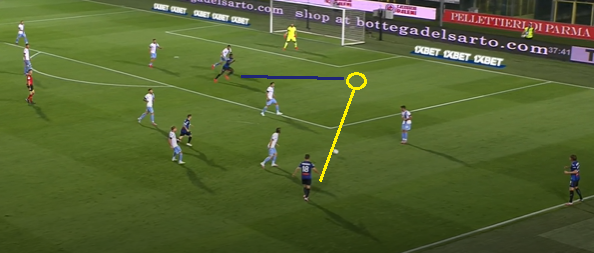 Jony then follows the ball instead of marking Hans Hateboer, who can't believe how much space he's in.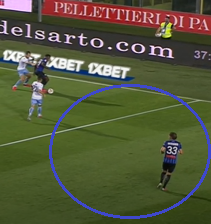 The cross is played to the back post where Manuel Lazzari fails to challenge Robin Gosens who fires a clever header into the far corner. Atalanta are now back in the game.

This goal highlighted fitness issues as well as reaffirming Lazio's left wing-back problem. Fitness should come with game time. We can't forget Atalanta had already played a competitive game before this. The left-wing problem, however, may be harder to solve.
Substitutions
Lazio's squad depth has been a major talking point this season. The new 5 substitution rule will give teams with better benches an advantage. This wasn't a worry for Lazio as substitutions have often won games for them. Unfortunately, injuries to major players has meant that these bench players have had to start games, leaving the bench depleted. Lazio brought on Felipe Caicedo to replace Correa, a standard substitution for the Biancocelesti and Marco Parolo for Cataldi which was a forced change due to injury. These substitutions were not worrying as both replacements were proven players. However, the final three substitutions were not so solid. Bastos for Radu was also a standard swap. However, Jordan Lukaku and Andre Anderson who haven't had much game time at all for Jony and Luis Alberto, showed just how much injuries have affected the squad. It is no surprise that Lazio conceded a third soon after the final round of substitutions, as Atalanta brought on Timothy Castagne, Luis Muriel and Josip Ilicic – a much more deadly trio. Perhaps Simone Inzaghi wouldn't have used all 5 substitutions if Lazio's fitness was better or if the starting eleven was stronger; Atalanta only opted to use three.
A Look Forward
Lazio's stars took to social media to show that they are determined to fight to the end of the championship. The issues of this game can be solved if fitness levels are back to usual standards and if key players come back from injuries. Fiorentina are up next who were held to a draw last game against Brescia. They'll be without suspended Martin Caceres. However, they are capable of damaging Lazio on the break as they favour to attack on the left (Lazio's weakest side) and then whip crosses into the box. Considering it was two crosses that unlocked the Lazio defence, Inzaghi will likely be working hard on defending them in the build-up to the game.