Nigel Gan is a dedicated Lazio fan from Singapore who is the author of '10,000 KM FOR YOU – The Travel Diary of a Football Fan: The Rome Derby'. Written entirely in English, the novel focuses on Nigel's adventurous journey to the Derby della Capitale between Lazio and Roma while also briefly touching upon both history of the club and how the rivalry between the Biancocelesti and Giallorossi kick-started back in 1927. In collaboration with Nigel, The Laziali will be releasing the book chapter-by-chapter (on the website) to promote his work to Lazio supporters worldwide; below is Chapter IV: Meeting Paolo Di Canio.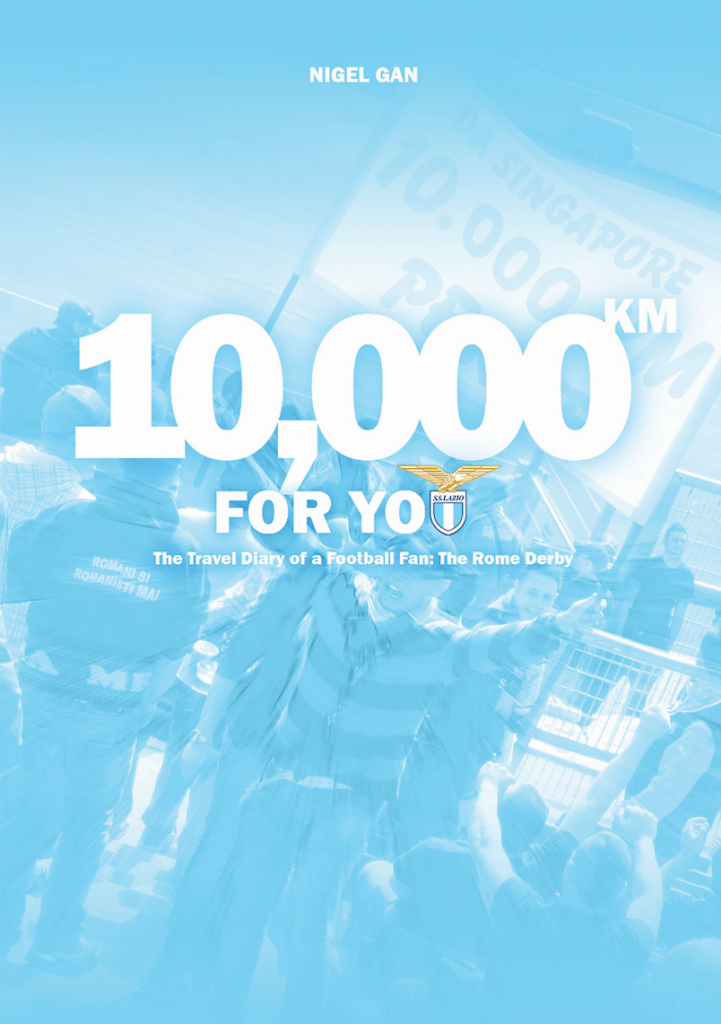 The drinks from the previous night do not help my jet lag. My eyes are still wide open at five in the morning.
I get myself a cup of espresso in a bar across the street from my hotel and buy a copy of the local sports paper even though I don't understand Italian. Roma's captain, Francesco Totti, is plastered on the front page and going by the layout, the reports are about the derby tomorrow.
There are four pages of reports dedicated to Roma and just one to Lazio. It is a known fact that there are more supporters of Roma and therefore, it would make perfect business sense that the papers write more about Roma, or risk nobody buying it. This bias is something I feel is incorrigible and ridiculous for Lazio fans to suffer in Rome.
After breakfast, I made my way to the Lazio Original Fans shop at Via Farini. I had been there a couple of times and the shop owners were hospitable people. Run by a mother and son, Enza and Angelo, the shop has been around for ages. In her late forties, Enza is a very well-known Laziale amongst the supporters. Sporting a black Lazio sweater, she's in a joyous mood, probably because of the derby. Stefano once told me that when he was young, he often bought his away tickets from Enza, and she would always remind him to be extra cautious in whichever city he went to, and which streets to avoid in order not to bump into rival supporters.
When they travelled on the bus to other cities to watch Lazio play, she would cook and prepare sandwiches for everyone on the bus. She was, in a way, a motherly figure to all the supporters, and they loved her.
Photos of herself posing with former Lazio players such as Paul Gascoigne, Diego Fuser, Paolo Di Canio, and others are proudly displayed on the walls in the shop. There's a group of people there when I arrive, including a television crew. They are interviewing a Swedish girl who appears to be very excited.
I get myself an 'Ultras Liberi' (Free the Ultras) T-shirt, and after paying up, Angelo, the son of Enza, insists that the reporter interview me too, and I oblige.
Reporter: Where do you come from?
Me: I am from Singapore.
Reporter: Do you support Lazio?
Me: This is a Lazio shop, yes? What a question! (I laugh)
One of my top agendas for this trip is to find Paolo Di Canio's second autobiography, 'Il Ritorno' (The Return). I'd read his first book – in English – written during his time in West Ham. It was worth its weight in gold from a fan's perspective and I'm determined to get his second book, which he wrote after rejoining Lazio. I'd searched high and low on the Internet for years but to no avail. I'm really hoping I can find it in Rome.
Di Canio is a player who needs no introduction. However, for the benefit of younger readers, I shall attempt to sum up his career in Lazio.
Di Canio was born in Rome, in the district of Quarticciolo. As a boy, he supported Lazio despite being surrounded by Roma supporters in his neighbourhood. He was discovered by a talent scout of Lazio while playing for a local team and signed for the youth team. Di Canio is a self-confessed Ultra who regularly attended Lazio matches while in the primavera team. He would play his youth team matches on Saturday, and then rush off in the evening on a bus, to catch the senior team play away on Sunday.
Lazio won promotion to Serie A in 1988, and he, too, won himself a place in the first team. He played his first-ever derby that season and netted the only goal of the match. After scoring, he celebrated by running straight to the Roma end, and taunted their supporters by showing them the finger – not the middle finger but the index finger! He became an idol of the Lazio supporters immediately, but with Lazio needing funds to rebuild the squad, then-president Calleri decided to offload him to Juventus. He was reluctant to leave.
Di Canio's career saw him play for Juventus, AC Milan, Celtic, Sheffield Wednesday, West Ham United, and Charlton United, before returning to his childhood team in 2005.
He took a massive wage cut to return to play for the financially-stretched team, something he did out of pure, genuine love for Lazio. This sacrifice moved the club supporters, and he was in tears at his first press conference as a returning Lazio player.
The Lazio supporters remembered Di Canio fondly, and they were very glad to see a former great returning to the Olympic stadium once again. Five thousand supporters waited outside the gates at Lazio's training ground to cheer him on.
In his first derby for fifteen years, he scored a gorgeous volley after receiving a beautiful assist from Fabio Liverani. Just as he did in 1989, he ran over to the Curva Sud (Roma's end) and taunted the Romanisti, as if telling them, 'I have done you again!'
The well-known commentator of Lazio, Guido De Angelis, who was covering the game live on radio, went totally nuts, as he shouted in Roman dialect:
"Paoletto mio! Te vojo bene, Paole!" – "My Paolo! Well done, Paolo!"
"E ancora na vorta! J'hai fatto male ancora na vorta Paole!" – "He has done it again! He has hurt them again Paolo!"
During his time with Lazio, Di Canio endured some bad relationships with a few team-mates as well as the controversial president Claudio Lotito. His contract was not renewed as he joined Serie C2 side, Cisco Roma, for three more seasons and finally decided to retire from football all together due to a series of crippling injuries.
The ex-West Ham United and Lazio legend is currently the manager of English outfit Sunderland.
Massimo told me that I can try this bookstore in Rome's Termini railway station, so I head that way. The bookstore has an impressive collection of books, but not any books about Lazio. Instead, there are piles of books about Roma. Disappointed, I leave.
Just when I'm on my way back to the hotel, I receive a text message. It's from Massimo and he has wonderful news: "Get ready in 30 minutes; I'm picking you up from your hotel. We are meeting Di Canio!"
The Meet-Up
Massimo has a good friend who knows Di Canio – they play football together in an amateur team known as Olgiata football club. Di Canio is also training the team for leisure. The town is approximately thirty kilometres away from Rome. It is a quiet district as compared to the city centre, away from the hustle and bustle of the city. Massimo grew up and studied in the elementary school there. I can feel his affection and love for Olgiata as he explains to me the various landmarks in the area.
Olgiata has a huge sporting complex that houses the football team and several other different sports. It is a sporting society, very much like Lazio, and it is impressive. The complex has an indoor swimming pool, a huge gym room, three football pitches and a range of facilities and amenities. There are kids from the junior football teams competing as we stroll up the stairs. It amazes me that even at such a tender age, these children are being put through a strict and gruelling tactical regime. Welcome to Italy, the motherland of tactics!
A fence separates the public from the pitch where the players are playing. We go in through the side gate and sit on the players' bench. Massimo is busy greeting the players; he seems to know everyone.
The amateur players are having a six-a-side training game and looking serious. From afar, I spot an- all-so familiar figure, shouting instructions and passing the ball around.
"It has to be him!" I whisper to myself. Massimo overhears. "It is him, Nigel!" He responds.
Indeed, it is the legendary Paolo Di Canio! I rub my eyes in disbelief, and still, it's Di Canio who is just five metres away! He dons a maroon West Ham training kit and looks as young as ever. Mind you, this Lazio legend is 42 years old, but still has the speed of a 30-year-old, and his touches and moves are as graceful as ever.
I watch the training, monitoring the players sweating it out on the beautiful green artificial pitch. Di Canio often exudes a charismatic aura that makes him a joy to observe, and subconsciously, I find myself drawn to him like a magnet. It's so addictive just to track him moving around the area. Both Massimo and I agree that whatever Di Canio does, he gives it his one hundred and one percent. Coaching a group of amateurs, who may not be as tactically and technically gifted as the professionals, requires plenty of patience. Even the simple matter of getting them to gel as a unit is always going to take enormous effort. According to Massimo, before Di Canio agreed to coach the Olgiata team, they were made up of unfit married men. He has since developed these gentlemen to the level they are now – much fitter and more competitive players.
The Lazio legend's technique is still world-class, and his sudden bursts of speed on the turn brilliant. He passes the ball to his team-mates even when he is in a good position to shoot, and lets everyone have their crack at goal. Although he's a superstar, he does not act like one. He shares tips, advises the players about formations and tactics, and tells players off when he exhibits selfishness and loses the ball, which results in conceding a goal.
"We are not Champions! We are not playing in the first league! So here, we pass the ball!" He thunders in Italian. He isn't vexed, but mainly trying to emphasise the importance of teamwork in football. You can tell that Di Canio is a born leader through the way he interacts with the team.
The blink of an eye later, and at the other end, he sends a delivery of a different kind. 'Whammm' … the ball sails wide. Nevertheless, it's a superb display of technique by Di Canio!
I recall that very special goal he scored for West Ham against Wimbledon many years back. He jumped and connected with the ball in mid-air with his body in the upright position, smashing the ball into the back of the net to the exultation of his adoring audience.
As mentioned by Di Canio in his autobiography, this technique requires precise timing and many practice attempts in order to perfect it. It was much more complex than a scissors kick, or even an overhead kick. The goal was voted the 'BBC Goal of the Season' in March 2000 and is still considered amongst the best goals ever scored in Premiership history. I could click on the 'Replay' button on YouTube without ever getting tired of it. It was that spectacular! (I urge you to put down your book now, go to your computer, or use a smartphone with an Internet connection and search for it. It's something you'll not regret, reliving history for just five minutes.)
Ok, I assume you have seen the goal by now. Yes, it was that great. He performs the exact volley during the practice match unfolding before me. It is incredible and I can't help uttering, "whooa", in awe.
The training match ends and I walk up to him. I'm understandably nervous but try to remain as composed as possible.
"Breathe, Nigel, breathe!" I tell myself.
"Ciao Paolo! I'm Nigel, how are you?" I stammer.
"I'm good! Thank you! How are you?" He smiles, even as he pants after the match.
Di Canio is unbelievably friendly. He never acts or behaves like some cocky, stuck-up prick the way other footballers could be accused of. When he addresses me, he looks straight into my eyes and shakes my hands so firmly and genuinely, I really feel his sincerity.
We head to the dressing room as several other teams have booked the pitch and need to use it. Much to his surprise, I present him with a Polo T-shirt embossed with 'Lazio Singapore', which he looks very happy to receive, and then take a picture with my 'Lazio Indonesia' scarf. (Lazio Singapore and Indonesia are twin associations.)
"We'll go to the dressing room." He points to the main complex earlier.
I have brought my banner along so that he can autograph it, and as I peep into the dressing room from the closing door, I can see the players showering and getting changed, with Di Canio among them. I figure it would be rude to ask him for an autograph when he's wet and naked, and I try to imagine how I would feel if someone asks me for an autograph when I don't have my clothes on. I would be mad, and I imagine he would be too. Hence, I wait outside the dressing room.
After about fifteen minutes of waiting, he emerges from the room. He is pleasantly surprised when I show him the banner. "Very nice! You came from Singapore. Ten thousand kilometres for Lazio huh? Very good!" He says in English while signing on the banner.
As he smiles and walks away, he turns his head and with his fist in the air, he began to sing: "E la Roma merda! E la Roma merda…" (Roma are s***! Roma are s***…)
I'm still very much star-struck, but regain my consciousness in time to finish off the last line with him.
"Fogna De Sta Citta!!!" (Stinks like the city sewage)
My hands are still trembling when I text my wife and Stefano, shortly after I get into Massimo's car.
"You won't believe it! I just sang with Paolo Di Canio!"
"He was laughing at your funny accent when you sang the song!" Massimo sniggers as we make our way out of the training complex.
Lazio Land
Lazio Land is a website dedicated to providing English-speaking Lazio fans with the latest news, updates and gossip around the club. Founded more than a half-decade ago by forum master Paolo Peroso, Lazio Land initially started out as an online forum where fans outside Rome and Italy gather to share their views and opinions on the team. At present, the website has a contingent of more than 1,000 members hailing from all parts of the world.
Officially recognized by Lazio, the site has contributed its fair share to Lazio in the past. In the 2009- 10 season, with the team in the relegation zone and fighting for survival, Biancoceleste supporters from all over the world poured into Corriere dello Sport with words of encouragement to the team. Many people in Rome were surprised; I still keep a soft copy of the article on my laptop. The headlines in the article read: 'Dalla Nuova Zelanda al Canada' (From New Zealand to Canada), 'Tutto il mondo spinge la squadra!' (Fans around the world push the team!)
In the article were some short notes written by Lazio supporters from different parts of the world. One of them was from a dear friend of mine, Darran, from Singapore.
'These are dark moments, but there remains a ray of light shining above and that is us Laziali.' He wrote. Lazio of course went on to climb the table and steered themselves to safety, finishing a horrible season on an upward note. The Italian Super Cup staged in Beijing in the summer of 2009 too saw Lazio Land play a major role by providing travelling fans with travel or ticketing information in the Forbidden City.
Laziali in Beijing who were also members of Lazio Land gave their foreign counterparts and the team a great reception many would never forget. Those who travelled to Beijing for the game were overwhelmed by the passion, exceptional hospitality and warmth of the Chinese supporters, as they partied and celebrated the victory against Inter outside the stadium well into the wee hours of the morning.
With the inauguration of the new official 'Lazio-Style' magazine, Lazio Land was given the honour of writing about any topics with regards to overseas Laziali by the club, under the section 'Lazio International'. The articles on 'Lazio International' were published in both English and Italian. The first-ever issue saw yours truly gracing the magazine, an experience which I will elaborate further on later.
Massimo and I head to the dinner event organized by Lazio Land after our eventful meeting with Paolo Di Canio. Members of Lazio Land from all over of the world are in Rome to attend the derby match, with this traditional pre-derby dinner date established ever since the inception of Lazio Land.
The dinner with the boys from Lazio Land is an amazing experience that goes beyond just sealing friendships over a simple dinner. Imagine a group of Lazio supporters made up of different races, nationalities, religions and those who speak different languages, flying into Rome for a singular cause. We are not talking about AC Milan, Manchester United or Barcelona here. We are referring to Lazio, a team that has suffered so much hurt to its profile in recent years.
I am left with few words to describe this group of marvellous individuals, as this proves that being a Lazio supporter knows no boundaries, no racial divides, no language barriers, no 'You are Jewish, I hate you!' philosophy, but only one common faith-focused around Lazio the football club.
We are late due to another traffic jam. When we arrive at the restaurant, there is a big group of fans already at their tables. Among those present are the Dutch (startingly good drinkers), Germans, Swedish, Finnish, Belgians, Irish, and the English! Significantly, I'm the only one from Singapore.
Everybody is in a cheerful mood, drinking and sharing experiences in life and naturally talking about Lazio; we are all fairly confident about the match tomorrow. Paolo, who is one of the stadium announcers in the Olimpico, deserves much credit for Lazio Land's popularity in Rome and globally. An amazing man of tremendous Lazialita, he dedicates all his free time for Lazio and the website, asking nothing in return.
I happened to meet him in person in 2009 after he answered in the forum to a personal favour I requested back then. I needed a ticket badly for the match against Torino and he was kind enough to furnish a free one, alongside a ride to the stadium. He even helped me meet several of the players after the match. I was deeply moved by the man whose heart was so kind, simple and humble, and for how he helped a stranger like me from the opposite end of the world.
The main highlight of the night has to be the Lazio Land flag. This flag is the symbol of Lazio Land and it represents us all.
The flag has an image of an eagle with its claws around a globe with the inscriptions 'One colour', 'One Symbol' and 'One Flag'. She has been hoisted up high along the skyline of the Olimpico on many occasions, and as it is unveiled in the restaurant, I cannot help but feel immensely moved to be part of this group – made up of great, esteemed individuals, who all shared a common love.
I, too, get a chance to show off my banner, as a half-drunk Paolo demand that I unveil it to the boys. Locals from the other tables applaud when they set their eyes on the banner, while others who are obviously Roma supporters give me a sickened look. Having already downed two litres of red wine with the Dutch, I can hardly have cared less.
We leave the restaurant at midnight, and there are still people coming into the restaurant, for supper presumably. It's a culture shock to me, as restaurants in Singapore are normally closed by ten in the evening.
Lying in bed in the hotel after a long, tiring day, I pinch myself hard on the cheek in order to make sure everything I had been through that day was real.
"Yes Nigel, you did meet Paolo Di Canio today." I tell myself.