At the start of the 2019/20 Serie A season, Juventus, Napoli and Inter were expected to compete for the Scudetto. Each team was heavily involved in the transfer market this past summer as players such as Matthijs de Ligt, Kostas Manolas and Romelu Lukaku joined these clubs, respectively. While Juventus sits in first and Inter sits in third, surprisingly, Napoli sits in sixth place, and are 15 points back of a top-four spot; the most surprising story this year has been Lazio's performance.
The Biancocelesti continue to impress as they currently sit in second place, four points back of first place Juventus. At the start of the year, very few considered Lazio as a contender for the Scudetto. The summer transfer market was fairly quiet for the Aquile as their biggest signings involved former SPAL wing back Manuel Lazzari and highly touted Slovakian centre back Denis Vavro. Lazzari has done a good job under Simone Inzaghi's 3-5-2 formation as the wing-back played a similar role in SPAL. As for Vavro, the defender has struggled to adjust to Serie A. The club was able to retain Luis Alberto, Sergej Milinkovic-Savic and Ciro Immobile and this has helped the Biancocelesti as each player has returned to their form from 2017/18 when Lazio had a successful campaign. Immobile currently leads the league with 29 goals while Luis Alberto leads in assists with 13.
As for Milan, it has been a disappointing season. This past summer, Gennaro Gattuso left the Rossoneri and Milan appointed Marco Giampaolo as his replacement. The Italian had big expectations coming into his first season after the Rossoneri missed out on Champions League by one-point last season. Although Milan won three of their first seven games in Serie A, the start to their season was sub-standard. In most matches, they lacked composure, confidence, consistency and structure on the pitch. Giampaolo had players playing out of position and didn't have a concise game plan. It seemed as though he couldn't handle the pressure of managing a big club. After their seventh game against Genoa, Giampaolo was fired and replaced by Stefano Pioli.
In Pioli's short time with the club, he has fared much better over his predecessor. He has made major adjustments to their tactics by using a 4-3-3 or 4-2-3-1 formation that has allowed players such as Hakan Çalhanoğlu and Samu Castillejo to play in their accustomed roles. Although hiring a new manager didn't work out as planned, the signings of Ante Rebić and Theo Hernández have been more on the positive side. Rebić, who came on loan from Eintracht Frankfurt, has been a blessing for the Rossoneri as he's been a good fit under Pioli this season. The forward has produced eight goals this year and leads the team in that category. The Croatian is a versatile player who has given Milan options on the wing or striker position where he's scored timely goals and delivered key crosses into the goal area. Hernández has a physical presence which has made it hard for defenders to cover him in the box. He's contributed to eight goals in all competitions this season. He has great speed that allows him to get forward when possible, has the ability to strike from a distance with a powerful shot and is able to defend well on set pieces with his physicality.
In the winter transfer market, AC Milan was heavily involved as they brought players such as Alexis Saelemaekers, Zlatan Ibrahimović, Simone Kjaer, Asmir Begović and Diego Laxalt to bolster their line up. They provide the much-needed depth which was lacking in defense and the attack upfront in the number nine position. Lazio were not as heavily active as the Rossoneri in the winter transfer market and decided to not acquire any players, only showing interest near the end of the deadline for Chelsea striker Olivier Giroud. The deal never materialized and, as a result, the team made no moves and decided to go forward with their current roster.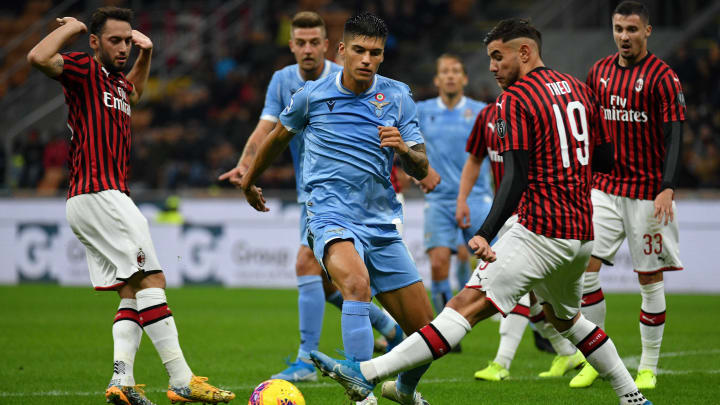 Lazio is separated by four points for first place while Milan is within five points of AS Roma and two points back of Napoli for a spot into Europa League. This Saturday will be a pivotal match for both sides with plenty at stake. The Biancocelesti welcome Milan to the Stadio Olimpico and it should be an enticing match between the two clubs. With both teams playing well and plenty at stake for each side, what does this match really mean for each club?
Lazio continues to show good form this season as they have lost once in their last 23 matches. Lazio have set new records under Inzaghi, as the Biancocelesti went unbeaten in 21 matches which broke a record of 17 games back in 1999/00 when Lazio last won a Scudetto. The club also set a new record in consecutive wins with 12. Lazio's goal continues to be Champions League as they haven't been unable to solidify a spot in the past three seasons. The team has an elusive chance to win the Scudetto for the first time in 20 years. Their recent win against Torino kept Lazio's chances within reach but will have a tough task ahead of them. They will be without Immobile and Felipe Caicedo making their task more difficult against Milan.
As for Milan, they have improved under Pioli this season as the club has lost just once in their last six Serie A matches. The club has experienced highs and lows and remains optimistic that their season can be salvaged with a spot into Europa League. The team was expected to compete for a spot into Champions League but are well off of this target. When Giampaolo arrived in Milan this past summer, it showed their ambition in hopes of returning to the Champions League which would help their financial situation. This has not been the case and the goal has now become the Europa League. In their recent match against SPAL, the club showed how resilient they could be as they came back from a 2-0 deficit to tie 2-2 in an average second-half performance.
Each team will be playing very hard until the final whistle because the Champions League and Europa League is not the only thing in sight. The Scudetto has become a reality for Lazio and AC Milan will need to be fully prepared against a side who hasn't looked this confident in many years.