Nigel Gan is a dedicated Lazio fan from Singapore who is the author of '10,000 KM FOR YOU – The Travel Diary of a Football Fan: The Rome Derby'. Written entirely in English, the novel focuses on Nigel's adventurous journey to the Derby della Capitale between Lazio and Roma while also briefly touching upon both history of the club and how the rivalry between the Biancocelesti and Giallorossi kick-started back in 1927. In collaboration with Nigel, The Laziali will be releasing the book chapter-by-chapter (on the website) to promote his work to Lazio supporters worldwide; below is Chapter V: Derby Day.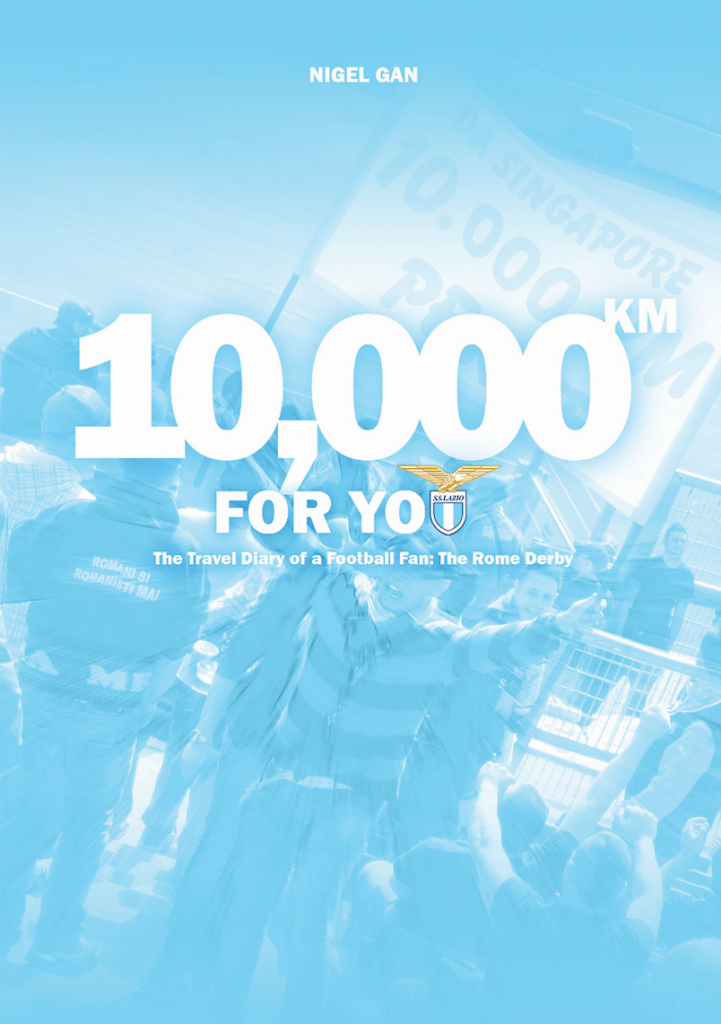 In my hotel room, I upload the photo taken with Di Canio onto Facebook. The response is overwhelming, especially from my fellow Indonesian fans.
The reason is simple; the picture has Di Canio holding up the 'Lazio Indonesia' scarf with me. It was a scarf given as a gift by the leader of the Indonesian Lazio group when he visited Singapore. Lazio Singapore and Indonesia are virtually twinned.
My Facebook post grows flooded with enthusiastic replies from the Indonesians expressing gratitude at my gesture. To them, it is an honour for the Lazio Indonesia brand to be recognized in Rome, and by who better than club legend, Paolo Di Canio.
I specifically brought the scarf along to Rome because the Indonesian Laziali were an incredible group of supporters whom I believed deserved more recognition then their fanatic passion received. Like a big family, the fans would meet up for their weekly dose of Non Bar. Non Bar is the abbreviation of 'Nonton Bareng', which means 'Watching Together' in Bahasa Indonesia. Rain or shine, this bunch of close friends gather every Sunday evening in a café to cheer on the Biancoceleste. This ritual not only happens in Jakarta, the capital of Indonesia, but also in other cities such as Yogjakarta, Bandung, Surabaya, Bekasi, and many more.
They design and produce their own merchandise, including sweaters, scarves, clothes patches, and T-shirts, as well as organize inter-city futsal tournaments. Teams from various regions would line up against one another, just like a big family of Laziali. It isn't far from the truth to say the Lazio Singapore group still has much to learn from the Indonesians.
I look at my watch as I shut down my laptop; it's time to meet Massimo and head to the stadium. Massimo and I join up with Matteo and Celia in a bar very near to the Stadio Olimpico before the match. The Laziali frequent this bar regularly along the way to the 'Curva Nord'. To get ourselves warmed up for the game, we down some beer and a couple of Borghetti.
If you are wondering what Borghetti is, it is basically an espresso caffeinated liqueur, drunk either neat (the preferable way) or on ice, which is commonly sold outside stadiums in Italy. I had it once during my last visit to Olimpico and loved it so much I had been literally begging for it ever since my plane touched down in Rome.
The march to the stadium plus the alcohol already flowing through my blood gets my adrenaline pumping. Our route is crammed with Lazio supporters, and many of them are brandishing flags and banners. It isn't possible for us to take the easier route near Piazza Manzini, as it's always filled with Romanisti; no Lazio supporter would take that route before a derby. I once read that a group of overseas Lazio supporters engaged in a few scuffles with Roma supporters because they did not know it was a traditional Romanisti 'route'. Fortunately, no one was hurt.
As I don't know if my poles for the banner will be permitted into the stadium, (they are slightly different from the normal ones in Italy) I pass them to Matteo and pray that he knows how to sneak his way past the security checks.
As we get closer to the stadium, I see groups of Lazio supporters gathering outside the stadium, singing, chanting slogans, and chatting away.
The hottest chant in town is:
"T'amiamo, t'amiamo, t'amiamo E ovunque andrai saremo, saremo, saremo… Perchè tifiamo Lazio, la Lazio, la Lazio. Nel modo che ci piace, ci piace ci piace… OHHHHH!"
Which means:
"We love you, We love you, and that is why we follow we follow, we follow because we support Lazio, La Lazio and that's the way we like it, we like it! OHHHHH!"
We arrive at the gates at 1300 CET, two hours before kick-off, and still, we are not allowed to enter the stadium. People are getting really frustrated by waiting. Then, Matteo passes me a small bottle of Caffe Borghetti. "Stuff it underneath your balls and hope the stewards don't find them."
"You serious?" I look at him in astonishment. "We'll enjoy in the stadium!" He laughs.
Even while waiting at the gates, we entertain ourselves by singing insults to the Yellow and Red team of Rome. Finally, after about fifteen minutes, the gates open and we pour in. I'm stopped by a police officer who frisks me; thank god he doesn't touch my private area. Matteo is halted as the steward want to check on my banner that he's holding. He explains to the steward that it belongs to me and that I've come a long way (10,000 KM) to watch the derby.
Seeing the commotion, I walk up to them and after the steward sees me, and what's written on the banner, he lets us through. He smiles at me as he hands the banner to us.
"Ok, Nigel! You can take out that Borghetti! All clear now!" Matteo says. "Yeah, about f****** time! It's hurting my balls!" I grin. "What? You really stuffed it underneath your balls?" He laughs like a mad man.
I can see graffiti scribbled on the walls of the stadium as I ascend the flight of stairs to the North Stand. 'Ciao Campo!', meaning 'Hello pitch!', while my personal favourite is 'Roma Merda!' – 'Roma are s***!' I find these graffiti enjoyably amusing.
I let out a deep breath and run up the last few steps of the stairs. My heart begins racing as the splendour of the great Stadio Olimpico greets me once more. I'm back at the majestic Stadio Olimpico again! It feels like only yesterday that I was here to support Lazio. Thinking back to the moment when I hurled the coin into the Trevi Fountain two years ago, I find myself getting goosebumps.
Legend has it that if you toss a coin over your shoulder and into the Trevi Fountain, it guarantees you a trip back to Rome. And there I am! The legend is true! How splendid!
The atmosphere in the stadium is electrifying; there are giant flags and banners everywhere. "The atmosphere is ten times better than the game against Palermo!" Celia says.
"Of course, this is the world's greatest derby after all!" I add.
The rule in Curva Nord is that no one follows the seat numbers on the ticket. People take their seats on a first-come-first-served basis. If you are late, too bad, you'll need to hunt for a seat.
There is also another unspoken rule that I just discovered. We spot some empty seats and as we are prepared to grab them, we're told by a man that a particular Laziale has been occupying that seat for years. There is a non-official 'privilege' if you are a seasoned supporter, I guess.
We finally find our seats, but they are pretty high up, just on the right of the giant scoreboard – but still, we have a considerably good view. I'm trying to look out for the boys from Lazio Land in the 'Distinti' section, but I see no one.
In Curva Nord, there are only a few club colours beside Lazio's that are allowed and considered 'friendlies'. They are the colours of Inter, Chelsea, Hellas Verona, and West Ham. Just behind me, there is a little boy with a West Ham Cap, and I spot another fan with a Chelsea scarf not too far away. Apparently, we have very good relationships with the supporters of these clubs, or 'twinned', as we call it.
I remember a league match back in 2001: Hellas Verona, who were fighting to avoid relegation, were playing Lazio in Rome. Lazio won the match '5-3', and every time Lazio scored a goal, the Curva Nord chanted, "You will not go down my friend!" I could hear it clearly even on television.
Our supporters can hate the rivals to their core (for example, our animosity towards Roma), but we can be warm and hospitable to our allies as well. This is one of our trademarks and I like it.
Another thing that catches my attention is this huge flag right at the bottom of the stands, very near to the glass partition. This flag is no ordinary flag; it has a picture of our former player Paul Gascoigne and is painted together with the beautiful and distinctive red St. George's cross of England. It amazes me that the supporters still honour him with flags, for it has been ages since Gazza last played for us. It's indeed great respect shown to the man.
I can still vividly recall the goal he scored for us in the derby of 1993. We were trailing by one goal from Giuseppe Giannini and looked set for a defeat, then my hero, Beppe Signori took the free kick in the dying minutes of the game, and good old Gazza popped up in the penalty area and headed the ball home! The Nord went berserk!
Gianmarco, a good friend of mine, who was in the Curva Nord for the game, told me that he was so excited he went completely out of his mind, as everyone above him rushed down and toppled on him. He nearly broke his neck.
There were also chants dedicated to Ruben Sosa, another great striker of ours in the late eighties. It is unbelievable. Stefano says that besides honouring Ruben Sosa, the real reason the supporters sing it is to urge the players on the pitch to put in more effort and to remind them that Ruben Sosa played harder and better than all of them, so it's time to wake up.
I'm eager to unveil my banner in front of the crowd.
"Are you ready Matteo? Let's do it!" I shout.
"Daje (Come on) Nigel!" Matteo sounds more excited than I am.
I get up from my seat, stand on it, and hoist the banner up, unveiling it proudly.
There it is now, for the whole curva to see – blue text, white background, with the words that will soon become famous:
'Da Singapore: 10,000 Km Per Te'
A guy from the lower tier of the curva sees my banner and shouts to his friends. He applauds and out of nowhere, the supporters in the stands are all looking up. Then they, too, start applauding. I am stunned beyond belief and totally speechless. Time stands still and it takes some time for my blood to continue flowing normally through my veins, as it registers in my brain that they are actually applauding me. It feels exactly like it does in the movies when everything goes mute, and all you can hear is your heart pounding and your own breath.
For me, having the chance of a lifetime to catch the Rome derby in Curva Nord has already brought me enormous joy, and never in my wildest dreams did I expect to receive such a compliment from my fellow supporters in Rome! It is the ultimate form of recognition any Lazio fan from overseas could receive, and it moves me beyond words. It is a feeling that I cannot express out loud; neither can I find a word in the dictionary to describe the sensation I feel. In that instance, these flashbacks keep playing in my head.
Mum: "Do you worship Lazio or God?"
The wife: "You had better stop all your Lazio stuff, and spend more time with me! Supporting Lazio will not earn you money!"
Friends: "Nigel, why do you support Lazio? Lazio are no longer winning trophies!"
My deep-rooted passion for this team has brought me praises as well as criticisms over the years. There are close friends who feel that I have crossed a line and that I should have devoted more time to more important matters in life. Some feel that it is unhealthy and crazy for a 32-year-old to fly all the way to Rome to catch a football match, and leave his wife alone at home.
Whenever I have to deal with talk like that, all I can do is smile inadequately, because I know they can never understand – no matter how I try to transfer my enthusiasm to them. The football culture in Singapore is different compared to that in European countries. Everyone supports Barcelona, Manchester United or Liverpool, and it is extremely rare to find someone who supports a team like West Ham or Everton, let alone Lazio. Being a Lazio fan in Singapore can be difficult as you often face a barrage of mockeries from football fans who simply do not understand Italian football or my beloved club. To them, supporting a winning and famous team is more important than anything else in the world.
Football is the national sport in Singapore. Often, a Manchester United versus Liverpool match would dominate newspaper headlines ahead of other important news. That is how important football is to my countrymen. However, I have always questioned the loyalty and genuity of the supporters.
I know of a Liverpool fanatic who travels everywhere to support his favourite team. He owns a huge collection of Liverpool jerseys, has been to Anfield several times and appears in magazines and newspapers. I was really impressed with him until he told me one day that he considered switching allegiances to Manchester United, simply because 'The Reds' were performing really badly – I almost fainted with shock.
Likewise, I once had an acquaintance who was wearing the Barcelona home jersey, telling me how godly Lionel Messi was, and that he stayed up for the game last night. So I asked him why he supported Barcelona.
"Oh! Because they are good!" He replied.
"I prefer the dream team of Johan Cruyff to the current one," I explained.
"Johan who?" He asked.
It became apparent that the clown did not know who his club legend was. So I walked off.
With my banner held high, and all the applause I'm receiving (I'm still floating), I fall further into a stupor when supporters come up to me to shake my hand, kiss me on my cheek, and congratulate me. Some even pose for pictures with my banner and me.
I take the opportunity to promote the Lazio Singapore Facebook group to the supporters, and Matteo is busy translating for me.
"Nigel! Curva Nord applauded you! I am so proud of you!" Matteo shouts excitedly.
"No! I am just a normal Laziale like everyone else! Who am I compared to you who comes to the stadium every Sunday?" I add.
As I speak, tears begin streaming down my face – so overwhelmed I am by the reception I was just afforded. That wonderful gesture from the supporters, plus all the thoughts going through in my mind, plays a part in my emotional outpouring.
"S***! I need to wipe off my tears or it will be embarrassing if anyone sees this!" I tell myself.
"Nigel! Are you crying?" Matteo is puzzled.
"Ermmmm…Yes……" I am obviously too late. "Don't tell Stefano!" I laugh.
Celia has the honour of taking a picture of me in tears and, for the record, even my wife has not seen me cry.
As I am busy singing insults at the other side of the Tevere, a man comes up to me.
"Nigel! Grande!" he shouts.
It's Marco and he happens to be Stefano's brother-in-law. A Curva Nord veteran dating back to the eighties, he's already into his late-thirties. Married, with a baby girl, he still comes to the stadium regularly to support his colours.
Marco is just slightly taller than me and has short, curly hair. His stylish Oakley glasses and smile make him look young for someone his age. He makes his way up from the lower half of the stadium and has just witnessed the Curva applauding me. It's the first time that we're meeting in person, although we have chatted on Facebook on a few occasions. As I understand only basic Italian football terms, we communicate with the aid of Google Translator.
I hand him a Lazio Singapore T-shirt and some souvenirs, to his delight. As the famous 'Chi Non Salta Della Roma, Hey Hey!' (whoever does not jump is a Roma fan) chant resonates around the curva, we both jump and sing to it instinctively. Marco thanks me again as he makes his way down the aisle, and disappears among the sea of flags. I may not know this man well, but there's something about him that tells me he is a great Laziale. It is a pleasure meeting him, even if for a short duration.
'Beeeeeep!' A whistle sounds but the match has yet to begin. Curious, I look around and see many supporters in the stands blowing their whistles. They each have a whistle with them.
"Oh yes!" I tell Massimo. "The Curva Nord were asking the supporters to bring their whistles to the stadium, in order to protest against sub-standard refereeing lately."
Roma, till the day of the derby, has had more than 13 penalties awarded to them in all competitions – a little too many, and some of them extremely controversial.
"Rigore Paa Roma!" (Penalty for Roma) A man behind me mocks our opponent of the day.
The man resembles the actor, Christopher Lloyd, in the movie 'Back to the Future'. He smiles at me as I turn to look at him. With his looks and messy grey hair, he could easily pass off in any audition for the part of an Evil Scientist, just like the character of Lloyd in the movie. Mr. Scientist and his friends sportingly pose for photographs with me.
"Oh, so you are from Singapore? Nice banner you got there!" He says. "Thanks! Forza Lazio and Roma Merda!" We laugh and toast our beers.
I am so engrossed in singing with Mr. Scientist and company that I'm unaware the Roma players have entered the pitch for their warm-ups. It's when the Lazio supporters in Curva Nord start whistling and showing their fingers at the Roma players that I take notice. I duly join in and sing along with my funny accent. We hurl insults at the top of our voices to try and drown the cheers from the Roma supporters, but it's impossible, as we only occupy one section versus the rest of the stadium. (Roma is the home team, so more tickets are allocated to their fans.)
Nevertheless, we are having the time of our lives and determined not to lose, we keep on singing. We want the world to hear us.
"You know what the man said to his friend beside him?" Matteo asks me, referring to Mr. Scientist. "What?"
"He said that you are one of us!"
Those words move me, and I turn around, clutch my jacket on the side of my heart, and say, "Grazie Professor! Roma Vaffanculo!" – "Thank you Professor! F*** Roma!". We burst into laughter, even though I do not think he ever figured out why I called him 'professor'.
It's thirty minutes before kick-off. I pick up my phone and call Simon, a very good friend from Nanjing, China, and one of the top boys on Laziofly.com, the largest Lazio online community in China. It is understood that there are close to a hundred thousand Lazio supporters in China. We have been practising his superstitious routine of calling each other before every derby match for the past two years. The stats stand at 'One Victory and Five Defeats'. To that point, we are already thinking of scraping this bizarre practice.
"What the f*** are you doing? How is the atmosphere there?" He screams over the phone.
"I can't hear you! It's crazy here! The atmosphere is crazy!" I cup my ear and shout into the phone. "I saw your photos! How in the world did you meet Paolo Di Canio?"
"I can't hear you! I'll tell you when I get back! Bye! Send my regards to the boys!" I hang up.
Before I can take a breather, my cell phone sounded again. This time, it's Stefano calling from Singapore. "I'm calling to check if you are still alive!" He laughs. I can hear the other supporters cheering in the background. They were all gathering at his place for the match.
"Alessio Buzzanca (A famous Lazio Radio Deejay) just mentioned your name on radio. He says you are a great Laziale from Singapore, and he mentioned you and the Ambassador!"
The Ambassador that Stefano refers to is Italian ambassador to Singapore, Anacleto Felicani. His late father, Renzo, was a former player of S.S Lazio between the late thirties and forties.
Renzo Felicani played in the same Primavera team with Umberto Lenzini, the President of the Scudetto winning side in the 1973-1974 season, as well as the prolific and legendary striker of Lazio, Silvio Piola. During the war, he served as an artillery officer in the army, and when it all ended, he returned home and continued his football career with Lazio.
Once, the Ambassador had invited us, the Lazio Singapore group, for a chat. He took out an old photo album, belonging to his late father, containing precious photographs of the latter during his time as a player of Lazio. There were many rare photos of the team taken during the forties. One caught my attention: In black and white, the photo showed Silvio Piola and Giuseppe Meazza entering the field together from the dug-out. It was an extremely rare and sought-after photograph of these two great Italian footballers. There was also an autographed photo of the Lazio team taken during the 1942-1943 season with all eleven of the players. I christened it The Holy Grail.
Honour runs in his family bloodline, as the ambassador's uncle was also a former player of Lazio. Pietro Felicani was a striker during the era around World War I. It is recorded on LazioWiki that he scored in the 4-1 victory against Juventus, in the old Coppa Di Natale (Christmas Cup).
After the meeting with the ambassador, and with permission from the latter, I took some pictures of the photographs with my cell phone and wrote a story of the event. With the help of Lazio Land, had it published in the very first edition of Lazio Style magazine. It was one of the greatest honours ever presented to me.
"Nigel!!!" Matteo called out. As I reminisced, a gigantic white banner hovers above us in the stadium, engulfing almost the entire curva. Months before the derby, the Lazio fans were all looking forward to our derby choreography – and here it is!
From where we are, I cannot make out what the picture of the banner is because it's so massive.
I realize later via YouTube that it's in fact an image of two eagles sitting on top of an ancient Roman temple. On the bottom left corner of the banner reads:
'Per Gabriele'
Gabriele Sandri was a young Lazio fan who was killed by a police officer in 2007. The supporters honour him often by chanting his name in the stands.
Another banner below reads: 'One city, the history of the empire, One symbol, we are Rome!' The choreography is quite spectacular by any standard! These amazingly organized choreographies involving banners, placards, flags, flares, smoke effects, fireworks, and vocal support create an electrifying atmosphere around stadiums across Italy and is the envy of the rest of Europe. Such flamboyant displays have long since been associated with the Ultras, and are a part of Italian football history. There is also a very good chance that you will see these amazing displays during important matches, especially when two arch-rivals play each other. It is a showcase of their team colours, the ultras' allegiance, and a chance for fans to tell the whole world how proud they are of their teams.
Ultras, pronounced 'Ooo-tras', means 'beyond limits'. They are known to be the hardcore supporters in Italy; they place their team before absolutely anything else in life and would defend their club colours when called upon to – which often lead to fights with other groups of fans. However, being an ultra does not mean you are a hooligan; it means you live in a way your passion manifests beyond what is generally considered normal.
Ever since the tragic incident where Catania Ultras clashed with the police and killed a police officer in 2007, the authorities have come down hard on the Ultras across the peninsula. According to official accounts, the casualty. Filippo Raciti was struck in the face with an explosive after trying to break up the fighting.
I am with the Ultras in spirit but I do not condone these acts of violence. I think of Lazio twenty hours a day and seven days a week (even in my dreams), but fighting and violence are things with which I disagree. I had the honour to be called an Ultra by some of the Laziali in Rome even though I did not go around inciting fights with the police or Romanisti. This is apart from the fact that I did want to bop a Roma supporter on the face before when I was younger. The supporters recognize me for my sheer love and devotion to Lazio, and not whether I had fought others or not.
In Italy, the authorities and the police have been trying to wipe the Ultras from the football scene, as they believe that they are troublemakers and do nothing but fight. They have since enforced the laws, banned flares in the stadium and implemented the infamous 'Tessera Del Tifoso', or Fan ID Card. Generally, the ID card works like a debit card (Master/Visa) by itself, and the perks of owning one are the entitlements to special discounts on club merchandise, as well as non-football related services such as banking.
The new law states that only Tessera Del Tifoso holders are able to purchase a season ticket or travel for away games in other cities as they used to. Supporters who wish to apply for the Tessera have to go through long and numerous stages of screening processes before approval, as the police intend to clamp down on supporters who are guilty of committing past stadium offences. The authorities will not issue the Tessera Del Tifoso to individuals with stadium-related offences. The mockery of the measure is that a person who had previously been convicted of bank robbery is still eligible to apply for the Tessera. However, if he has been involved in a fight in or within the vicinity of the stadium, he will not even be considered.
The clampdown is also applicable to people who are still on trial. Those affected aren't able to enter the stadium during this period. And trials in Italy are infamous for dragging out for ages, even up to five years.
"As long as you have any previous stadium offences, your application will be rejected!" A friend and a former Ultra who wished to remain anonymous told me.
"What if in the end, I am innocent? Five years is a long time you know!" I pipped.
I'm against the system because I hate the fact that it decides who should or should not go to the stadium based on ridiculous and unfair statutes. Ex-stadium offenders deserve a second chance, just like any sinful devotee of a religion who wishes to repent from his sins. Digging out supporters' past records is not the way to determine whether they are good or bad people, and I perceive this system to be against humanity and freedom. Ultras of Lazio and several clubs have voiced their disapproval at the Tessera. There are already many more empty seats spotted in the stadium this season.
Another reason given by the authorities for the implementation of the Tessera is to eliminate violent clashes between rival supporters outside the stadiums. However, what they fail to consider was that they still cannot prevent fans from travelling to another city, with the ill intention of creating havoc in the streets far away from the stadium. It just does not make any sense that this rule can possibly eradicate all football violence.
In my opinion, having safer stadiums is essential. The government or clubs have to build new stadiums, employ more stewards, and install security cameras inside and outside of the stadium, instead of trying to drive away the ultras, an integral part of the Italian game. Without the ultras in the stadium, who would be there to add heartfelt passion to the game? Such beautiful choreography displays would soon be condemned to a distant memory if the law is allowed to go on.