Lazio travelled to the Stadio Friuli to take on Udinese in Matchday 33 of the 2019/20 Serie A. This tactical analysis looks at Ciro Immobile's struggles and Jony's poor performance; in a rather uneventful night of football…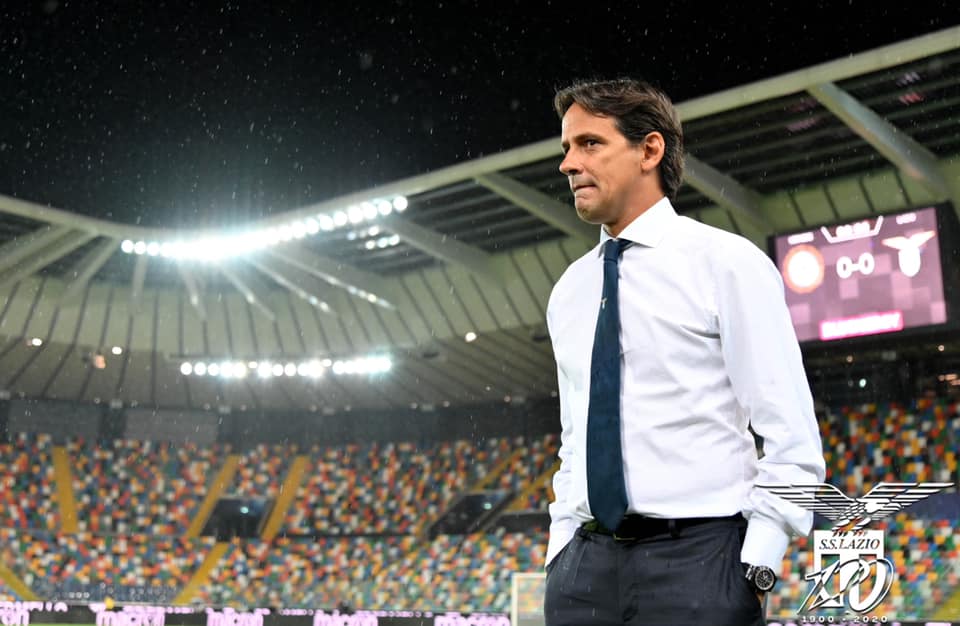 Immobile Too Deep
Ciro Immobile has terrorized Serie A defences for the past few years. He's done this by hugging the backline and making runs in behind. However, in recent games, and especially against Udinese, he was often too deep. The picture below shows just how easy it is for Udinese to sit back and defend. Immobile would usually be sitting right on the last man, in this case, he would be in acres of space. Perfect for a Luis Alberto through ball. Instead, he's deep and so Lazio have to wait for a piece of magic to get in behind Udinese's defence.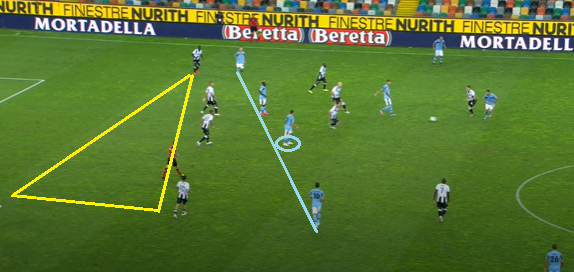 The roles of the front two in Simone Inzaghi's system are key to creating scoring opportunities. The striker, in this case, Felipe Caicedo, should hold the ball up waiting to either pass to the striker in behind or wait to offload to the midfield trio to find an opening. In this game that didn't happen. Again below, Immobile is deep looking for a touch of the ball. Caicedo is further forward but still nowhere near the backline. If Immobile was in the highlighted area, a pass to Caicedo then Immobile could've resulted in a one-on-one.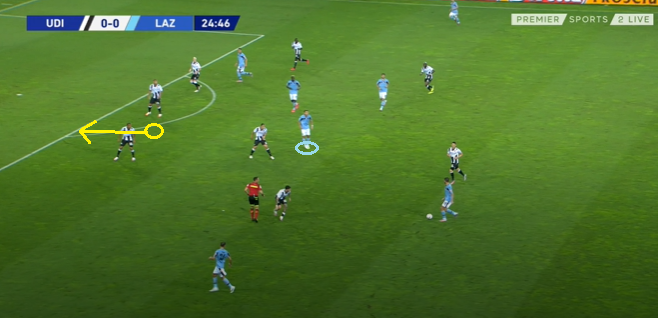 There were many examples of this during the match; below is one that will be highlighted. Lazio's midfielders driving forward often broke the Udinese backline, leaving gaps for Immobile to exploit. Unfortunately, the trend was him dropping too deep.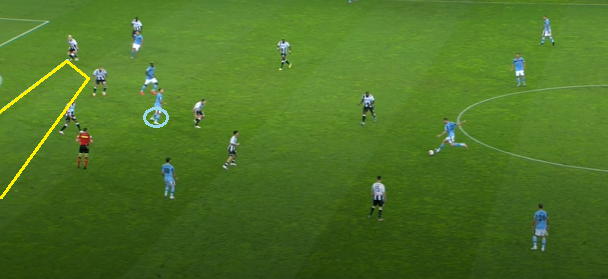 When Immobile joined Lazio he was often caught offside during games. But, that wasn't a problem as he only needed one run to be onside and he was in on goal. Last season and the start of this season he perfected these runs and was getting called offside less and less. Becoming one of Europe's elite strikers. It seems in recent games, whether it be fatigue or wanting to get involved in games more, he has changed his style. Hopefully, we see a return to the old Ciro in games to come. One thing's for sure, he'll always give 100% for the shirt.
Jony
The injury to captain Senad Lulic has been one of the main reasons Lazio have been poor since the restart. His replacement Jony has been poor. Jony finished last game with a 60% passing accuracy, 0 key passes and 0 tackles. This simply isn't good enough in Inzaghi's system where the wing-backs are key. The problem is that Jony wants to cross every time he gets the ball. Manuel Lazzari on the other hand mixes it up. He crosses but also cuts inside to either shoot or play a striker in. Earlier it was highlighted that Immobile was playing deeper. This means that only Caicedo and sometimes Sergej Milinkovic-Savic were the only ones in the box to aim for. With Udinese packing the box with defenders, it was always an uphill struggle to score a header. If Immobile continues to play deeper, Jony must change up his style and start taking players on. Jony is playing like he is scared to make mistakes. At this point, Laziali would rather he take players on and get tackled then cross a ball that is easily cleared.
Final Thoughts
Unfortunately, this game wasn't very interesting tactically. Udinese settled in, waiting for Lazio to make a mistake – which happened often – and Lazio relied on Luis Alberto to make a miracle happen. Things will have to change against Juventus or it could be a very embarrassing scoreline. Hopefully, the five-day break will give this tired Lazio squad a chance to breathe and correct what has gone wrong in the now four-game winless run.