Nigel Gan is a dedicated Lazio fan from Singapore who is the author of '10,000 KM FOR YOU – The Travel Diary of a Football Fan: The Rome Derby'. Written entirely in English, the novel focuses on Nigel's adventurous journey to the Derby della Capitale between Lazio and Roma while also briefly touching upon both history of the club and how the rivalry between the Biancocelesti and Giallorossi kick-started back in 1927. In collaboration with Nigel, The Laziali will be releasing the book chapter-by-chapter (on the website) to promote his work to Lazio supporters worldwide; below is Chapter VII: The Indonesians.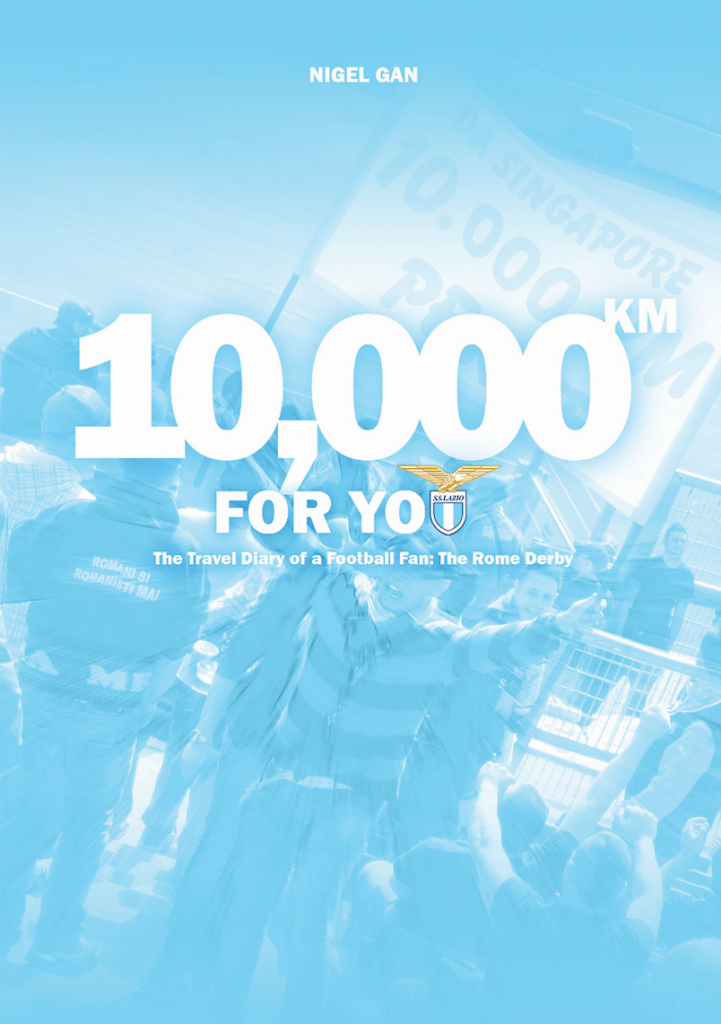 Seven months after my visit to Rome and the dreadful derby loss, I decided to embark on another journey.
Ever since I bumped into the first Indonesian Laziale on Facebook, I have been greatly amazed by their passion for the club, and after numerous invitations by the former President of Lazio Indonesia, Johan, to visit the country, I finally get around to buying a ticket and hopping onto a plane.
I would have loved to travel another ten thousand kilometres to Rome for the derby again, but such fantasies are conditioned by my financial status, and it seems wiser to opt for the more economical option. After all, I was close to visiting Indonesia last year anyway, before Mount Merapi in Yogyakarta erupted, forcing me to cancel my trip.
Upon arriving at Jakarta's Soekarno-Hatta airport, I am warmly greeted by Johan and Hendra, who have taken time off from work to pick me at the airport and show me around the city. The moment I enter Hendra's car, the all-so-familiar hymn of 'Non Mollare Mai' is already blasting away.
"Beautiful song, isn't it? Are you ready for the derby?" I ask.
"Yes. Roma merda!" Hendra says.
We chat animatedly about the upcoming derby as we drive pass the national fountain of Jakarta.
"If we win the derby, let's swim in the fountain!" He sounds very optimistic.
Hendra is a banker who has followed Lazio since the days of Alen Boksic and Pierluigi Casiraghi. Dressed in a formal blue long-sleeved shirt and black pants, he remains one of the most fanatical Lazio supporters I have ever met in this country. Johan, on the other hand, is a down-to-earth, humble, shy and well-mannered man whom I had first met during his visit to Singapore. A graphic designer who runs his own company, Johan is my travel mate on this trip around Indonesia, where I have made plans to meet various Laziali across the country.
After dinner, where I'm introduced to more Lazio supporters and Adrian, the newly-elected President of Lazio Indonesia, we make our way to the train station, where Johan and I catch an eight-hour night train to the city of Yogyakarta.
Yogyakarta, or known as Jogjakarta in the Malay language, is renowned for its rich Javanese culture with puppet shows, poetry, and one of the world's most famous heritage sites, the Borobudur Temple. The second most popular tourist destination after Bali, the city was also once the nation's capital during the Indonesian National Revolution from 1945 to 1949.
Antonius and Eka, the leaders of the Lazio Yogyakarta group, are at the train station to welcome us. These two young men spend the entire day showing us around the city and took us to places such as Borobudur Temple, Mount Merapi, and the Malioboro shopping district.
Mount Merapi is the most active volcano in Indonesia, with the last eruption taking place in November 2010. When we arrive at the base camp of the mountain, I cannot believe the level of destruction Mother Nature had inflicted upon the country. The forest that used to be at the foot of the mountain had been razed down, according to Antonius.
"Now it's just an empty plot of land." He adds. We walk past a house laid with flowers on the ground, and there's a banner with a picture of an old man inside the little hut. The man happens to be the guardian of the mountain, who refused to flee when the volcano erupted. He perished alongside several others, and their names were inscribed on the banner in memory of their Martyrdom.
"Some people said he was a hero, while some said he was an idiot," Antonius explains. Perhaps it was not entirely stupid. After all, he was just fulfilling his duty as the guardian of the mountain, and that turned out to be his eventual destiny in fulfilling an ancient code.
There's quite some trekking to be done, as the slope up the mountain is wickedly steep. Unfortunately, fallen trees and obstacles from the last eruption block the route to the paramount and halt our progress. We have to call it a day. As we descended from Mount Merapi, I pose for a shot with my Lazio scarf. I feel that it's just recognition for all my efforts.
I meet up with more Laziali when we go to a famous local restaurant downtown for dinner. There are ten of them, and they are all incredibly friendly and warm. I blend in with the boys straight away and have a good time cracking jokes, and also picking up on new Javanese dialects (vulgarities included). Antonius bestows upon me a Miroslav Klose T-shirt, which he designed himself. Klose had somehow become an instant hero among the Lazio supporters, as he had scored crucial goals for the Biancoceleste in Serie A following his transfer from Bayern Munich. Unlike most players who need time to adapt to Italian football, the German striker is simply born for calcio and Lazio.
The camaraderie and bonding in this group of Laziali is amazingly strong. This close-knit group meets twice a week to play football and on match day to watch Lazio. They even have their very own Lazio Jogja Futsal team, which has competed against a local side comprised of Romanisti, plus teams from other cities.
With more than a hundred fans, this group is already feeling like a big family of Laziali that breathes only for Lazio.
The mood suddenly changes when someone starts talking about the upcoming derby on Sunday. After five consecutive derby defeats, everyone suddenly becomes serious.
"Is Klose playing? Is Klose playing?" Others around the table begin to ask.
Klose is a major doubt for the derby as he injured his left foot during a recent game against Fiorentina.
"Well, the latest news from Rome says he will play!" I reply.
The boys let off a huge cheer of relief.
"Klose is the key! If he plays, we win!" Erik, one of the top boys in the group, adds.
"Yes! We will score three against 'Rombeng'!" Yuhan shouts excitedly.
'Rombeng' is the nickname given to Roma by the Lazio fans in Indonesia. It is derived from a local dialect, which means garbage or junk.
Yuhan is an undergraduate in a local university, and his favourite Lazio player is Guglielmo Stendardo. One of the youngest members in the group, the lad has frizzy hair and resembles the lead actor of the famous eighties film, 'The Gods Must Be Crazy'. In one of the many conversations I had with him, he told me that he had been mesmerized by the sky-blue jersey of Lazio when he first saw them on television.
"What if the team you saw on television that day was Manchester City? They share the same colour!" I teased.
"It is different; it is in their style. It is Lazio's!" He corrected. I thought that was a beautiful answer and was very proud to hear it.
Amidst the growing anxiety about the derby and all the score-line predictions, I attempt to brush away the subject, as the speculation begins gnawing at my superstitious nerves.
"Guys, stop predicting the scores! It is very 'pantang!" I say. The table burst into laughter – 'Pantang' meant superstitious in Bahasa Indonesia.
It's amazing that despite being more than ten thousand kilometres away from Rome, this group of passionate and loyal supporters still care so much about the club, and the derby tension can even be felt here. I find myself yearning for President Claudio Lotito to know about the existence of this group of die-hard fans, as too should the main body fans in Rome.
These boys commonly aspire to travel to Rome's Stadio Olimpico to catch Lazio in action. It remains a distant dream for many of them, but judging from their looks, I can make out that fire simmering in their eyes that tells me right there and then that they will never give up. The desire and spirit that only Laziale possess – Non Mollare Mai! (Never give up)
After dinner, we set out to the monument of Yogyakarta, Tugu. 'Tugu' means column, and it's the symbol of the city. Located in the middle of a busy ring road, this monument showcases a sphere with a top spire that represents the universe, reminding me of the many Egyptian spheres I had seen in Rome.
Like back in the Piazza Del Popolo, the local folks love to hang out there. As for the boys, they go there to celebrate whenever Lazio wins.
"We will come here if we beat Roma on Sunday!" Antonius promises.
"Shhhhh…it is 'pantang'!" I cut him off. Everyone bursts out laughing again.
This visit to the city of Yogjakarta changed my view of life. It's remarkable, not being the most glamorous of settlements, but for being a very peaceful and laid-back village-style city, with residents who stay genuine to their roots. I can feel their sincerity, just from talking to them. They treasure friendships more than anything else in the world, as compared to some of my Singaporean friends, who lived in a superficial and plastic world, capable of sacrificing anything just to get to the top, and so busy with their lives that they don't even have time to meet up for a cup of coffee.
The Indonesians are not wealthy, and some of the folks can't even afford a plane ticket, but still, they found it in themselves to live out a fruitful and happy life. On the other hand, many of my own compatriots complain insignificantly about late trains, train faults, and how packed trains are every morning, merely to illustrate the gulf in the satisfaction that could have been drawn from the daily.