There is a video on YouTube that many would find utterly hilarious entitled: "LaLiga Memory: Ciro Immobile Best Goals and Skills." It is a two-minute-long compilation of Immobile's 'best' moments with Sevilla, a club where he made a whopping eight league appearances scoring two goals. The video starts with a montage of clips where Ciro is just standing around, set to music better suited for a low budget gladiator movie. Immobile will make a run that leads to nowhere, a good move followed by a shot straight to the goalkeeper or skied over the bar. In one instance, Ciro lines up to take a shot, but the camera does not bother following the ball. It just shows Immobile's reaction, and judging by his body language, it was not important to know exactly where that ball went. In another clip, Immobile dribbles the ball blisteringly towards the next before the video stops. Did he pass? Did he sky the ball over the net? Did he just dribble the ball straight past the touchline and under the stands like a FIFA glitch? It clearly does not matter. Finally, 1:10 minutes into the video, Immobile scores his first goal which is promptly followed by a shot of an open header gone wide and a shot skied over the net before playing Immobile's second and final goal in La Liga, against Real Madrid no less.
This short video can put two thoughts into one's head. First, it makes one think of the unfortunate La Liga media employees who had to pour through hours of footage, all of which took place nearly four years prior, just to find a couple of shots gone over the net or a good dribble that leads to nothing. All of that work to make a video that has gotten just over 15,000 views in its year of existence. Second of all, it makes one realize how far Immobile fell. Coming off a wonderful 2013-14 Capocannoniere winning 22 goal season at UEFA Europa League qualifying Torino, he and his creative counterpart Alessio Cerci were set to take Europe by storm. However, instead, Immobile left Turin for Borussia Dortmund – poised to fill the void left by Robert Lewandowski after his move to Bayern Munich – and Cerci left to Atletico Madrid to join a team that just finished runners up in the UEFA Champions League.
A year later both would experience sharp career declines upon leaving Piedmont. Immobile would score only three league goals at Dortmund before being shipped off to Sevilla on loan where, as previously mentioned, he had solely a few worthy moments. Cerci would spend a very forgettable year at Atletico before slipping into obscurity, and as was recently reported, he is still in a career spiral that has not yet hit the bottom. Immobile, however, became a different story. He was loaned back to Torino where he was better, scoring five in 14 Serie A appearances on loan. Then he made a permanent switch to Italy, joining Lazio for $10 million in 2016; the Italian has since seen a career revival that few could have expected. He has scored double-digit league goals in all four of his seasons in Rome, and even won joint Capocannoniere with Mauro Icardi in 2017/18, scoring 29 goals (which was a career-best until up to that point). Now, in 2019/20, Immobile has been the face of a surging Lazio side, scoring 31 goals and counting in Serie A play.
In scoring 30+ goals in a single campaign in Italy, Immobile has put his name amongst other greats like Gonzalo Higuain, Luca Toni, Cristiano Ronaldo, Gunnar Nordahl, and Giuseppe Meazza. This achievement gives the world an opportunity to take another look at his career to this point. The Ciro everyone sees today at a first glance is a far cry from the visibly dejected man wearing a Sevilla shirt in the aforementioned YouTube video.
With this, it is time to analyze what has changed; what made one of the most promising young strikers in Europe go cold, and how he managed to regain his form to where it is today. Using all of the advanced metrics and footage that is possible to find, the conclusion is that Immobile never really lost a whole lot of firm; his downfall – as well as his resurrection – were very much down to circumstance.
Background
Immobile started his career at Juventus and spent much of his time with the Turin giants on loan, most notably to Pescara in 2011-12, where he famously starred alongside Marco Verratti and Lorenzo Insigne scoring 28 Serie B goals and helping the Delfini gain promotion.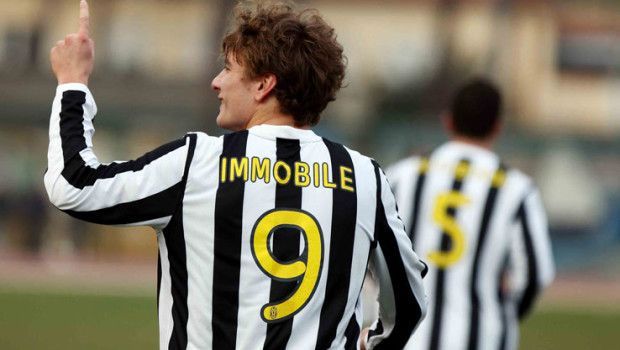 This lead to an underwhelming stint a Genoa, before going to Torino in 2013 and scoring 22 goals to earn himself his first Capocannoniere. At Torino, Immobile played in a 3-5-2 system (much like he does now at Lazio), and his success was due to his front-line partnership with Cerci. The two played together in a two striker system that saw Immobile play as a dynamic and predatory striker with excellent attack positioning and Cerci as a quick and well rounded second striker, who provided 10 assists and scored 13 himself.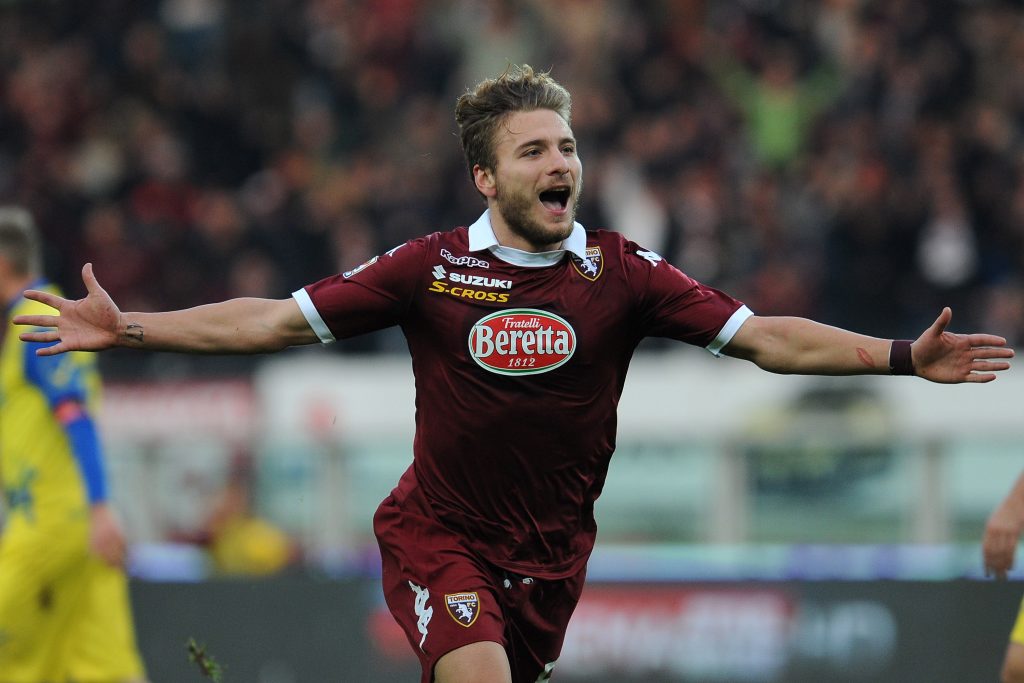 After that breakthrough season, Immobile moved to Borussia Dortmund for a fee of €18.5 million, and the narrative of the often single-minded football commentary world went as such. After one season at Dortmund, Immobile completely lost his form. He scored only three league goals in 24 league appearances. Failing to impress Jurgen Klopp, he was immediately loaned then sold to Sevilla at a loss where he continued a sharp career decline; it was not until a permanent return to Italy in 2016 where he regained his form at Lazio.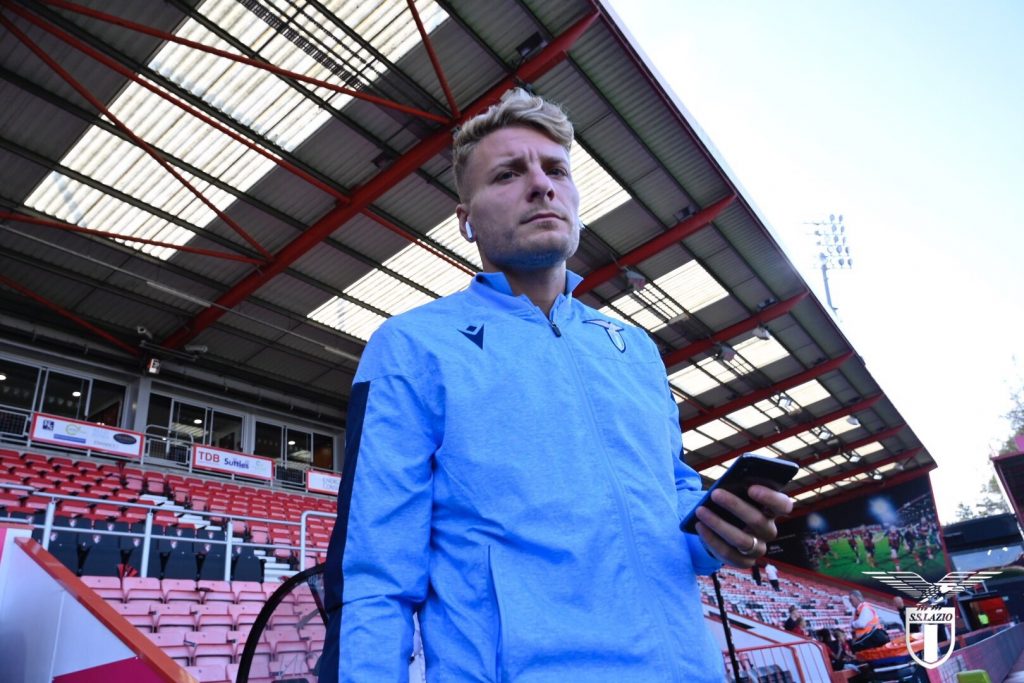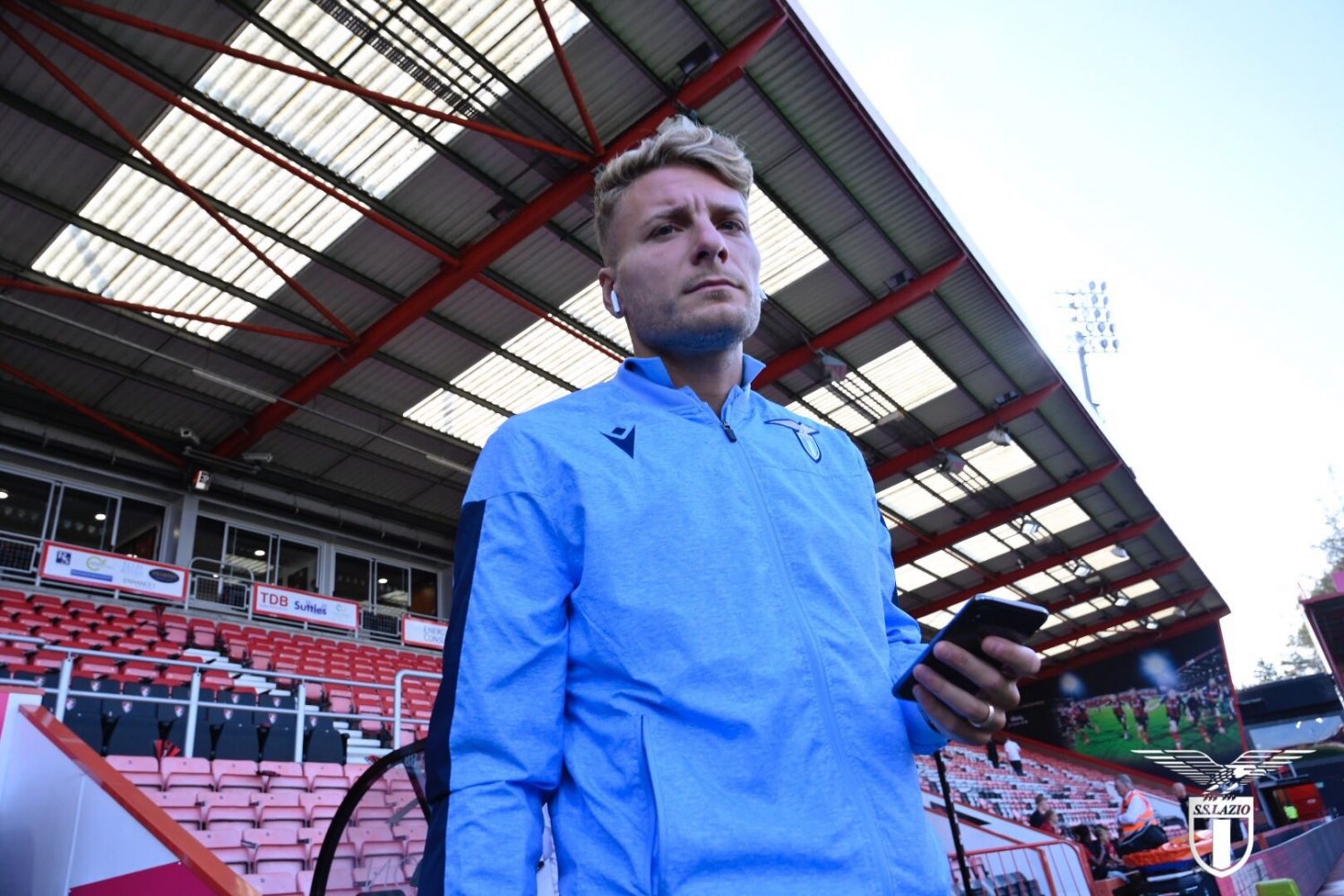 Is it just to say that Immobile was/is only able to show his true potential while in Italy? There are a few flaws with this assumption, most damning is the belief that Immobile's form suddenly fell off a cliff, only to magically return when he transferred to Lazio in 2016. There are two important variables to look at when judging Immobile's time abroad: first is the difficulty of adjusting from Serie A to the Bundesliga and the second is adjusting to a foreign system.
Italy (Serie A) to Germany (Bundesliga)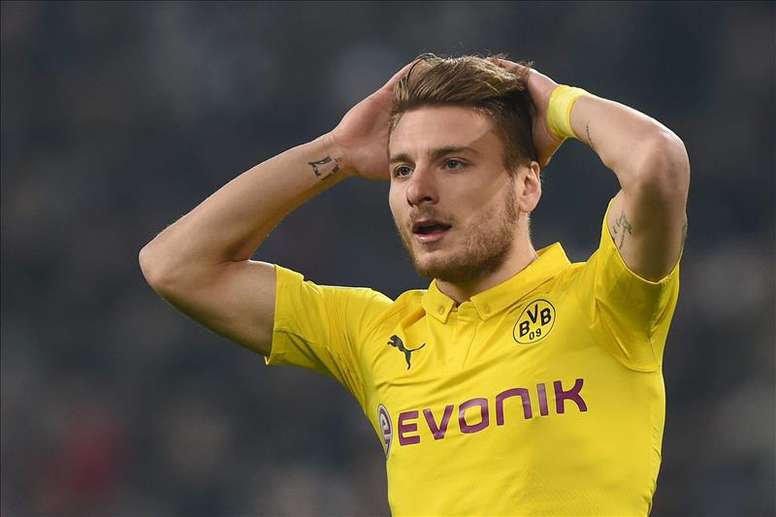 It is very rare for top-level footballers to make the jump from Serie A to the Bundesliga, and very few do so successfully. The two leagues juxtapose each other pretty well; Serie A is seen as slow, tactical and defensive, while the Bundesliga is fast-paced and athletic.
Over the past 10 years, only a handful of notable players have made such a switch. Ivan Perisic had an underwhelming first year at Bayern Munich after leaving Inter. Kingsley Coman spent only about a year at Juventus before switching Piedmont for Bavaria, and as of late, the French winger has been usurped by Serge Gnabry at Bayern. Medhi Benatia also swapped Italy for Bayern, only to be swiftly shipped back to Serie A joining Juventus. 
It could be argued that the only two players to enjoy a successful switch from Serie A to the Bundesliga in the past 10 years have been Arturo Vidal and possibly Kevin-Prince Boateng, moving from AC Milan to Schalke. Both of these two players, however, had played in Germany before finding success in Italy, thus making their transition back easier.
Then, in terms of Italians truly thriving in Germany this century, it could be argued the only to do so has been Luca Toni at Bayern Munich. His successful stint in Munich is highlighted by the fact that he is only Italian to ever win a Bundesliga Golden Boot.
Therefore, from the start, Immobile's luck was against him.
3-5-2 Formation to 4-2-3-1 Formation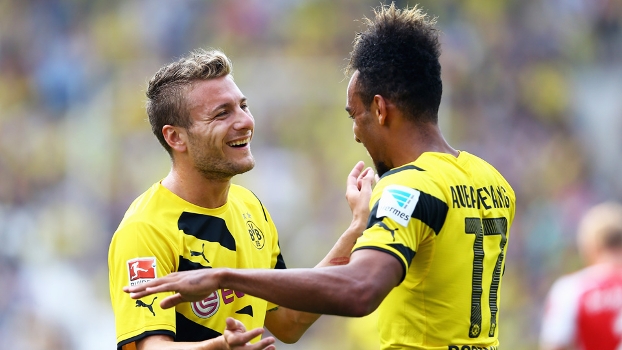 The next challenge in line for Immobile was that he had to adjust to Dortmund's 4-2-3-1 system. Immobile found success at Torino playing off a creative second striker (3-5-2 or 3-5-1-1); playing in a one striker system meant Immobile needed to adjust to both a new league and a foreign system.
It is common for strikers to take a year to adjust to a new league or system when changing teams, and it also did not help that Immobile's competition, Pierre-Emerick Aubameyang already had a season at Dortmund under his belt and several years' experience playing in a 4-2-3-1 at Saint Etienne before joining Dortmund. Aubameyang scored 16 Bundesliga goals and the No. 9 role was his, thus meaning there was no need to give Immobile time to develop.
The other dissent of the Immobile narrative is that, if you dig deeper, you find out that the Italian actually played quite well in his time in Dortmund considering everything. First, he scored four goals in five Champions League appearances, averaging nearly one goal every 100 minutes.
Then there is the Expected Goals or xG statistics. This is a statistic that, according to creators Opta "measures the quality of a shot based on several variables such as an assist type, shot angle and distance from goal, whether it was a headed shot and whether it was defined as a big chance. Adding up a player or team's expected goals provides an indication of how many goals a player or team should have scored on average, given the shots they have taken."
In doing so, xG values an individual's ability to put himself in good scoring opportunities and eliminates variables such as unusually good saves from a goalkeeper or uncharacteristic saves. Immobile had an xG/90 of .45, meaning he should have scored a goal just about once every other 90 minutes of play. Comparing this to every Bundesliga player in the 2014/15 season with over 800 minutes, Immobile ranked 10th in the league for xG/90.
What can be concluded from this? Most importantly is that Immobile was playing well through his limited game time and many unstable substitute appearances. It is extremely difficult for a goalscorer to find consistent form when his playing time was inconsistent, Immobile was no exception. Regardless, he was putting himself in good opportunities to score and had he been given more time to develop in Germany, he likely would have turned into one of the better Bundesliga strikers. Furthermore, during his time in Spain, his xG/90 was .85, albeit achieving this with a much smaller sample size. For reference Immobile's current xG/90 this season is .76.
Return to Italy (Serie A)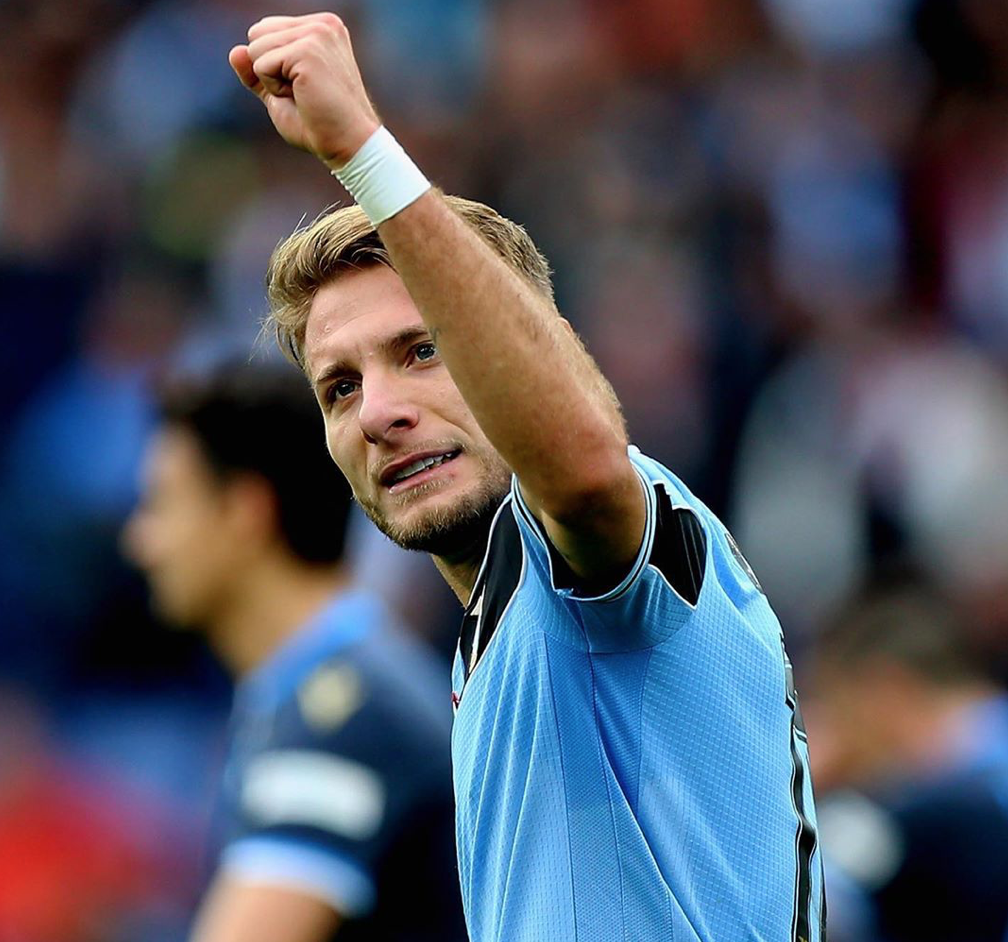 Upon his permanent return to Italy with Lazio, Immobile's goal tally in his four Serie A seasons have been 23, 29, 15, and at least 31, as he was given a chance to get regular starting football in a league he was used to.
Under Simone Inzaghi he has played under a three-at-the-back system, with second strikers Luis Alberto and Joaquin Correa playing off Immobile much like Cerci did all those years ago. This gives Immobile the ability to play as an in-the-box poacher, highlighting his good movement off the ball and calm finishing in front of goal.
At Dortmund, Immobile had to adjust to a new system and league and had to compete with a striker in Aubameyang who was used to said system and leagues and even in xG metrics performed a little bit better. He was only given a year to perform. At Sevilla he was given even less time, even though his play was encouraging. At Lazio he was given the opportunities that were denied to him elsewhere, and he is finally being mentioned amongst the best in the world.
Given all of this, it should not have been much of a surprise that Immobile would transition so well to a move back in Serie A. Perhaps the genius of Igli Tare in the rest of the Lazio board is just that, finding trends and transfers that should be obvious, but for some reason or another, given faulty rhetoric or a lack of research have passed other clubs by.
Final Thoughts
Returning to that original YouTube video from his brief stint at Sevilla. Through the obscurity and comedy of the whole thing, you can see a striker who was constantly putting himself in the right position, only for one thing or another to go wrong, and only twice finding the back on the net. That striker who won the Capocannoniere at Torino was still there, but something, whether it be confidence, tactics, or a trustworthy manager was missing, whatever it was, he found it again at Lazio.
In conclusion, this is a celebration of Immobile. As previously mentioned, his 30-goal campaign this season puts him up there with Toni, Ronaldo, Higuain, and Meazza. In doing so he has achieved something the likes of Zlatan Ibrahimovic, Antonio Di Natale, Hernan Crespo, Andriy Shevchenko, Francesco Totti, and countless other legends of the Italian game did not.
As the world starts to summarize Immobile's career, he should not be known as a player who defied the odds, but one who defied the occasional short-sightedness and lack of judgement from the football world.