Lazio played Brescia at the Stadio Olimpico in Matchday 37 of the 2019/20 Serie A. Lazio managed to keep a clean sheet winning 2-0 with Ciro Immobile passing Robert Lewandowski in the European Golden Boot standings; Ciro now sits on 35 goals. This tactical analysis looks at the Lazio playing between the lines, defensive corner issues, and a look forward to the Biancocelesti's next fixture against Napoli.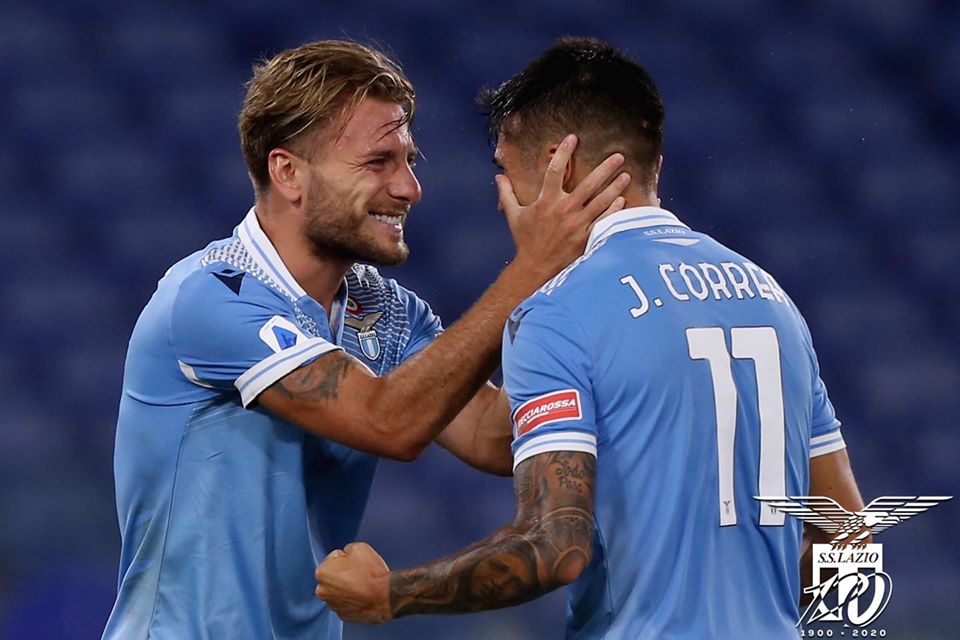 Lazio Playing Between the Lines
For both of the goals, it only took a couple of passes for Lazio to get in behind Brescia. The 4-4-2 formation that Brescia used played perfectly into Lazio's hands, as highlighted in Matchday 36, Hellas Verona 1-5 Lazio: Tactical Analysis. For the first goal, Patric played a stong ball through the middle, completely avoiding the strikers and going through the two central midfielders. This ball was played multiple times during the match to launch attacks.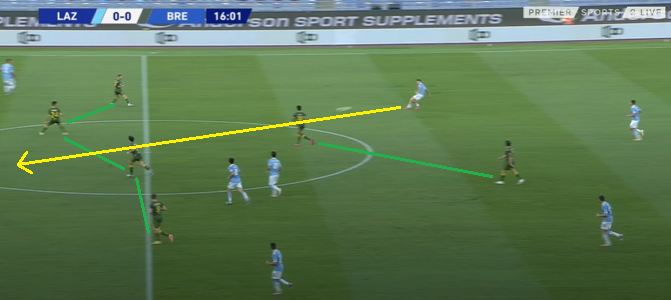 Joaquin Correa received the pass but Sandro Tonali managed to recover to put some pressure on him. Ciro Immobile strayed offside so Correa decided to dribble with the ball and wait for an opportunity to arise.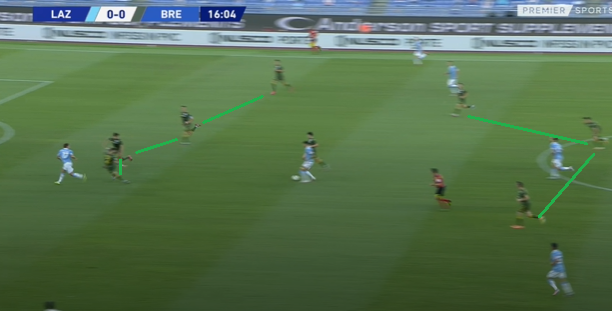 Immobile found himself in space due to Andrea Papetti committing to Correa. The two left-sided defenders for Brescia were occupied with Sergej Milinkovic-Savic and Manuel Lazzari. Correa decided to pass into Immobile, initiating a one-two.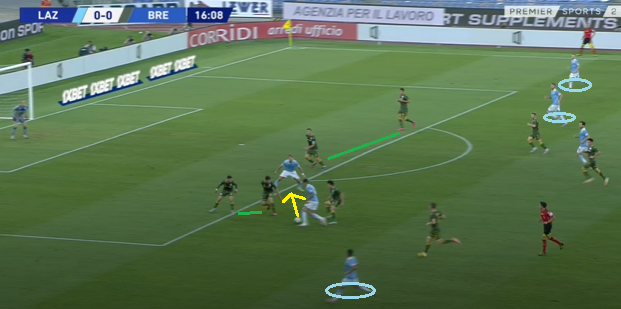 With Papetti committing, he was wrong-footed by the pass, leaving space for Correa to run into. Immobile returned the pass and after a few fake shots, Correa netted Lazio's first of the game. From Patric, there were only three passes before the shot.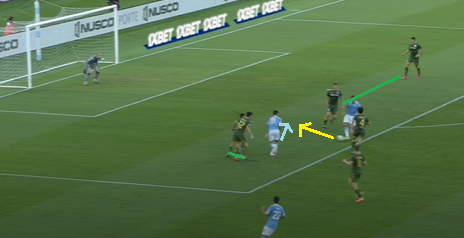 The second goal may have been made possible due to Brescia being out of shape. However, it was still a good example of Lazio passing between the lines. Patric played a good ball into Milinkovic-Savic who was just ahead of Brescia's midfield four. There was a massive amount of space for Correa to drop short and pick up the ball. Sergej complied and passed it into him.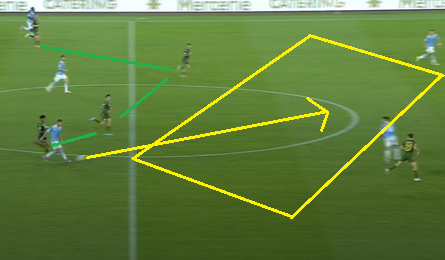 The recovering midfield four were now out of the game. Ales Mateju was the defender who committed this time leaving Correa two options. Left or right of Stefano Sabelli. He opted to pass right and Immobile was in on goal.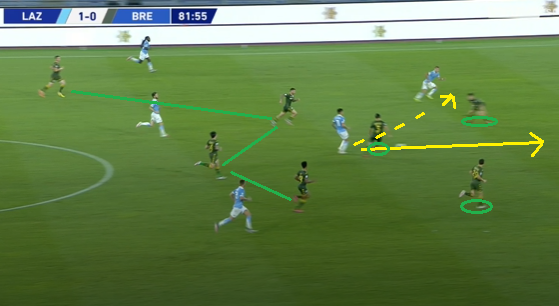 There's not much analysis to be done on this frame; 30 seconds after missing an almost identical chance Immobile slotted the ball away to double Lazio's lead and bring his total to 35 goals this season. Again, only three passes were made from central defender to goalscorer. Efficient counter-attacking at its finest.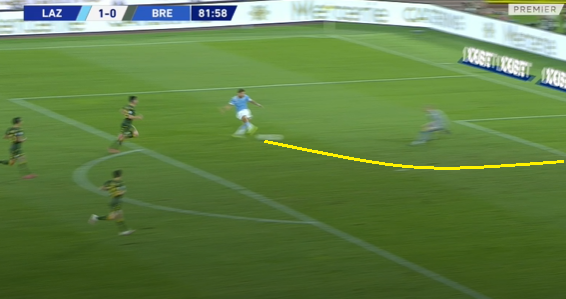 Lazio Defending Corners
Lazio struggled to defend Brescia corners. Brescia had a 50% success rate with corners giving their big men plenty of chances to score. The best chance came from their first corner. There was a group of eight players in the middle of the box. Four defenders and four attackers, pretty simple stuff from Lazio, who also have four defenders in the six-yard box to help out goalkeeper Thomas Strakosha.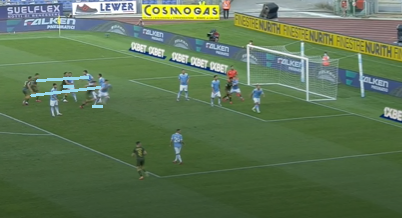 Lazio's marking well apart from Jony who let his man run right past him. Luckily, the free header was fired over, and Jony breathed a sigh of relief.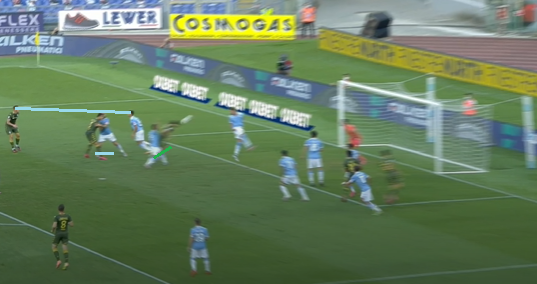 The second major chance came right before half time from a corner. Again Lazio man marked in the box with four more defenders in the six-yard box to stop any danger.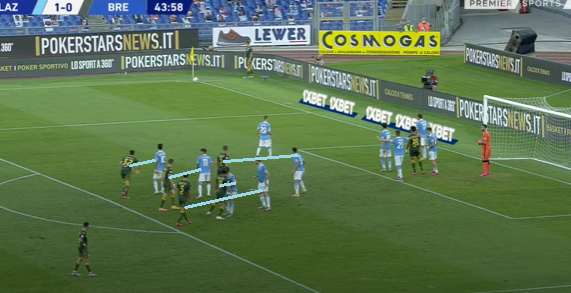 Highlighted in the yellow circle are Lazio defenders all picking up their men and staying goal side. The green circle is Jony failing to get a good jump in on his man. Again luckily, the attempt is off-target. This is a real problem for Lazio, perhaps a change of personnel man-marking may help.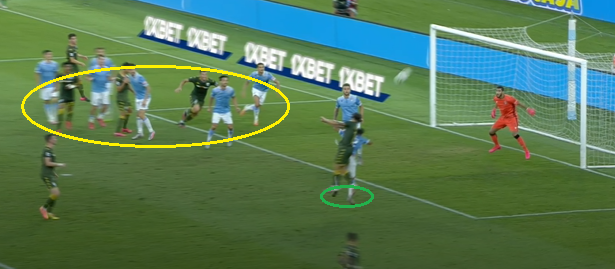 A Look Ahead
Lazio faces Napoli next in the last game of the 2019/20 Serie A season. Napoli plays a 4-3-3 formation which could cause Lazio some real problems. This is the same formation Juventus used, in their 2-1 victory against the Biancocelesti. The pressing from the front three will cause Lazio issues as they like to build from the back slowly, waiting for the right moment to attack. Napoli will also be able to counter quickly with their three attackers, which will be an issue as Lazio commits a lot of players forward leaving themselves exposed to quick breaks. Immobile only needs one more goal to level Gonzalo Higuain's record of 36 goals in a single Serie A season. Immobile has netted in the last three league games against Napoli, so he will fancy his chances of getting a goal. Two more goals and he will hold the record outright and will surely win the European Golden Boot and the Capocannoniere title. Expect a fast-paced game with lots of chances due to the pace and quality of both teams. Three points will secure a top-three finish as Inter and Atalanta play each other meaning one or even both teams will drop points. A top-three spot absolutely guarantees Lazio's return to the UEFA Champions League.