Lazio took on Napoli at the Stadio San Paolo in Matchday 38 of the 2019/20 Serie A, in a game where the Biancocelesti struggled and were on the wrong end of a 3-1 scoreline. This tactical analysis looks at Napoli's pressing, Lazio's counter-attack, and the average playing positions of both teams.
Napoli's Pressing
As expected Napoli's front three caused Lazio a lot of problems when they tried playing out from the back. Much like the game against Juventus, this caused panic in the back three and gifted Napoli opportunities.
This example came from a goal kick. The ball is played to Francesco Acerbi who finds himself under pressure right away. Under usual circumstances, the back three are allowed to walk the ball nearly to the halfway line. Against the high press of Napoli, this was not the case. Luiz Felipe was being marked in the box; the only logical ball was to Adam Marusic who occupied the left wing-back position for the game.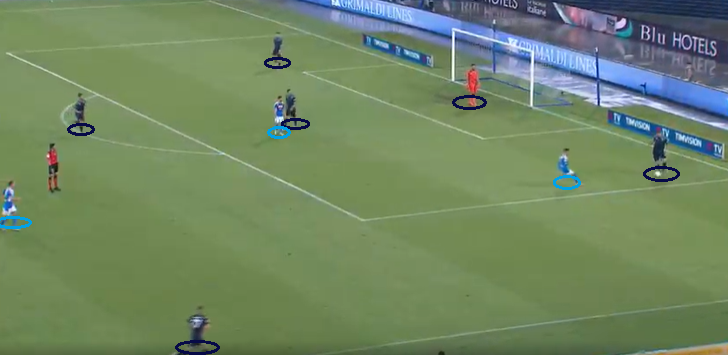 The ball was played which triggered more Napoli players to press. The red lines signifying a marked Lazio player, only Thomas Strakosha and Patric were free. A ball to either of them woul have been incredibly risky. Marusic could only attempt to clear.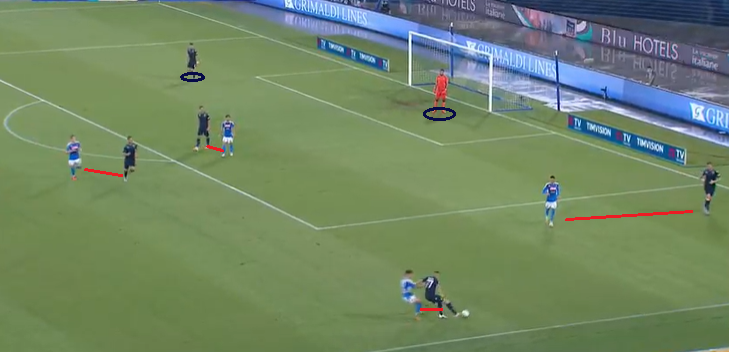 The clearance was poor. Luiz Felipe had to come out to close down the man with the ball which left two Napoli players completely unmarked. This led to a great chance that only just missed the target. A big let-off for Lazio; unfortunately, this continued throughout the game.
This has been an issue for Simone Inzaghi as he likes to start most attacks methodically from the central defender. When teams like Atalanta, Napoli, and Juventus come to play though, Lazio must move the ball quickly if they want to be able to play out from the back. The slow goal kicks must stop against these aforementioned teams.
Lazio on the Counter
The Lazio counter-attack has been key to the success of the team. With players like Joaquin Correa and Luis Alberto, launching quick attacks has been quite easy for the Biancocelesti. However, during this game, Napoli decided the way to stop this was to consistently foul these two players. This meant the quick counter-attacks were few and far between.
The goal did come from a counter-attack though, Marco Parolo saw Marusic in space on the left-wing, and played a lovely ball to him. Manuel Lazzari was also making a run on the right but was being marked. The trio of Ciro Immobile, Alberto and Correa were very close together, perhaps waiting for a ball into their feet.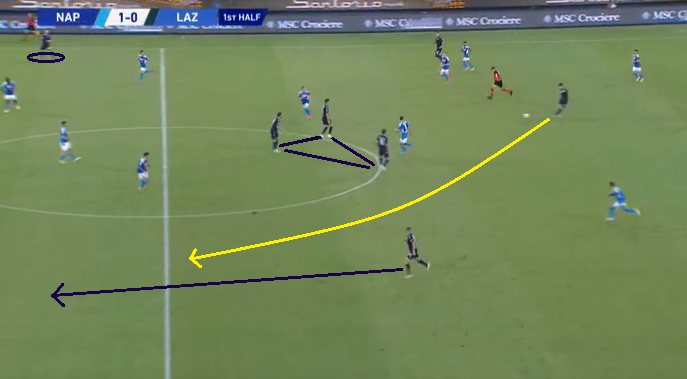 Marusic continued his run and Immobile worked hard to get to the Napoli backline. If he was a little bit higher than he was in the first picture, he may have found himself in a better position to be played in. Note Lazzari who made a run on the right to occupy some defenders.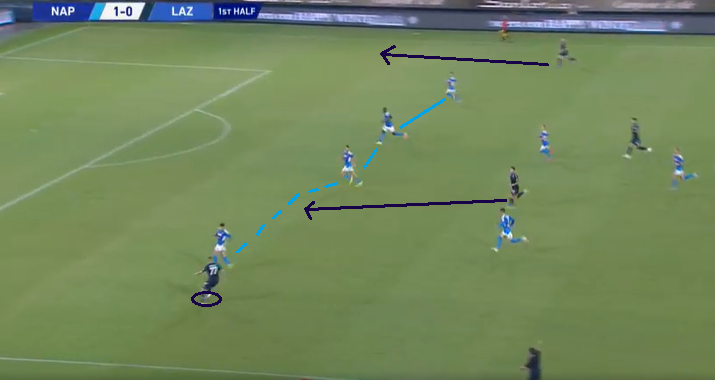 A slightly unorthodox one-two and a great finish from Immobile got him his 36th for the season. This was a great counter-attack which took advantage of Napoli committing a lot of players to the press. It was the only successful counterattack of the game, again, maybe there would have been more if it was not for tactical fouls from the Napoli players.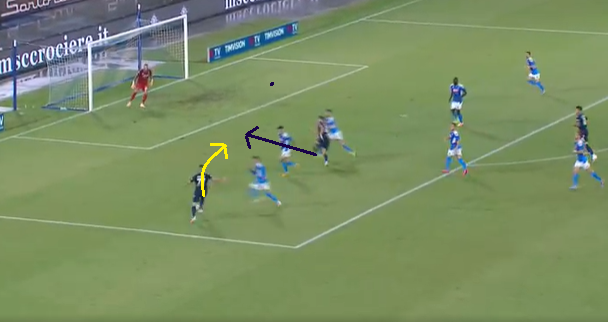 Average Playing Positions
The average playing positions show that Napoli tried to exploit the Lazio right flank. The right pairing of Sergej Milinkovic-Savic and Lazzari were higher than the left of Luis Alberto and Marusic. This meant there was space to exploit, which Napoli did. 41% of their attacks came from that wing. This may be something that Inazghi could look at during the break. Milinkovic-Savic could swap to the left of midfield during games which would switch the point of attack. This isn't anything too complicated and could be implemented when defences get too comfortable. Much like when wingers swap sides.

Conclusion
This game went as expected, as there were a lot of chances for both teams and it was a high energy affair. Unfortunately, Lazio did not take their chances and Napoli did. The worrying sign from this season was that Lazio struggled when teams pressed them aggressively. This could be a problem when facing top-quality teams in the UEFA Champions League next season. Being in Pot 3 means that they will not be in an easy group at all.  With 47 days until the new season, Inzaghi will be working hard to prepare and refine Lazio's tactics. This will not be enough though; Igli Tare must bring in high-class players to not only replace injured and old players but to improve the overall quality of the squad. One thing is for certain, the bar has been set high for Lazio's 2020/21 season.