In the 2019/20 Serie A, 187 penalties were awarded. Referees have been criticized and strikers have been mocked, but did it really make that much of a difference? In the first edition of a five-part series – which will take a close look at the penalties awarded to the top four (Juventus, Inter, Atalanta, Lazio) – Lazio were analyzed.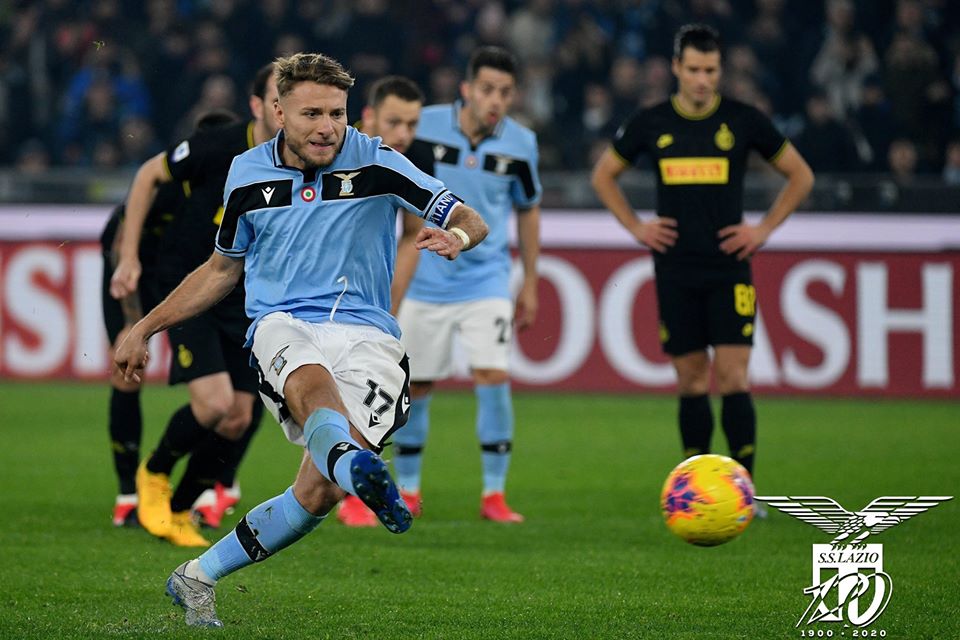 Penalty Winners, Penalty Takers and VAR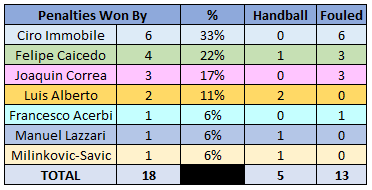 Ciro Immobile won the most penalties for Lazio in the 2019/20 Serie A. The Italian striker won a total of 6 penalties, all from being fouled by opposition players. The next two highest winners were Felipe Caicedo and Joaquin Correa. They combined to win a total of 7 penalties together, with only 1 coming from a forced handball. 72% of Lazio's penalties came from these three aforementioned players. This was because Lazio used their front two to make runs into the box which forced defenders to take action. This often resulted in fouls. Not surprisingly, the other players who won penalties for the Biancocelesti were from handballs, bar Francesco Acerbi (who was fouled after being pushed up in an attempt to win a game at the death). In total, Lazio won 18 penalties, 5 from opposition handballs and 13 from players being fouled. This was surprising considering the reason stated for more penalties this season was the new handball rule. From the 5 handball penalties won by Lazio, 3 would have been given even without the rule change.

There were four penalty takers used by Lazio. The main taker, Immobile, scored 14 from 15 with a conversion rate of 93%. Luis Alberto took just 1 penalty, he converted it leaving him with a 100% record for the season. Caicedo and Correa faired worse; they took 1 each and failed to score. A 0% rate they would like to forget. As a whole, Lazio took 18 penalties and converted 15, a steady rate of 83%.

VAR was another reason used by many to explain the high penalty rate in Serie A. In terms of Lazio this was not entirely true. The referee had to go over to the screen to award 5 (28%) of Lazio's penalties. The rest of the 13 (72%) did not require the referee to do so.

Not that it should affect penalty decisions, but above are the statistics for penalties awarded when Lazio played at home compared to away. 11 (61%) penalties were awarded at home and 7 (39%) penalties were awarded away. Nothing out of the ordinary.
Did Penalties Effect Results?

Rival fans have mocked each other relentlessly this season about penalties, but did they really affect results that much? At first glance for Lazio, the answer was yes. Lazio won 10 (71%) of the games they had penalties in. They only drew 2 (14%) and lost 2 (14%) when they had penalties awarded. However, a deeper look tells a different story. In the table below, the scores of games with penalties included were compared to the scores without.

3 games were won that they would have otherwise drawn, which resulted in 6 points being gained from penalty goals. The home game against Atalanta was the only game Lazio drew that they would have lost without penalty goals, a 3-3 result. This meant a further 1 point was gained because of penalties. Lazio lost 2 games even with penalties and in 5 games where Lazio scored penalties, they would have won without them. With 0 games being won that they would have lost without penalties, only 7 points in total were gained as a direct result of penalty goals this season. A staggering figure when 18 penalties were awarded.
Conclusion
Although Lazio being awarded 18 penalties definitely helped Immobile win the European Golden Boot, only 7 points were actually gained as a direct result of penalties scored. So, in short, Lazio would have still finished fourth in the Serie A table. In the next edition of Serie A Penalty Kick Analysis, Juventus are under the microscope. The team in Serie A all other fans have persistently mocked for getting the most help from refereeing decisions. But do they really get that much help?