In the 2019/20 Serie A, 187 penalties were awarded. Referees have been criticized and strikers have been mocked, but did it really make that much of a difference? In the second edition of a five-part series – which will take a close look at the penalties awarded to the top four (Juventus, Inter, Atalanta, Lazio) – Juventus were analyzed.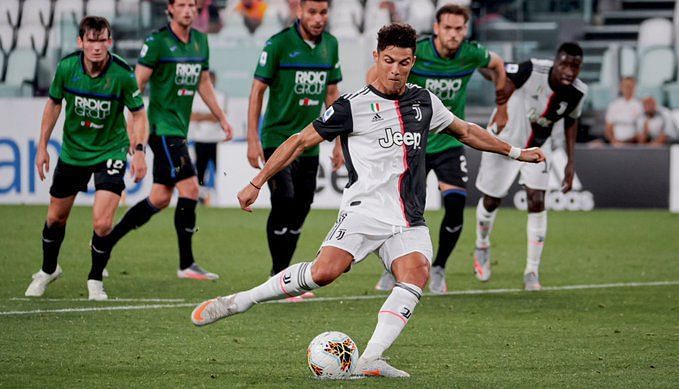 Penalty Winners, Penalty Takers and VAR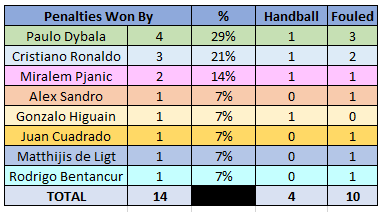 Paulo Dybala won 4 penalties for Juventus in the 2019/20 Serie A. These came from being fouled 3 times and a forced handball once. The only other players with more than one penalty won were Cristiano Ronaldo and Miralem Pjanic who won 3 and 2 penalties respectively. The five others won 1 each, adding up to 14 penalties in total. 4 handball penalties were given to Juventus, one of which was against Lazio. That was the only penalty that would not have been given without the new rule. Therefore, the high penalty count was because of fouls and clear handballs.
Juventus only used two penalty takers in the 2019/20 Serie A. Ronaldo took 13 penalties and converted 12, a success rate of 92%, coincidentally he took 92% of Juventus' penalties as well. Dybala took only 1 penalty this season. He scored it, leaving Juventus with a 93% penalty conversion rate for the 2019/20 Serie A season.

Juventus required a bit of assistance from VAR, 29% of the penalties awarded to them needed the referee to check the VAR screen. This number was still lower than many would have expected. VAR was used far less than it is made out to be in Serie A.

Interestingly 79% of Juventus' penalties came from home fixtures, only 3 of the 14 penalties awarded came in away games. This was quite strange as with a high volume of penalties and a 50/50 chance of them being awarded at home or away, you would expect a percentage nearer to 50%.
Did Penalties Effect Results?
In total Juventus had 12 games in which they were awarded a penalty. They lost 0, drew 3 (25%) and won 9 (75%). So, at first glance, it looks like Juventus got a lot of help from penalties. To actually see if the penalties affected the result, you have to look a bit deeper.

Juventus gained 11 points from the 14 penalties they had. They won games they would have drawn without penalties 4 times, therefore they gained 8 points. They also drew 3 times where they would have lost, which gained them 3 points. In only 4 games where they converted a penalty, they would have won without. The total points gained, therefore, stood at 11. Another surprisingly low total considering the high penalty count.
Conclusion
A total of 14 penalties were given to Juventus in the Serie A 2019/20, with only 1 being missed you would have thought they would have made a bigger difference. However, with only 11 points being gained in 7 games that were affected, they had less of an effect as expected. 79% of the penalties were awarded at home too which was an interesting statistic. In the next edition of Serie A Penalty Kick Analysis, Inter will be analyzed. They had 11 penalties this season, but did they affect their games that much?