David Silva's illustrious 10-year Manchester City career is coming to an end, as the Spaniard's contract expires this summer. The attacking midfielder was one of the first true stars to buy into City's ambitious plan to go from mid-table Premier League club to world beaters, and alongside the likes of Sergio Aguero, Vincent Kompany, Yaya Toure, and more recently Kevin De Bruyne and Raheem Sterling, Silva has been at the heart of one of the greatest clubs this past decade has seen.
David Silva & Lazio
Silva's departure from City has come at the perfect time, as a desire to stay in Europe and in the UEFA Champions League has meant Lazio are front runners to land his signature. This has undoubtedly lead to a sense of almost unanimous exaltation from Laziali worldwide. However, there has been one critique of his possible acquisition: why sign him when there are other positions that are in more need of upgrading?
It is true – Lazio's situation at left wing-back is questionable, there is no reliable backup striker and no good second choice goalkeeper. Midfield has been the one place where the Biancocelesti have had the least amount of issue, so why upgrade there? While this critique is valid, it is impossible to ignore the fact that David Silva would be the biggest name to come to Lazio since Miroslav Klose in 2011. Furthermore, to think of a time the Biancocelesti lured a player of Silva's current skill level, one would have to go back to the Sergio Cragnotti days; to sign him would be a massive power play, especially over Lazio's eternal rival Roma. This signing would show that the Biancocelesti are not in the Champions League to collect a check, they are there to compete. However, while most Laziali are simply dreaming of this potential transfer, one needs to get practical; determining where the 34-year-old fits in Simone Inzaghi's starting eleven is not so simple.
David Silva: Playing Style
Over the course of 10 years with City, David Silva has played in several positions and various formations under three different Managers, but a few key characteristics have remained the same; what the Spaniard lacks in pace and physicality, he makes up for in intelligence. Silva can read the game, and manipulate play in the attacking third, whether it be through smart passes or runs to open up play for himself or others. Most recently, the Spaniard has played as a bit of a #8/#10 hybrid in Pep Guardiola's 4-3-3 system, at the top of the three-man midfield alongside De Bruyne; a fellow creative attacker who can provide a bit more muscle, through long passes, powerful dribbling, or blistering shots outside the box. This prowess often gave Silva the space he desired. Behind the aforementioned two has continuously been a great play-linking defensive midfielder. Whether it be the likes of Yaya Toure, Fernandinho, or Rodri, each of these players sat back and provided defensive coverage, while the two attacking midfielders ventured forward.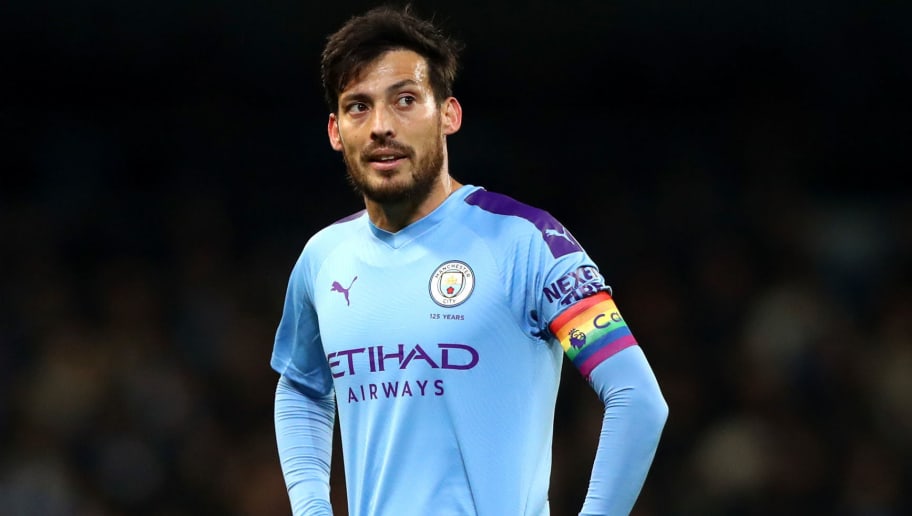 If this sounds familiar, it should. Lazio's three-man midfield plays almost exactly like this, with only a few deviations. Luis Alberto and Sergej Milinkovic-Savic play as two attacking midfielders, and Lucas Leiva is the unsung defensive option, willing to sit back while the other two go forward. This makes placing Silva in the current starting eleven ever-so difficult. Like for like, it would be easiest for him to take the place of Luis Alberto but is Inzaghi really going to bench a player who has arguably been one of the top three players in the squad for the past three/four years? Ultimately, fitting the 34-year-old into this team would be a bit more difficult than just keeping the current system and placing him in his ideal spot…
Scenario 1: Luis Alberto Returns to Playing in the #10 Position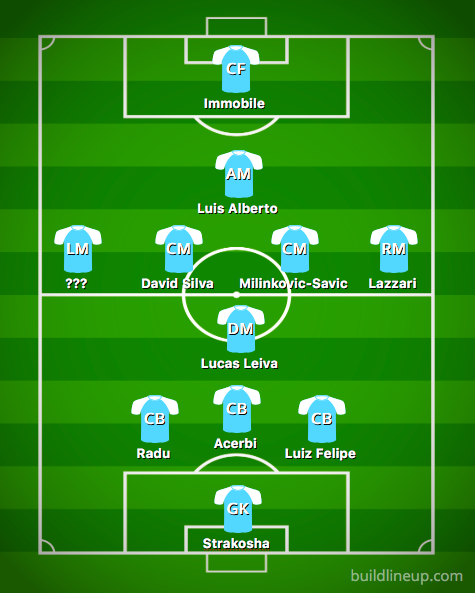 The formation above is less of a 3-5-2 and more of a 3-6-1. It does the job of mostly keeping Inzaghi's shape while also keeping the most talented players on the pitch. The big loser here is Joaquin Correa, who would see Luis Alberto take his place and return to his pre-Correa role behind Ciro Immobile.
Why This Would Work
As previously mentioned, this would put all of Lazio's best talent on the pitch without sacrificing the shape that has served the Biancocelesti so well under Inzaghi. The three-man back-line is in place, and Lucas Leiva has a monster of an attack to transition play to. The Brazilian, now 33, can focus on the nitty-gritty work he does best. Silva gets to play alongside Sergej, a younger and even more athletic midfielder than De Bruyne is. He would move forward and clear the way for Silva to find space and manipulate the opposing defense. Furthermore, Luis Alberto would be able to play further up. It was in this attacking midfielder role where he played so well in 2017/18, scoring 10 and assisting 14. Only now, the players around him would be even better.
Why This Would Not Work
First and foremost, this sends Correa to the bench. The Argentinian scored 9 goals amongst injuries and somewhat inconsistent minutes. xG and xA suggested he should have scored and assisted more than he did, and the 25-year-old is only getting better. Why would Lazio risk upsetting or halting the progress of a future star to accommodate a big name with at best two years left at the top? Sure, the Champions League this year is important, but Lazio should be striving for long-term success, not fleeting success. Secondly, despite Alberto's past success as a second striker/advanced midfielder, it is clear that Inzaghi prefers the Spaniard in a deeper role. Even when Correa was injured, Inzaghi preferred to put Felipe Caicedo up top alongside Immobile and keep Alberto in the midfield. However, the presence of Silva could give Inzaghi the confidence in his midfield to place Alberto higher up.
Scenario 2: Three Attacking Midfielders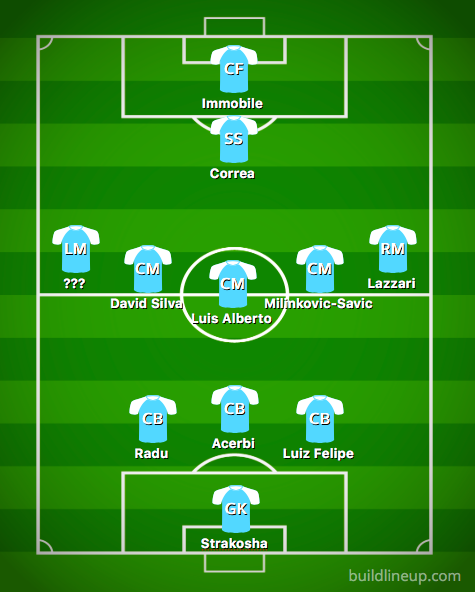 In the formation above, all of the attacking pieces are in place. Correa is deployed as a second striker, while the three-man midfield of Silva-Alberto-Milinkovic would be one an absolute handful for defenses. Lucas Leiva would be missing out, as he would be sacrificed to make way for a playmaker-heavy midfield three.
Why This Would Work
This is, simply put, a scary attack. The amount of creativity for Immobile would be scary. There is intelligence in Silva, dynamism in Correa, passing mastery in Alberto, and Milinkovic is an all-rounder. Lucas Leiva is a big presence to replace, the unsung hero of this Lazio squad, but there is more than enough evidence to suggest at least Alberto and Milinkovic could successfully step up their defensive duties. Alberto is a great counter-attacking player, while Milinkovic averages 1.6 tackles per 90, and bests Leiva's numbers in clearances and blocks per 90. It might not be best to put Milinkovic in a purely defensive role, but he could surely up his defensive duties to accommodate Silva in midfield. Furthermore, if Lazio are able to sign a good defender on the left flank, there will be enough security to unleash this monstrous attack.
Why This Would Not Work
Taking Lucas out of the starting eleven could be a disaster. There is more than enough precedent of teams getting rid of their ball-winning, play transitioning defensive midfielders to accommodate a flashy attack and seeing their form fall apart. Just look at Real Madrid after getting rid of Claude Makelele, or Liverpool selling Xabi Alonso. It is the players like Lucas or Fernandinho or Makelele who make it possible for the attacking midfielders to thrive. Leiva averaged 2.4 tackles and 1.9 interceptions per-90 last season; by far the best on the team. There is more than enough evidence to suggest Lucas makes a significant impact on the pitch. In the 23 games Leiva started in the 2019/20 season, Lazio averaged 2.3 points, in the 15 matches he did not that average goes down to 1.7 points. Though he might not be a goalscorer, he is vital to the team. Would Inzaghi really bench a player who has that much of a positive impact on Lazio's performance?
Scenario 3: Four-Man Backline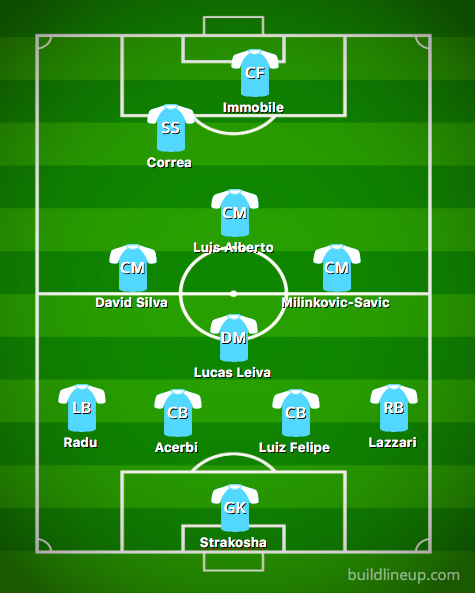 The formation above is less of a compromise to the personnel and more a compromise to the system. Lazio plays in a four-man diamond midfield. Radu moves back to his old position (left-back). Lazzari becomes an attacking fullback. Correa is a second striker for Immobile.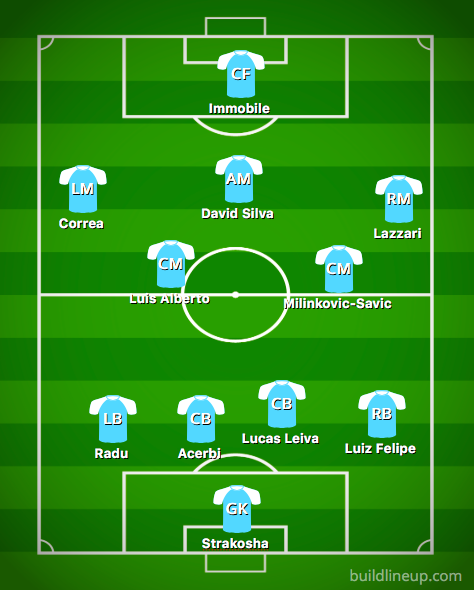 Going forward, the formation could transition into something like what is seen above. Lucas Leiva drops back to provide cover on defense while Lazzari pushes up on the right flank. The ever-dynamic Correa could drift wide or stay central as Silva creates in the attacking third and Alberto and Milinkovic pull the strings behind.
Why This Would Work
Bringing in a player like Silva certainly constitutes a change in tactics overall. With the obvious question mark under the left wing-back position, why not simply change things up. Radu can play left-back, and would not need to advance too far up the pitch with Lazzari on the right and so much attacking talent ahead of him. Leiva would not need to be sacrificed and could play an even more defensive role. This system could work simply because of how good the attack could be without sacrificing too much on defense. Milinkovic is a great physical presence, Alberto could stay back and create like he did last season. Correa could be given even more freedom as he has a counterpart in Silva who is so good at finding and exploiting space.
Why This Would Not Work
Could Lazzari really be a good right back? It is certainly a long shot. While his defensive abilities sometimes fly under the radar he is an attacking wing-back. Also, while Radu could be a serviceable left-back, Lazio might still need to go out and get someone who can compete with him in that position. The three-man defense has been a hallmark of Inzaghi's Lazio side, and getting rid of it might cause more problems than it solves. It was the system that got the best out of each player last season, and changing that system could lead to underperformance on an individual level. Pretty much every player has seen a sharp increase in performance under Inzaghi's 3-5-2, it should be kept at all cost.
Scenario 4: Rotation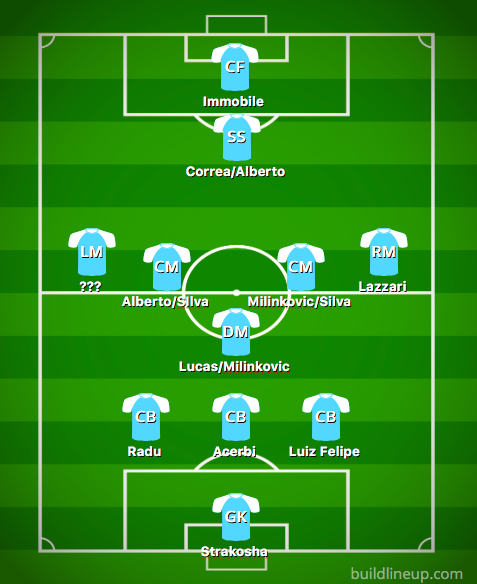 This last formation is quite simple. Why let the arrival of David Silva change anything about the current system? There is no concrete starting lineup, and Silva simply fills in whenever someone is underperforming, injured, or needs a break.
Why This Would Work
David Silva is 34-years-old, and only started 22 Premier League matches last season. The biggest reason for Lazio's downfall after the restart was the inability of bench players to step up in light of the many injuries and chaotic schedule. Lazio failed to do anything in the UEFA Europa League and Coppa Italia and benefitted from December to March from a lighter schedule compared to the likes of Juventus, Inter, and Atalanta all playing in multiple competitions. Depth is an issue, and this would solve it. Instead of reworking the lineup to accommodate all of the attacking talent in the team, why not just leave one on the bench? This ensures that there will always be a top tier talent waiting in the wings in case things go wrong. It is asking a lot to give the ageing Silva a full season load, so why not save him for the most vital moments? This way Lazio keeps its system that has done so well in the past few seasons, and there is not too much pressure on a single group of players to perform week in week out.
Why This Would Not Work
Bringing in Silva and not putting him in the starting lineup would be a little wasteful. If things go wrong, there would be a lot of questions about why either Silva or Alberto or Milinkovic were left on the bench. The opportunity for a team like Lazio to land a player like Silva is rare, some sacrifices will need to be made in order to accommodate him. While the current system has worked well, it is rigid, and if the opposition sees a shortcoming, they will exploit it to deadly effect, just as AC Milan did at the end of this season. Silva is a player that could take Lazio to the next level, and for that to happen, some changes will need to be made to maximize his ability.