In the 2019/20 Serie A, 187 penalties were awarded. Referees have been criticized and strikers have been mocked, but did it really make that much of a difference? In the third edition of a five-part series – which will take a close look at the penalties awarded to the top four (Juventus, Inter, Atalanta, Lazio) – Inter were analyzed.
Penalty Winners, Penalty Takers and VAR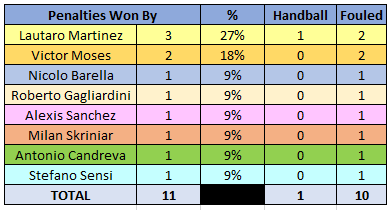 Inter had a good spread of penalty winners. Only two players won more than one penalty: Lautaro Martinez with 3 and Victor Moses with 2. There were 6 other penalty winners, each having won just 1 each, all by being fouled. Surprisingly, only one penalty was given to Inter this season by a handball. This came in their loss to Juventus in Matchday 7 of the 2019/20 Serie A; Martinez challenged Matthijs de Ligt in the box, which caused de Ligt's elbow to make contact with the ball.

Inter used 4 penalty takers in the 2019/20 Serie A. Romelu Lukaku took the most with 6 and converted them all. Martinez took 3 missing 1, and Sebastiano Esposito and Alexis Sanchez both took – and converted – 1 each. Overall, they had a conversion rate of 91%.

Not once this season did the referee go over to the screen to give Inter a penalty. This stat could be used to back up two contradicting talking points. First, either Inter did not get help from VAR this season to award them penalties, or second, VAR was not used to overturn any penalties that Inter were given. From the penalties analyzed, the former seemed the most likely. However, to fully confirm this all of Inter's penalty appeals would have to be analyzed.

The Home or Away stats show that there was nothing out of the ordinary for Inter. 5 penalties were awarded at home and 6 penalties were awarded while away.
Did Penalties Effect Results?

Inter won 6 (60%) of the games where they had penalties awarded. They also lost 2 (20%) and drew 2 (20%). Therefore, it originally looked like Inter did not get that much help from penalties this season; after taking a closer look into this matter, it actually did.

Inter won a game that they would have lost without penalties. This came against Sassuolo, Inter won 3-4 and scored 2 penalties, this meant they gained 3 points. Inter also won 2 games that they would have otherwise drawn, resulting in 4 points gained. In 2 games they drew where they would have lost, so another 2 points were gained. Only in 3 games did they win even without the penalties they were awarded; as mentioned earlier, the game they lost even with penalties was the 1-2 loss to Juventus. A total of 9 points were gained from Inter's 11 (10 converted) penalties.
Conclusion
With Inter's 11 penalties they gained 9 points, a quite high percentage of points to penalties compared to Lazio and Juventus. However, Inter fans may still feel hard done by as they were never awarded a penalty from VAR this season; the aforementioned teams had 5 and 4 respectively. In the next edition of Serie A Penalty Kick Analysis, Atalanta will be analyzed; the club that scored 98 goals this past season (first in Serie A).