In the 2019/20 Serie A, 187 penalties were awarded. Referees have been criticized and strikers have been mocked, but did it really make that much of a difference? In the fourth edition of a five-part series – which will take a close look at the penalties awarded to the top four (Juventus, Inter, Atalanta, Lazio) – Atalanta were analyzed.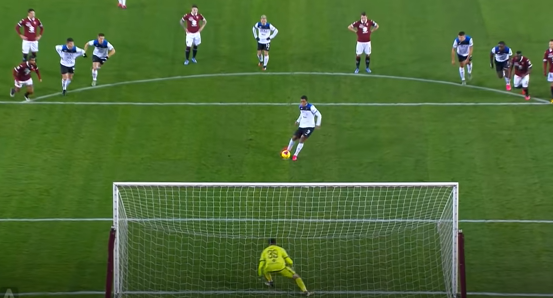 Penalty Winners, Penalty Takers and VAR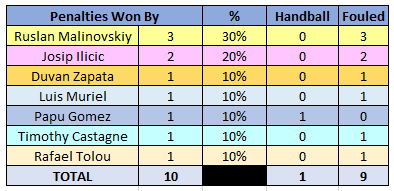 Much like Inter, only 2 players won more than one penalty for Atalanta this season. Ruslan Malinovskiy with 3 and Josip Ilicic with 2, all from being fouled. The rest won 1 each, combining to have won 10 penalties for Atalanta. Only 1 penalty was won from a handball, and again like Inter, it came in a loss to Juventus.

Atalanta's main penalty taker was Luis Muriel. He took 7 penalties this season and scored 6 a 86% conversion rate. Malinovskiy and Musa Barrow both took 1 each, and both failed to convert. Duvan Zapata converted his only penalty of the season and brought Atalanta's total to 7 out of 10 (70%). This is a conversion rate that Atalanta will want to work on for next season…

Interestingly the referee had to go to the screen to award Atalanta 4 of their 10 penalties this season, all for fouls that were not originally given. Without the VAR screens, Atalanta's penalty total would have only been 6 in a season where penalties were awarded very freely.

Nothing out of the ordinary for Atalanta when comparing penalties awarded at home and away. 40% of penalties were awarded at home and 60% were awarded away.
Did Penalties Effect Results?

Atalanta did not have a good penalty to win rate, only 63% of the games they were awarded penalties in did they win. They had 2 draws and 1 loss when they had a penalty awarded. Missing 3 out of 10 penalties could be the reason for this, however.

The effected results table confirms this. Missing 3 out of 10 penalties and being awarded multiple penalties in 2 games meant that Atalanta only gained 6 points from penalties this season. All coming in games that they would have drawn, which they won. They also won 2 games that they would have won without penalties, both coming in games where they were awarded 2 penalties. A 7-1 win against Udinese and a 0-7 win against Torino.
Conclusion
Atalanta had the least penalties awarded of the top four teams. Missing 3 of them meant that they did not gain many points from them either. For a team that scored so freely this season, it is no wonder that they did not need penalties. With the Atalanta analysis done, it is time to compare the top four. In the final edition of this series, all the statistics are compiled and compared. The league table without penalties will raise a few eyebrows.