In the 2019/20 Serie A, 187 penalties were awarded. Referees have been criticized and strikers have been mocked, but did it really make that much of a difference? In the final edition of a five-part series – which will take a close look at the penalties awarded to the top four (Juventus, Inter, Atalanta, Lazio) – the Top 4 were compared.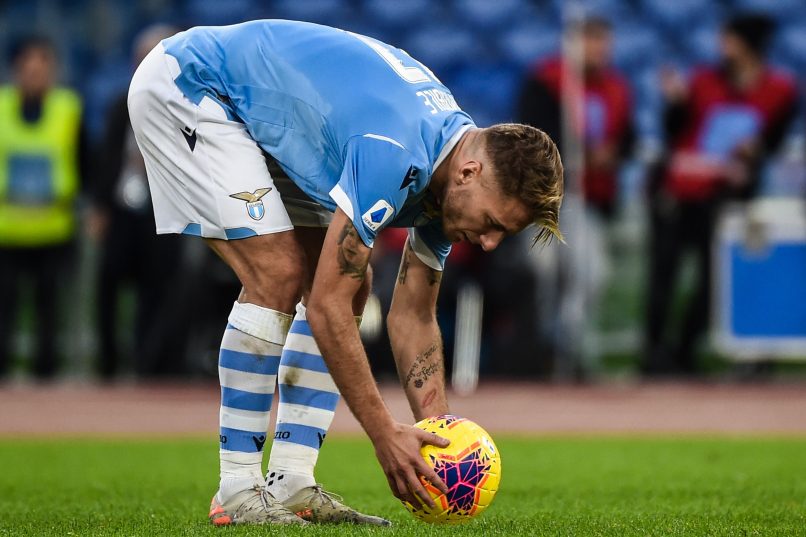 Penalties Won By, Penalty Conversion and VAR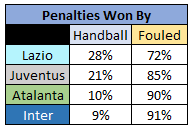 Lazio had the highest percentage of penalties won from handballs; however, it was just 28% of their total penalties received. Therefore, the new handball rule was not the reason for the high penalty count this season. Juventus were close to Lazio with a 21% handball penalty percentage. Atalanta and Inter had 10% and 9% respectively. A very low percentage considering all the talk of handball penalties this season.
The conversion rates for Juventus and Inter were very good; 93% and 91% is something to be proud of. Lazio had a respectable rate of 83%. Atalanta – on the contrary – would probably like to improve in this statistic a lot for next season, only converting 70% of the penalties that they were awarded.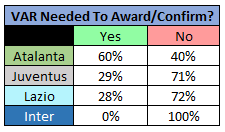 Juventus and Lazio were similar, with more penalties being awarded without the help of the VAR screens than with them. However, it was with Atalanta and Inter where it got interesting. 60% of Atalanta's penalties required a second viewing to give them, all of which were from fouls, not handballs. Again, further confirming that the new handball rule was not to blame for the high penalty count. Inter did not have one penalty awarded after a second VAR review this season, and as discussed in their penalty analysis, this could have been for a couple of reasons. Their fans will feel hard done by and will hope for more officials to make use of the screens to help them next season.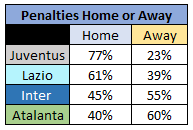 This was not a major analytical point however it was interesting to see that Juventus were awarded 77% of their penalties at home rather than away. The other three of the top four had a much more even spread.
Did Penalties Effect Results?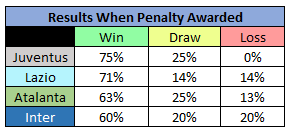 The table of results does not really show that much of a difference between the top four teams. The only real interesting statistic is that Juventus never lost when they were awarded a penalty. Inter had the lowesy win percentage at 60% but that was not too different from the other top four teams.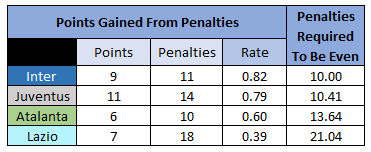 This table showed the real effect penalties had on the top four teams. The points to penalties rate showed that for every penalty a team got that number is how many points they gained. Inter had the highest rate at 0.82, but Juventus were not far off with 0.79. Atalanta had a 0.60 points to penalty rate which was quite a way off the top two. The big surprise was Lazio's rate which was only 0.39. From 18 penalties this season they only gained 7 points. Therefore, Inter and Juventus were awarded more crucial penalties when compared to Atalanta and Lazio this season. To put this into football terms, if Inter were awarded 10 penalties, to make the points gained even; Juventus would need 10, Atalanta would need 14 and Lazio would need 21. There are of course a lot of other factors in these games. But these statistics show just how little Lazio's penalties affected their league position. Lazio were often awarded penalties when it did not really matter, the first match against Atalanta (3-3) the obvious exception.
The Table Without Penalties

For this table, the top four's points gained from penalties were taken away from their final points tally. Inter finished in first with 73 points, Juventus and Atalanta each had 72 points (Juventus second however on head-to-head), and Lazio were fourth with 71 points. All would still have finished above the fifth-placed Roma (70 Points). Now does this table say that Inter deserved to win the league? No. But is interesting to see how close the table would have been without the points gained from penalties.
Conclusion
Over this series, each of the top four's penalty statistics were analyzed and then compared. The major findings were that the handball rule was not the reason for the high penalty count and that despite Lazio's high penalty count, the points they gained from them was low. Other strange findings were that Juventus had 77% of their penalties at home and Inter did not have a penalty awarded by a second look at VAR. For Lazio, this meant that the top four finish was down to merit and not penalties. However, Ciro Immobile's golden boot win was definitely helped by the 14 penalties he converted. This brings the penalty analysis series to a close. Hopefully, it shed some light on the bizarre number of penalties that were awarded in the Serie A this season, while also putting to bed theories that Lazio would not have been in the top four without penalties.