According to Italian Football Reporters Alfredo Pedullà of Sport Italia and Gianluca Di Marzio of Sky Sport, the deal between Lazio and Spal regarding Algerian wing-back Mohamed Fares is approaching its conclusion.
As it stands the 24-year-old has already agreed to the transfer; he will sign a five-year deal worth €1.5 million (including bonuses) per season. However, the main problem dragging on the negotiation has always been linked to the transfer fee related to the player.
Biancazzurri President Walter Mattioli continues to value Fares between €10-11 million and will accept nothing less than this amount. As Biancocelesti President Claudio Lotito only wants to pay a maximum of €7 million, they have been looking to include a counterpart in the deal; this was said to be in the form of the club's 24-year-old Italian striker Simone Palombi (who newly appointed Spal Manager Pasquale Marino is a fan of) or 32-year-old Italian central midfielder Davide Di Gennaro.
However, as reported by Pedullà and Di Marzio, Mattioli is set to decline any possible counterpart Lotito offers, primarily due to the high salaries that each player makes. Therefore, if the deal is to go through, Lazio must either find a way to convince Spal to lower their price or pay their requested fee; a meeting is scheduled today (August 26, 2020) between the player's representative (Mino Raiola) and the Biancocelesti to try and solve the issue at hand.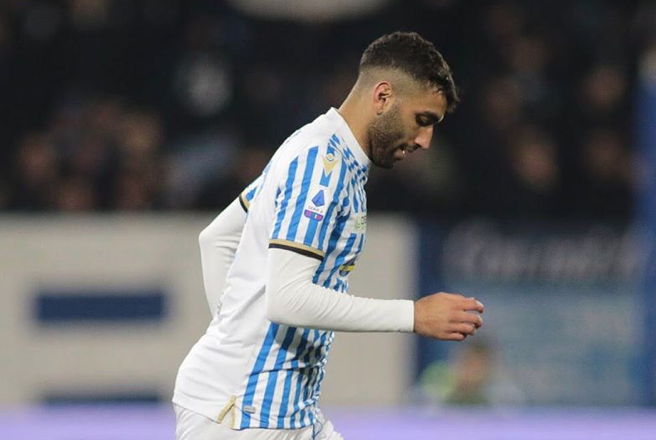 Despite being heavily linked to Torino (according to reports in June 2020), Di Marzio announced that both Lazio and Fiorentina had enquired about Fares in July 2020.
This interest (from both the Biancocelesti and the Viola) was due to a managerial change with the Granata, whereby Marco Giampaolo has become the new Manager of the club. As he plays a formation that would not suit Fares, Di Marzio stated that the Piedmont-based club had dropped their interest in the 24-year-old Algeria international, thus leaving Lazio and Fiorentina in pole position to sign the wing-back.
However, as La Lazio Siamo Noi reported at the beginning of August 2020, the situation had since changed once again, with the Biancocelesti having solely taken the lead in the race for his signature. This was due to three factors:
The first factor pertained to the relationship between Lazio and Spal Presidents Lotito and Mattioli – due to their history, they have been in contact on a daily basis regarding this negotiation
The second factor pertained to the player's choice – it is said that Fares had chosen the Biancocelesti as he likes the current project and will be able to play in the UEFA Champions League
The third factor pertained to Lazio's offer to both the club and the player – these were (both) higher than what Fiorentina had been able to put together