Nigel Gan is a dedicated Lazio fan from Singapore who is the author of '10,000 KM FOR YOU – The Travel Diary of a Football Fan: The Rome Derby'. Written entirely in English, the novel focuses on Nigel's adventurous journey to the Derby della Capitale between Lazio and Roma while also briefly touching upon both history of the club and how the rivalry between the Biancocelesti and Giallorossi kick-started back in 1927. In collaboration with Nigel, The Laziali will be releasing the book chapter-by-chapter (on the website) to promote his work to Lazio supporters worldwide; below is Chapter IX: The Return.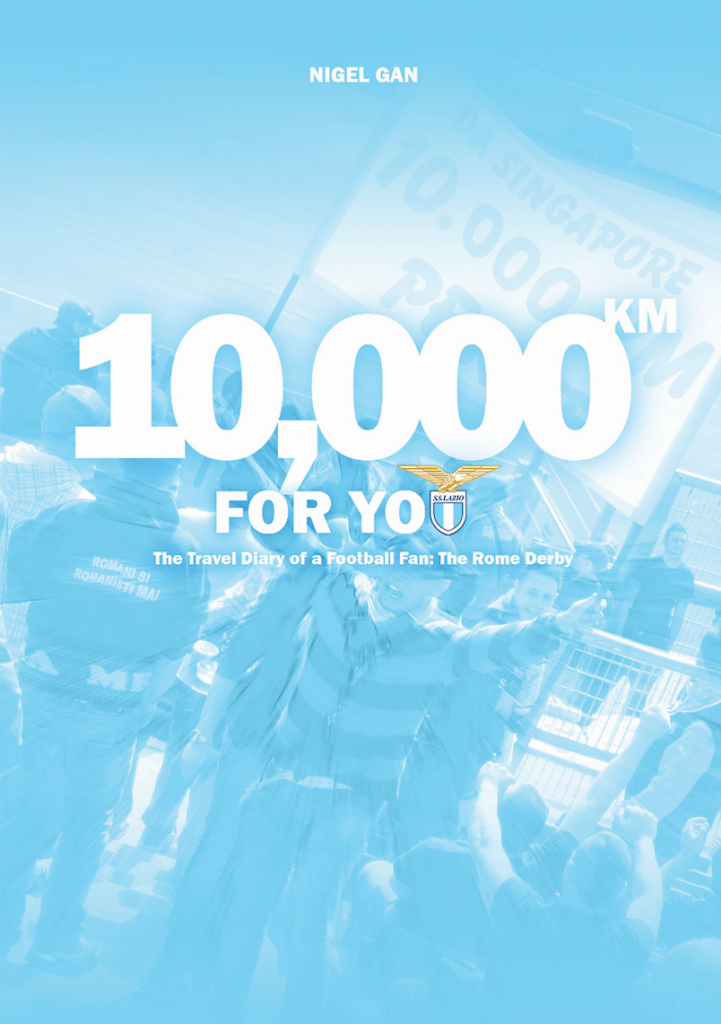 "Please give me one good reason why you want to go to Rome again?" my wife questions.
"Hmm. Well, honey, I want to publish this little journal that I wrote about my Rome derby experiences, and I hope to convince Lazio to endorse it. At the same time, I hope to catch the Rome derby again," I grin.
There's a moment of silence. "Ok, you can go, but I want you to get me the Louis Vuitton bag you promised!" She says.
"Ohhh Forza Lazio…Non Mollare…Facci Un Gol!"
Three months later, Anson, my three-year-old nephew and I are singing to his favourite Lazio chant to the bemusement of other passengers at Singapore's Changi Airport. My wife, brother, and sister-in-law are there to see me off.
Anson and my elder nephew, Javier, are the only Lazio supporters in my family, and it's none other than their crazy uncle who converted them into eagles.
The little man bursts into tears with screams of "Uncle Nigel!" as I head into immigration. My heart melts when I hear his cries, and fighting back tears, I turn around and wave at him, "Forza Lazio! Be a good boy, all right!"
I remove my backpack and sit down in the boarding area while picturing Anson's adorable face when he screams 'Forza Lazio'. With a flurry of emotions quickly overwhelming me, I take a deep breath and remind myself, "Solo per te La Lazio." (Only for you, Lazio.)
After thirteen hours of flying, not to mention several dreadful hours of idling during the stopover at Dubai airport, I arrive in Rome feeling drained again.
I board the train from the airport to Stazione Termini and took a bus headed for Piazzale Ponte Milvio, where my friends Massimo and John are waiting for me. Situated very near the Stadio Olimpico, the piazza was named after the iconic Ponte Milvio (Milvio Bridge), located beside the square. Built-in 206BC, it was considered one of the most important bridges during the Roman Empire, but is now a popular hangout for lovers who believe that by writing their names on a padlock and securing it to the lamp post of the bridge, they will be granted, eternal love.
The bars and cafés in the piazza are dotted with people from all walks of life. There are students savouring cups of gelato, working adults in their suits sipping pints of beer, and the older folks chatting over a cup of caffé. The Piazzale Ponte Milvio is a vibrant area, frequented by the Romans and especially, Lazio supporters on match days.
After meeting up with my friends, Massimo gives us a ride to our apartment.
"It's good to see you both back in Rome to support Lazio again!" Massimo says. "It's really an honour to me!"
"The honour is mine, Massimo! It's damn good to see you guys!" I say. "I'm so nervous about the derby this Sunday; I couldn't sleep on the plane!"
"Don't worry guys! I got a good feeling we will win 2-1 this Sunday!" John says. "Ssshhhhhhh! Be superstitious!!!" Both Massimo and I interrupt.
Following Lazio over the years has given me the opportunity to forge many friendships with fellow supporters around the world, and Massimo and John are considered among the closest.
Massimo and I met John during the dinner with the Lazio Land members in Rome a year ago. Though a little shy during our first interaction, he quickly grew into a kind, passionate and easy-going man with whom I struck a close friendship during our few days of passage in the eternal city.
John is from Arnhem in Holland and supports Vitesse, the team of his city, in the Dutch league. Besides just going to the stadium and shouting his heart out for his team every week, he also crafts and plans the choreographies in the stadium, some worthy of comparison to Lazio's Curva Nord. I was so impressed by the pictures he showed me on his cell phone that I promised him I would visit Arnhem one day.
The Dutchman's love story with Lazio began when the club signed his hero back in 2001. "I used to have a soft spot for Lazio when Jaap Stam was playing. And then this simple affection blossomed into a pure passion, and I became a Laziale."
'Johnny', as he is known to us, had been to Rome to support Lazio on more than ten occasions, and knew his way around the city. As a result of his greater exposure, I hate to take directional bets such as 'Which way should we go from here', or 'Turn left or right' – over time, I've ended up having to spring many pints of beer for John.
John and I stay in a cozy apartment close to the Colosseum, and despite having seen the historical Flavian Amphitheatre many times during my past visits to Rome, I'm still very much intrigued by the grand architecture of the ancient arena. My mind just cannot stop forming images of gladiators in the colours of blue (Lazio), and red (Roma), battling it out for their lives with their swords and shields in front of 50,000 fans, as the massive structure presents itself on the horizon.
Even on a Thursday morning, the Colosseum is swarming with people. Mistaking us for tourists, a tout dressed in Roman Gladiator costume approaches us.
"Ciao! Forza Roma! Take a photo for 10 Euros?" He asks hopefully.
We respond by giving him a disgusted look (I'm tempted to show him the finger) and walking away. I think he probably figured that we're Lazio supporters.
The next moment, my cellphone sounds and I promptly answer the call. It's Paolo.
"Nigel, I'm sorry, but Formello will be closed today! La Societa wants maximum concentration for the players!" He sounds apologetic.
"About the meeting with Stefano De Martino (S.S Lazio's Media and Marketing Manager) regarding your book, I'm afraid we have to call it off!"
John, Massimo, and I are supposed to visit Formello to catch the training session, and through Paolo, I was hoping to meet up with representatives of Lazio in the hope of convincing the club to endorse my book; this humble journal that you are reading now. Paolo, who works as a stadium announcer for Lazio, promised me that he would show the materials to the Media and Marketing Manager, De Martino, and persuade him regarding the possibility of an endorsement. So I'm extremely disappointed when I realize this is as good as a 'no' from the club. If they really are keen, they would have at least allowed me into Formello with a special visitor pass.
Still able to muster a sense of humour despite the sadness, I tell John.
"Lotito must have known that we are coming, that's why he shut down Formello!"
We proceed to grab a beer and some sandwiches in a café at Via Venti Semptembre, while chatting and people-watching on an unusually hot day in Rome. John knows almost all the staff working in the café, as he often frequents their enterprise and most of them are Laziale. There's even a photograph of the owner and his friends framed up on the wall, with the words 'Olanda Ultras' written at the bottom. We're eyeing up two really cute Italian girls at the next table when I receive a text message from Massimo that changes my entire mood for the day.
"I got your ticket to Curva Nord!" It says.
I show the message to John and he smiles. "Get ready to rock!" We exchange high fives.
Gabriele Sandri e la Fondazione
On November 11th of 2007, Lazio fan Gabriele Sandri and his friends were travelling in a car to Milan to catch their team play away against Inter. At the petrol station near Arezzo, they bumped into a group of Juventus fans heading south and exchanged heated words that ended up in slight scuffles.
Police Officer Luigi Spaccrotella, upon seeing the commotion from the opposite side of the highway, fired a shot in the air hoping to disperse the fight. The men, hearing the gunshot from the officer, ran back to their cars and took off. Believing that he was a cowboy from the old west, the policeman took aim and fired a shot at the car that Gabriele was in. The shot hit the neck of the 26-year-old deejay, killing him as a result.
Many ultra groups in Italy and abroad paid their homages to 'Gabbo', displaying banners with the name of 'Gabriele' and holding protests and demonstrations to demand justice to be dealt to the guilty policeman.
The trial took a total of 4 years before a final verdict was passed. Luigi Spaccrotella was banned from becoming a Police Officer ever again and sentenced to nine years and four months imprisonment for voluntary murder.
In 2009, the Gabriele Sandri Foundation (G.S.F.) was founded by close friends of the departed Gabriele and the Sandri family and was inaugurated by the mayor of Rome in Piazza Della Liberta, the birthplace of Lazio. The office is located in the exact building where the commemorative plaque was placed. A non-profitable organization, the mission of the G.S.F. was to honour the memory of Gabriele and spread the message of non-violence in football to all fans, especially the younger generations.
The entire premises are decorated with portraits and paintings of Gabbo (Gabriele's nickname), including pennants, scarves and plaques donated from clubs and fans all over the world. There's a lady at the reception counter when John and I step in. Speaking in English and addressing herself as Roberta, she points us to the scarves: "These are what were left from the highway where Gabbo was murdered. The Police took away hundreds of them."
There's also an autographed jersey signed by the entire team of Fiorentina, with the name 'Gabbo' printed on it. However, John and I are drawn to a particular poster hanging from the wall. It reads:
'Silenzi E menzogne non cancellano il tuo ricordo.' (Silence and lies do not erase your memory.) 'Gabriele Vive.' (Gabriele Lives.)
The poster refers to the accused, Luigi Spaccrotella, and the media, who are constantly hiding, lying and covering up the truth. Both of us are really saddened by the whole episode on how an innocent boy lost his life, because of another's act of irresponsibility.
"Do you think nine years of imprisonment is enough?" John asks.
"No. I think he deserved the death penalty." I reply.
Before we leave, I donate a scarf of my hometown team, Geylang International FC, to the shrine for Gabbo, as well as an autobiography of Paul Gascoigne to the foundation's library. Like Lazio, the mascot of Geylang International is an eagle, which makes Roberta so happy that she insists we sign up as members of the foundation, which we do without hesitation.
We buy some beer from a bar and return to the Piazza where we sit in the square and enjoy the cool night's breeze.
"Nigel, let us toast to the birthplace of Lazio!" John raises his bottle of Moretti.
"I don't know when we are going to win the Scudetto again, but I certainly hope it's within our lifetime," I say.
We leave the Piazza shortly after and head for the metro. Matteo and Celia pick us up from the station and drive us to a town called Frascati for dinner.
Pronounced as 'Fra-Ska-Tee', the town is located twenty kilometres southeast of Rome, and famous for its wines, villas, beautiful churches, and the best Italian food I've ever had.
"Nigel, welcome back to Rome! It is so nice to see you again!" Matteo gives me a bear hug that nearly crushes my bones.
"I was so worried I couldn't get the tickets that I got a friend to help me queue up from six in the morning!" He adds.
Both Massimo and Matteo are so anxious about the tickets that they had gone to different parts of the city in the morning, before the shops were even open, for better chances of picking up my ticket. Tickets for Curva Nord are the hottest in town, especially during the derby, and were often sold out in the shortest of time. It's heartening to note that I have such wonderful friends on the other side of the world; the lengths to which they go to help a friend are just incredibly touching. A sincere 'thank you' towards them is enough, but deep down, I'm extremely grateful and know I can never completely repay their kindness.
We arrive in the town of Frascati and meet Stefano's brother-in-law, Marco, from the last derby in Rome. A real gentleman, he enjoys two main passions in life – fine wine and supporting Lazio. I have enormous respect for him both as a friend and a Laziale and am thrilled to know that he will be joining us for the Derby.
We walk through several narrow alleyways that look identical to me and arrive at the doorstep of a restaurant. This family-owned restaurant is highly recommended by Marco, who also happens to be a food connoisseur. He travels around Italy in search of good food and beverage and shares information about them on his blog.
When we're seated, I'm surprised by how tiny the restaurant is. There are fewer than ten tables combined. With the jazz music playing in the relaxing ambience, the place exudes perpetual warmth that makes me feel right at home. It is not a fancy restaurant but boasts sheer elegance in its simplicity. As Marco does not speak English, nor I, Italian, Matteo acts as the interpreter for us throughout the night.
"But don't worry! After the second bottle of wine, the words will come out naturally!" Marco manages in perfect English that gets everyone laughing aloud.
We tuck into different types of bruschetta, or toasted bread topped with cheese, mozzarella, tomato, and salami. It's the first time I'm savouring pancetta with olive oil, and it tastes like something out of this world; really delicious and I'm utterly impressed. As Marco explains, the owner of the restaurant goes the extra mile to serve only the finest seasoned meats to his customers, which is why we find the food there so unique.
"Forza Lazio!" We toast to the clinking sound of our wine glasses.
"Nigel, I'm sorry that you couldn't get into Formello today!" Marco consoles.
"Maybe it was a blessing in disguise, because the last time you went there, we lost the derby remember?"
I think about it for a second and brighten up immediately, laughing: "Yes! You got a point there, Marco!"
It's a good thing that Marco is as superstitious as I am, and we click right away.
"Are you nervous about the game on Sunday?" Matteo asks excitedly in Italian. (Everyone can tell I'm nervous.)
"Of course! You cannot imagine what's going through in my mind right now!" I stress.
"The last time we won the away edition of the derby was 14 years ago."
"Come on, Nigel! They (Roma) can't win them all!" John tries to lift our spirits.
"Si, the last time we won, I was in the stadium, Nigel," Marco says.
"But don't worry! I got a good feeling about Sunday!" He winks.
The owner of the restaurant comes to our table to check that everything is fine, and even gives us a tour of his wine cellar in the basement. There is a fine collection of various rare and exotic wines that looks extremely valuable. Amazingly, the cellar was once used as a bomb shelter during the last World War.
We leave the restaurant with happy stomachs and broad smiles on our faces. I'm so stuffed I look eight months pregnant. The Frascati night is enchanting, and as we stroll along the quiet cobbled streets, Matteo starts to sing and the rest of us join in.
"OH FORZA LAZIO NON MOLLARE, FACCI UN GOL!"
(Oh forza Lazio don't give up, give us a goal!)
"E QUANDO DALLA CURVA QUESTO CORO SENTIRAI…"
(And when you hear this chant from the Curva…)
"VOLA LAZIO VOLA NON TI LASCEREMO MAI!!!"
(Fly Lazio fly, we will never leave you!!!)