Nigel Gan is a dedicated Lazio fan from Singapore who is the author of '10,000 KM FOR YOU – The Travel Diary of a Football Fan: The Rome Derby'. Written entirely in English, the novel focuses on Nigel's adventurous journey to the Derby della Capitale between Lazio and Roma while also briefly touching upon both history of the club and how the rivalry between the Biancocelesti and Giallorossi kick-started back in 1927. In collaboration with Nigel, The Laziali will be releasing the book chapter-by-chapter (on the website) to promote his work to Lazio supporters worldwide; below is Chapter XI: Tension.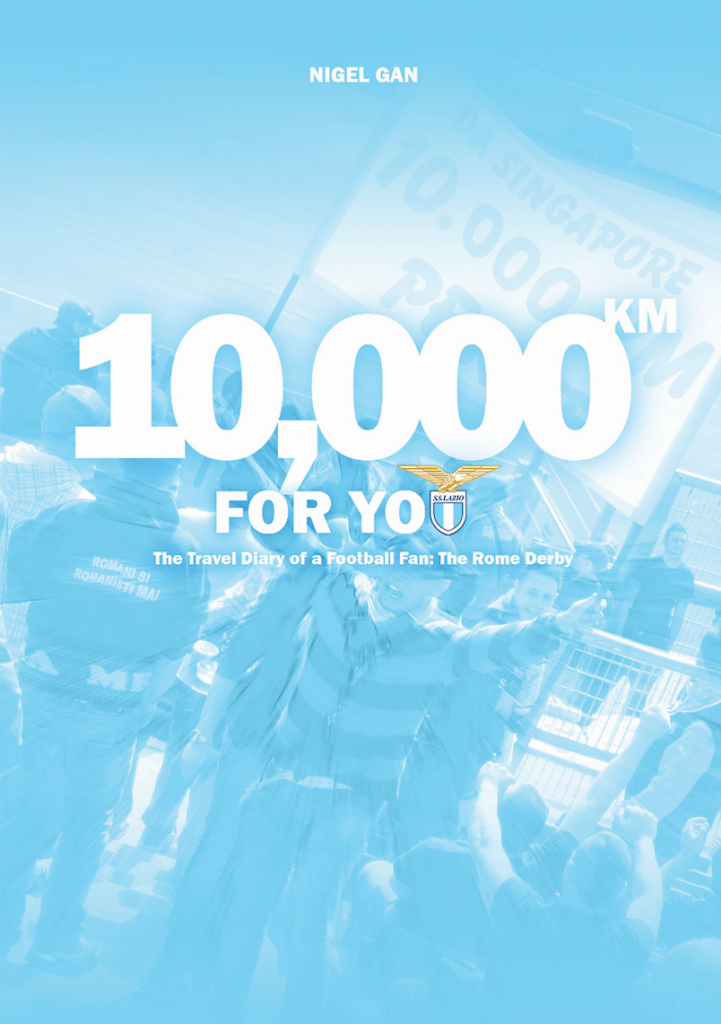 MATCHDAY – 10:30 AM
Four hours before kick-off, we are in a pub at Piazzale Ponte Milvio to soak up the derby atmosphere; the pub is packed with people and the piazza swarmed with hundreds of Lazio supporters.
It's a sea of blue as giant flags, banners, and flares engulf the entire square. Fans are singing and chatting in groups as they await the start of the march – Curva Nord has earlier announced that they are organizing a march from Ponte Milvio to the stadium, which explains the huge turn-out.
"SOSTERREMO SEMPRE PIU…" (We will always support…)
A lead Ultra shouts and is followed by the bellowing echoes of everyone in the piazza.
"I COLORI BIANCO BLU…" (The colours of White-Blue…)
"OOOHHH LAZIO! OOOOHHH LAZIO!!"
"AVANTI LAZIO!! AVANTI LAZIO!!" (Go, Lazio!! Go, Lazio!!)
Everyone moves their arms in a synchronized pumping motion.
I often watch the video of supporters chanting to this chant on YouTube, and dream of myself singing along with them in a scene like this. Now that I'm actually here, it is an entirely different feeling altogether. When you are part of a huge group, you feel invincible and spurred on by the indescribable power of the common faith, which lends the courage to take on the world. It stirs such strong emotions in me that I make a promise to myself to reside in Rome one day. It does not matter if the club chooses not to endorse my book in the end. It does not matter if I have to be condemned as a steward in some Chinese restaurant at Termini (A popular district with many Chinese Restaurants in Central Rome) for a living. It does not matter if I have to sweep the streets of the city on a daily basis. It just feels right. I'm determined to join this group of wonderful supporters every Sunday, travelling all around Italy to defend the club's colours.
The derby tension is unbearable; my heart is beating so fast I'm worried it might stop suddenly, with the headlines on the papers the next day reading: 'Laziale from Singapore died of cardiac arrest at Ponte Milvio'. Everything is difficult to put it into words because you have to experience the derby yourself, and on top of that, you have to be a Lazio or Roma fan to truly understand how stressful derby day is.
In a recent survey conducted by a renowned football magazine, the Rome Derby is ranked as the sixth greatest derby in the world, behind Barcelona-Real Madrid, Fenerbahce-Galatasaray, Celtic-Rangers, Boca Juniors-River Plate, and Ajax-Feyenoord. Perhaps I am being biased and ignorant, but I just cannot agree with El Clasico being the number one derby in the world.
True derbies are contested by teams in the same city, period. Regardless of how many superstars or entertainment value the match has to offer, Barcelona versus Real Madrid is not a derby, going by the purest sense of the word. I would gladly put aside my Laziale ego, however, and accept that the Old Firm Derby, played between Celtic and Rangers, as the world's greatest derby, followed closely by Fernabahce versus Galatasary. But the El Clasico? I don't think so.
"Nigel, I have told Gianluca Tirone about you and your banner," Paolo says on the phone.
"He wants to see you!" I nearly choke on my pizza upon hearing the news from Paolo.
Gianluca Tirone is one of the ultra leaders of La Curva Nord; he leads the curva in chants and choreographs and is seen as an influential figure among the Lazio supporters. The man is surrounded by a few guys apparently discussing several matters when we spot him in the crowd. Holding up a flag and loudhailer, he looks weary.
"Ciao Nigel! Piacere!" He shakes my hand.
"Tutto bene?"
"Piacere mio. Molto bene!" I reply.
A chubby man in his forties, his seasoned, battle-weary face tells me that he has been through quite a lot in a day. I find Gianluca to be pleasant and approachable, and not like what the media depicts all the ultras to be – dangerous and violent. Gianluca goes on to explain that he has not slept for the whole night and that he is really tired. I guess I'm not the only one feeling nervous. We don't talk much because he's very busy. Nevertheless, it's a privilege to have met an Ultra Capo (leader) of Lazio in person. There is no doubt that this man is a true blue Laziale, and a very charismatic one.
We arrive outside the gates of Curva Nord; police vans and the riot guards in their armour and shields are stationed at various locations around the stadium. Every few minutes, you can hear the wailing of sirens as if someone who had been involved in a fight just got sent to the hospital. It's hard to imagine that just yesterday, I was lazing around in this square.
Maybe I have the look of a serial rapist or some psychopath criminal, the way I'm always stopped by the police at stadiums. This time, an undercover officer wants to check my banner as I enter via the automatic turnstile into the stand. For some reason or rather, the authorities are worried that supporters might display banners containing offensive content.
"You came from Singapore for Lazio?" The officer asks after searching my clothes. His tone is sarcastic, and I don't like it.
"Si?" I reply while staring at him.
"Bravo sei un grande! Forza Lazio!" He lets me through.
"Hmmm…Grazie." His reply comes as a surprise.
"Ti Amo!" I add, and that makes him laugh.
We secure some really good seats. In fact, we are situated right at the heart of the curva. I get into battle mode right away, as I waste no time in reminding the Romanisti on the opposite stands that they are wankers and stink badly.
Matteo and I decide to head down to the bottom of the curva to share a picture. I feel a little uneasy as all the heads turn to look at me; they are attracted to my banner. Abruptly and unexpectedly, there's an astounding round of applause for me from the fans, which causes me to freeze like the statue of David. I appreciate the kind gesture from my fellow supporters, as it is not an everyday affair to receive applause from that great curva, and the fact that I am not even Italian gives me enormous satisfaction deep down in my heart. It truly is an honour.
Then with an accumulation of energy (and God knows where I find the courage), I explode into song!
"SOLO LA LAZIO! A ROMA SOLO LA LAZIO!" (THERE IS ONLY LAZIO! THERE IS ONLY LAZIO IN ROME!)
"SOLOOOOO LA LAZIOOOO!" I roar. (THERE IS ONLY LAZIO!")
To my surprise, the fans start to sing along! Everyone has great moments in their lives, and this is one of those great moments for me – It feels as though I've won the Olympic Gold medal. Some guys show me the thumbs-up while others shout 'Grande Sing-Ga-Por-Re'. One interesting lad stands out, asking me for €100.
There are other really interesting and beautiful banners in the curva, one of which really cracks me up – 'Romanisti Are Only Good on Facebook', it reads.
And my favourite: 'Capitan Futuro, 5 Millioni E Firma $icuro.' (The future captain, safely signed a 5 million contract.)
The banner refers to Daniele De Rossi, the vice and future captain of Roma, who has just signed a lucrative contract renewal after a long dispute with the club. Lazio fans take the opportunity to mock the Romanisti's 'Future Captain'. I mean, come on! The highest-paid player in Lazio, who happens to be Miroslav Klose, earns less than three million euros a season. With these salary caps imposed by the club, not only do we manage to increase our profit margins, but also reduce disharmony or discontentment in the dressing room. How would you feel if your team-mate earns five million a season while you're making less than a million? Surely, as a human being, you would feel jealous, frustrated, and even unappreciated.
That's why Lazio has enjoyed the highest profit margin during the last three years in the Italian league, with a figure amounting to 20.5 million euros after tax. These figures are based on the published accounts from all the clubs in Italy, so I am not telling you tales. Yes! Not Juventus, Milan, Inter or Roma, but LAZIO! Clubs will soon go bust if they continue paying such ridiculous salaries. Gone are the days when players such as Paolo Di Canio, and Cristiano Lucarelli of Livorno sacrificed themselves by taking massive pay-cuts in order to play for their local teams. Sadly, there aren't many of these players anymore.
The people are cheering and laughing loudly at something. There seems to be some commotion going on in a section of the curva. A supporter dressed up as a priest just entered the stands and is making his way down to the lowest section of the curva. He is wearing white vestments and looks really cool with his sunglasses on. He climbs onto the glass partition that's separating the fans from the pitch and performs the last rites to the Roma supporters. With his stylish sunglasses on, he looks way too trendy to be a priest. Hilarious!
We sing to our boys and cheer them on as the players from both teams enter the pitch for their warm-ups. Massimo passes us some Borghetti, which helps my adrenaline to kick in again. I love this drink so much that I brought two bottles home from my last trip to Rome, and finished them within a week. I have since learned not to consume too much of it, as it did terrible things to my digestive system.
"Tutti Quanti Cantano… Bevono Bevono! Tutti Quanti Cantano Bevono Per Te!" (Let us all sing and drink! We will sing and drink for you!)
"Forza Lazio Ale! Forza Lazio Ale!" I sing and finish the shot of Borghetti with Marco.
"My friends left a seat for me at the bar for a superstitious reason!" Marco says.
The latter caught the last derby in a bar with some friends, as he could not get tickets for Curva Nord.
"It's Curva or nothing for me! I don't want to go to Monte Mario because my heart doesn't belong there!" He explains.
"Of course Marco! It is not about money! The day I step into Monte Mario again will be the day I kill that man," I shout into his ears. The atmosphere has grown so fever-pitched that I can barely hear myself.
Our conversation is interrupted by the announcement of the player line-up for Roma. Immediately, every single Lazio fan in the curva turns around and shows the finger at the images of the Roma players that are being displayed on the giant stadium display screen. Everyone is jeering and whistling as the stadium announcer reads out the players' names. The loudest jeers are reserved for the Roma captain – the player we hate the most – Francesco Totti. We Laziali abhor him. The 'I have purged you again' T-shirt he revealed to the Lazio fans after scoring in one derby, and the thumbs-down gesture he made after beating us not too long ago, were some of the many arrogant antics that he performed. Resentment aside, however, I cannot deny that Totti is an excellent player.
"F*** Off!! F*** Off you c***!" I scream along with tens of thousands of supporters in the curva. "Did you just say c***?" Celia asks.
"Yes." I reply, embarrassed. "Please excuse me; it was raging inside me."
The announcement is followed by Roma's anthem, and Curva Nord's instant reply is the planned choreography. Three long horizontal banners in white with blue text written on it are unfurled, while the rest of the supporters wave the coloured flags which are given to us before the game, forming the Biancoceleste colours.
The words on the banners read:
'Si Er Papa Me Donasse Tutta Roma…' (If the Pope would give me the entirety of Rome…)
'E Me Dicesse Lassa Anna' Chi t'ama…' (And tell me to leave the one I love…)
'Io Ie Direbbe: No… Sacra Corona…!' (I would say No…Sacred Crown..!)
These words are the lyrics of a very popular Roman folk song in the sixties. Like what the song was trying to tell everyone then, our message is clear. We would never leave Lazio even if the Pope offers us the entire city of Rome! The incredibly stunning choreography is backed by our singing.
"OHHHHH FORZA LAZIO NON MOLLARE, FACCI UN GOL! E QUANDO DALLA CURVA QUESTO CORO SENTIRAI, VOLA LAZIO VOLA NON TI LASCEREMO MAI!" There is immense pride on everyone's faces as we continue chanting.
Shortly afterwards, the banners are lowered and the battle commences. Roma launches their offensive right away as they win a corner and a free-kick within the opening two minutes of the game, but Lazio's defence holds firm. Matuzalem leads the Lazio offensive as he gathers a ball from Cristian Ledesma on the left wing to fire a curling shot straight into the arms of the Roma's goalkeeper, Maarten Stekelenburg. The match is poised at fifty-fifty.
Six minutes into the game, Lazio draws first blood. A poor pass from Gabriel Heinze to Erik Lamela is intercepted by Hernanes. The Brazilian galloped forward with pace and sent a through pass to Miroslav Klose, who bursts into the penalty box. Stekelenburg rushes out and trips the Lazio striker in the area. Everyone switches gaze to the referee immediately; I hold my breath, as does every single Lazio supporter in the stadium. The referee blows his whistle and points to the spot for a penalty!
"SIIIIIIIIIIIIIIIII!!" We cheer. Beside me, Marco is screaming to the referee for a red card!
"ESPULSOOOO!" "ESPULSOOOO!" And he gets it! The referee brandishes a red card at the Dutch keeper, and the cheers are deafening.
There is a huge protest from the Roma players but the referee's decision is final. Hernanes steps forward to take the spot-kick, just as he did during the last derby. Marco refuses to watch the penalty as he turns his back around.
"Nigel, I no see…I no see." He says.
Roma has to make a substitution, and Lamela is sacrificed for substitute keeper, Bogdan Lobont. Hernanes had previously scored twice against Roma and both came from penalties. On both occasions, he had sent the ball to the keeper's right, something Roma's goalkeepers would have studied by now.
"Please Hernanes; do not shoot to your left…Do not shoot to your left" I repeat as if reciting a mantra.
In an effort to distract or agitate Hernanes, the Romanisti on the other end whistle loudly. Hernanes keeps his cool and calmly slots the ball to the right, sending Lobont the wrong way!
"GOALLLLLLLLLLLLLLLLL!!!" The Curva goes into delirium!
"Grazie, Hernanes, Grazie!! He heard me!!!! He heard me!!!!" I scream as I hold on to Marco for dear life to prevent myself from slipping. It's impossible to maintain my balance. The fans, euphoric from the goal celebrations, are jumping, hugging and pushing around, and it feels like I'm in the middle of a mosh pit at a Metallica concert. It's comparable to a war zone, but I'm having the time of my life! Someone throws a firecracker that goes 'Booooom!!' onto the running track and the firemen rush to extinguish it. It's a jolly good start, and everyone starts jumping to the chants of "CHI NON SALTA DELLA ROMA HEY HEY!" (Jump if you are not from Roma hey hey!)
The goal leaves the Roma fans stunned; their flags stop waving on their curva, while we sing and celebrate the temporary lead. Our lead however lasts fewer than ten minutes, as in the 14th minute, young Roma striker Fabio Borini goes down after the slightest of contacts with Lionel Scaloni. Roma is awarded a dubious free-kick right on the edge of the penalty box, which Totti slams directly into the defensive wall. The ball rebounds to Rodrigo Taddei on the right, as he sends in a cross that falls to Juan at the far post. The Brazilian's cross-shot hits the bar, and Borini makes a simple tap-in.
Giuseppe Biava attempted a desperate goal-line clearance with his head but the ball is adjudged to have crossed the line. Roma has equalized. 1-1.
I'm confused.
"Did the ball cross the line?" I ask Matteo, who is expressionless. He does not reply. No one on the curva can tell, and under such circumstances, only a slow motion replay could have given me an answer. We are determined not to lose faith, and like a dying patient who has just been resuscitated by an electric defibrillator, the curva comes back to life again.
"Forza Lazio Ale…Forza Lazio Ale…Forza Lazio Ale!!!!" We sing in spite of the setback.
Ledesma gathers the ball from the back of the net, and makes his way back to the centre circle. "Look at Ledesma! Calma." Marco points at him. Indeed Cristian Ledesma remains very calm.
The Roma supporters unveil a banner: 'IRRecuperabili'. IRR is the abbreviation for 'Irriducibili', Lazio's former ultra group had been disbanded, and 'Irrecuperabili' means incurable. The Curva Sud, fresh from indulging in their equalizer, are having a laugh at us. Our reply is a simple banner that says 'NON SI LEGGE' (I cannot read), and that gets everyone cheering and laughing out loud. It is an epic battle of a war of words.
After the restart, Totti drills wide from a promising counter-attack, and Klose just fails to connect with a cross from Matuzalem as both teams looks to take control of the game. The German striker has another opportunity to seize the lead for Lazio, when he leaps ahead of his marker to direct his header towards goal, but it lacks power and the Roma custodian is able to gather the ball comfortably. Stefano Mauri is booked for simulation late on, although replays suggest Taddei did tug on his jersey in the box, as both teams head into the dressing room tied at one apiece.
I drop my tired butt on the seat as I pick up my phone and call Stefano who was watching the game back home in Singapore. I want to check if Roma's goal was legitimate. "It was a goal, the ball crossed the line," Stefano says. I hang up and join in the choruses of insults directed at the Roma supporters, while hoisting my banner up high. "FINCHE VEDRAI QUELLA SUD, CURVA DE MERDA, ROMANISTA TOPO DE FOGNA, SEI LA VERGOGNA DE STA CITTA!!" (You s**** south stands, Romanista sewer rats, you are the shame of this city.)
"Nigel, you want to take off your jacket? You are perspiring." Celia says.
"Oh yeah, ok!" I look around me; I'm the only one still wearing a jacket.
"NOOOOO Nigel!" Marco stops me.
"Superstizione!!" (Superstition.)
Marco's intentions are good; we have played reasonably well so far, so it's better that we do not risk it by taking off my jacket.
"Ok, va bene. I will keep it on," I agree. Celia is seen giggling away.
From where we are, I can see Gianluca Tirone clearly. He's on the left side of the curva and looking very serious. I try to make eye-contact with him, but he's so focused with orchestrating chants that there's no way he would see me.
Just three minutes after the second period begins, Roma's defender Juan becomes the subject of monkey chants from a minority of Lazio supporters in Curva Nord. I'm not going to pretend that nothing happened or defend our supporters. The truth is that they're taunting Juan with racist chants, period. They do it to antagonize him and it's wrong. What I can say is that abhorrence surpasses all things. The Lazio fans do not make these chants to Clarence Seedorf, Samuel Eto'o, or Mario Balotelli when we play against AC Milan or Inter. In fact, our fans do it even to Daniele De Rossi and Francesco Totti, and they are definitely not ethnically black.
The next morning this incident becomes the main topic around the world. 'Lazio fans are racists!' read the headlines of a popular online football website. The thing that pisses me off is the way the news is reported. Modibo Diakite, our French defender of Senegalese descent is on the receiving end of racist chants by the Roma ultras, but the journalists in the stadium that day, as well as the world media, choose not to report that! How about what happened to Balotelli, who was racially abused by Roma fans when he was playing for Inter? And did the media report on the Romanisti who sang and made fun of a dead Lazio supporter? No, they did not. This is unfair media coverage of the highest level and it is absolutely absurd to just report on one side of the story. Hence this is exactly why football fans that do not go to the stadium tend to believe everything and whatever the media reports. Now, I truly understand and absolutely agree with the ultras when they say: 'Journalists are terrorists'.
Back to the game. In the 58th minute, Francesco Totti capitalizes on a quick counter-offensive and a great run by Borini and fires a dipping and powerful shot just wide of goal. Phew. I let out a sigh of relief.
"That was close!" I say to Matteo. "Dai Cazzo!" (F****** C'mon!)
A cute girl in front of us turns around and says, "No, you have to say it with more menace."
"DAI CAZZOOOO!" I shouted.
"Like this?" The girl nods and smiles.
"Si!"
Matuzalem wins a free kick for Lazio in a promising position. Matteo looks at me; his eyes tell me that he senses a goal. Ledesma takes the free-kick and at full-stretch, Mauri manages to connect his left foot with the ball and guide it into the net!
GOALLLLLLLLLLLLL!!! Mauri and the players run under the curva and celebrate together with the fans.
There are chaotic scenes as ecstatic fans from the upper sections come tearing down on us. Celia, who is beside me, loses her footing and nearly falls from her seat, but I'm quick enough to prop her up. All the pushing and tussling knocks me, and even my shoes, off my seat. But the most poignant part is when I hug a complete stranger in the curva. The man does not speak English but I probably managed to communicate on a deeper level of intimacy with him than I have ever done with anyone else in my life. There is no need for words.
Lazio nearly doubles her lead moments later when Hernanes goes through on goal with only Lobont to beat, but an excellent tackle by Juan prevents the Brazilian from scoring. The defender's tackle is inch-perfect, as he steals the ball from Hernanes just when he wants to pull the trigger. The Brazilian maestro could have done better there, as the third goal would surely have been the icing on the cake. 'Arghhhh…' The curva groans.
I am so mad at Hernanes that I kick on the seat repeatedly.
"What the hell was he thinking? It was a damn good chance!" I curse.
In spite of our numerical advantage over Roma, we are happy to sit back in our own half and rely on counter-attacks as coach Edy Reja switches to a defensive formation. Conservative, but a clever move, as Roma keeps pouring forward, leaving huge gaps at the back. Klose picks the ball up from midfield and leads the onslaught as Roma are caught out in defence yet again. The German uses his skills to skip past Juan and feed Mauri on the right whose tame shot does not pose any danger to Lobont. Another wasted opportunity.
I look at my watch; 15 minutes to go. The nerve-wracking wait for the final whistle feels like a lifetime. Roma are constantly frustrated by a water-tight Lazio defence, but with seven minutes remaining, Totti breaks free from his marker, times his run to perfection as he jumps to meet an excellent cross from the left, and powers his header towards goal. I hear screams of 'goal' pre-empting the moment from the Roma end.
"It's in. There is no way he is going to miss from there," I look on dejectedly.
Then, the ball miraculously misses the post by a matter of inches! It's harrowingly close! For a second, the Romanisti on the south stands thought the ball had gone in, only to realize that it had not. I close my eyes and utter a prayer. The funny thing is I am not the only one seeking divine help as I see another man praying on his rosary beads, and reflecting the sign of the cross on his chest repeatedly.
Lionel Scaloni, who is one of the most outstanding players for Lazio, is handed his marching orders after receiving his second yellow card for tripping Bojan Krkic, and Lazio too goes down to ten men for the last few minutes of the game. The curva continues to cheer on the team as they defend with their lives, well into stoppages. The long-awaited final whistle finally arrives, as the referee blows an end to the game and spark wild celebrations from the Laziali. We won! YES!!! I jump on top of Matteo and Celia as we celebrate the win as if we have won the Champions League. It is impossible to describe the scenes after the final whistle, for I have never seen anything like it in my life. People are cheering, laughing, crying, jumping, dancing and singing, and the entire curva is in a state of absolute delirium. A man who is old enough to be my dad wipes his tears away with a handkerchief, while a mother and daughter hug each other and cry tears of joy.
The Lazio players and coach Edy Reja run under the curva to celebrate with the fans, while the Roma players walked back into the dugout dejectedly. Goalkeeper Federico Marchetti leads the way by stripping down to his underwear, as he throws his shorts and jersey to the crowd. It's an unforgettable derby – a beautiful victory! I lift up my banner and continue to sing with my fellow supporters as I do not yet want to leave the stadium. The supporters who discover my banner while making their way out of the stands, request to have pictures taken with me, while a few excited ones sing, "Daje Singaporeeeee! Daje Singaporeeeee!"
Three young girls are so excited upon seeing my banner that they scream and run towards me as they have just seen Justin Bieber. It makes me feel like some oriental superstar mingled among them.
"Grande Nigel!" Marco wraps his scarf around my neck.
"This is for you; I hope if you look at this scarf twenty years on, you will remember me and this beautiful derby!"
While on the way to Ponte Milvio to meet up with John and the rest who are in the Distinti sector, I am stopped by groups of Lazio fans at the piazza who claim to recognize me from the television.
"Grande! Sei un numero uno!" (Great! You are number one!) they say.
I do not know how to react; I've suddenly become famous.
"Hey! You are the one on the screen! 10,000 KM?!" Everyone is excited and proud of me.
Afterwards, we meet John and the rest of the guys at Ponte Milvio and head to a pub to celebrate the victory. It is only then that I begin to feel the exhaustion; I have spent all my energy singing and cheering for Lazio that I feel weak and hungry. Then, I almost choke on my beer when I see that I have more than fifty unread messages on my cell phone. Apparently, friends and fellow supporters around the world have seen me on TV and sent me all sorts of congratulatory messages. Such sweet gestures, but I'm having a hard time replying to every single message.
Experiencing a derby victory in Curva Nord is truly the most amazing feeling in the world.
"Even more amazing than conquering Mount Everest, or winning the One Million Dollar lottery Nigel?" A friend asks.
"Yes. Those don't even come close." I wink in response.