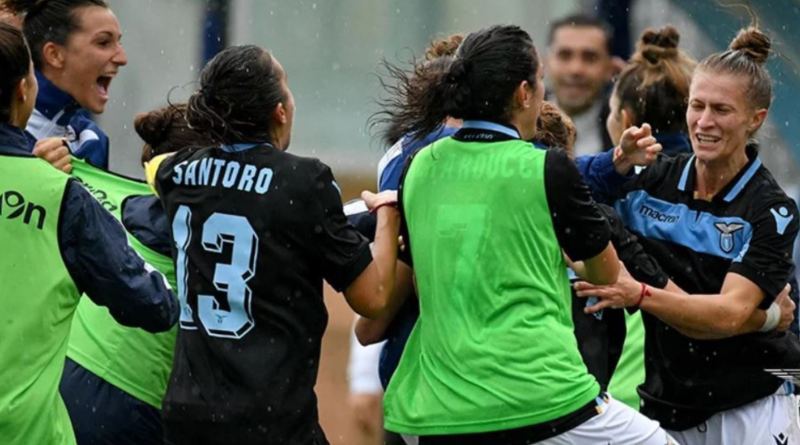 Lazio women defender Martina Santoro discussed her career, what can help make women's football grow and the Biancocelesti in an interview with Italian media outlet Calcio Femminile Italiano yesterday.
First, she discussed what it means to her to play for the Roman club.
"For me it means normality, in the sense that one tries to have one's own dimension, for me this is to all intents and purposes, and Lazio is my dimension."
The 25-year-old Italian revealed where her passion for football came from.
"The passion for football arrived when I was very young. I've been playing for Lazio since I was six years old. Football has meant a lot to my family."
She suggested that she doesn't have a reference point player.
"I don't have tactical reference point players, I'm referring to the sense of team belonging."
Santoro touched on if she thinks that Lazio's current position on Women's Serie B, in third place, is in line with her expectations at the start of the season.
"I am convinced that this is a team that can go far, but when you have a strong group it takes longer to have favourable results, with pressure that must be managed well.

"This placement was the result of what we've done, but at the same time we have to do more, and we have what it takes to do that."
The 25-year-old Italian spoke about her relationship with her teammates.
"I talk to them every day and try to face any problems that are about to arise, if we all row in the same direction we can win.

"Since the beginning of August, the team breathes a serene atmosphere and united we will repay all our efforts."
She gave her opinion about the current strength of Women's Serie B.
"Compared to previous years it has grown in level, especially since Serie B has become national. I have seen teams that physically hold on until the end."
Santoro touched on what can be done to help women's football grow in Italy.
"I have no solutions to make this happen, but women's football has already made the right choice.

"There is still a bit of general scepticism, in the sense that those who have always been inside this really believe in it, while there are those who have entered now and immediately compare women's football to men's, and do not yet believe in it all the way.

"We must realize that this reality exists, whether we like it or not."
She thought that it was right that women's football would become professional in 2022.
"I would say it's about time. We are full-fledged professionals in our work and commitment, we train all week long, we dedicate our lives to football, and many times it's hard to realise it, because not everyone has the chance to dedicate themselves."
Finally, Santoro spoke about how she is off the pitch.
"I'm instinctive and sentimental, but at the same time there is a bit of rationality that keeps me on track."