Sempre con noi; always with us. Words grievously uttered around Rome as yesterday marked thirteen years to the day of the tragic shooting of lifelong Lazio fan and Ultra, Gabriele Sandri.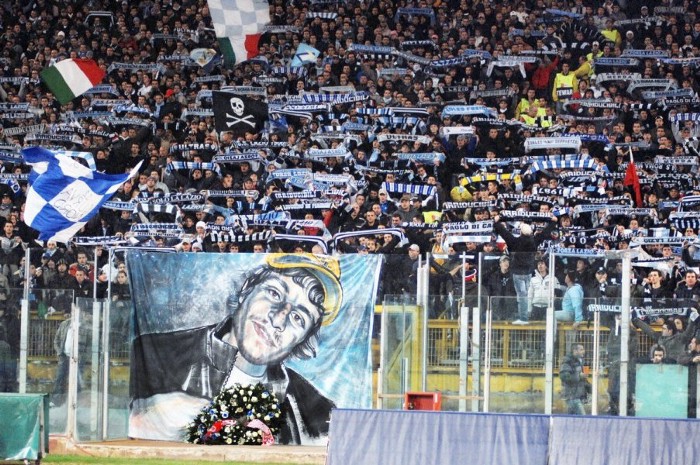 Memorials flooded in up and down Italy from all clubs yesterday as rivalry and hatred was put aside for a greater, deeper cause. A subject in which every fan, no matter the club, feels extremely passionate about; after having been unjustly shot and killed by a police officer.
The 11th of November 2007 was as mediocre and as usual as any other away day for Gabriele and the group of Lazio fans he was travelling with. A long drive from Rome to Milan as the blue half of the northern city, Inter, hosted a hotly contested match with the Biancocelesti. The tragedy, doomed to haunt the sport, the country and Police for years to come, happened at a petrol station in Tuscany on their way towards Milan.
The passion that the group of Lazio fans, which included Gabriele, was evident as it wasn't long before a fight broke out at the station between them and a set of Juventus supporters. It was almost fate that Tuscan police officer, Luigi Spaccarotella, happened to see the quarrel.
Upon seeing this, he fired a gunshot in the air which resulted in the fight dispersing and seeing Gabriele and his friends rush to the car. However, one bullet would not be the number of shots fired by the officer as only minutes after, he fired another two shots, aiming at the car, resulting in one of the two hitting Gabriele's neck and killing him instantly.
As the inevitable court proceedings came around, Luigi had cowardly claimed his gun fired 'by accident' causing outcry within the court and out of it. The officer was sentenced to a mere six years in prison despite the prosecution asking for over double (14). A 2010 Florence appeals court saw his term increase to nine years and four months; however, the destruction caused by his death had already been done.
His death led to both halves of Rome coming together for a greater cause with the 'Derby della Capitale' seeing both captains place a wreath in memoriam. As well as this, ultras groups up and down the country coming together with banners every year put up in towns across Italy showing the unjust death of Gabriele and showing that he will never be forgotten; Gabriele Vive!