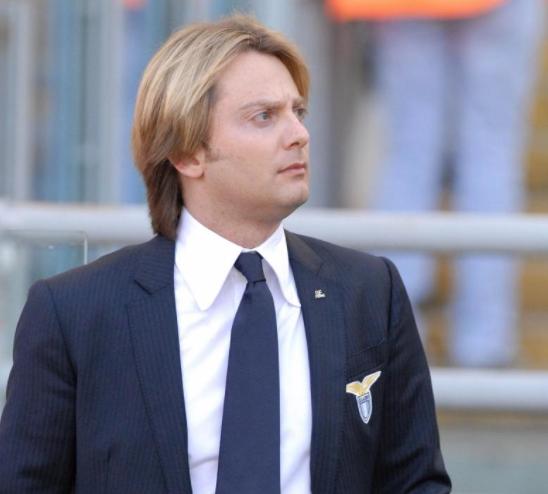 Lazio communication director Stefano De Martino discussed Ciro Immobile, Luis Alberto, the Covid-19 tests and the Serie A season in an interview with Italian radio broadcaster Lazio Style Radio earlier today.
We can't wait to resume football. The away match in Crotone will be tough, the Rossoblu have shown that they do not deserve that place in the table. The table is very tight, and with two wins you can reach top spots.

History says that Lazio have not done very well in Calabria, but the win on Saturday is crucial. The start of the season was very challenging, having faced Atalanta, Inter and Juventus.

Now on paper there are easier games, but it will not be easy to face teams who are in trouble in the table, starting with Crotone. Concentration is at maximum, the Biancocelesti have never lowered their pace.
He commented on the recovery of club captain Senad Lulic.
His recovery is on the right tracks, we hope to have him back soon. He will be like a new signing on the left, we already hope he will be available from after the break.

I think the squad has been built well and with many alternatives for each role, the difficulty lies in having them always and all available.
The Lazio communication director then touched on the current situation surrounding Biancocelesti star Ciro Immobile, who returned inconsistent Covid-19 tests in recent weeks.
Ciro is upset with this testing issue, there is confusion also with other similar cases. I hope that in the next checks everything will be clarified. Immobile is fundamental for us and for the National team.

We are waiting for news in the next few hours, hoping it will be positive. We are always in contact, waiting for the right timing. He is calm, as far as we can tell.
De Martino discussed Spanish midfielder Luis Alberto and his recent outburst on social media regarding Lazio's decision to purchase a personalized plane.
The rules apply to everyone, even for an extraordinary player like him. Here it is fundamental, everyone believes in him, he is well liked. The Spaniard explained that he understood the mistake he made.

The club have always intervened when it had to be done and Luis Alberto knows that. The players must respect the rules that we have established, representing this team and this people, even in their private life they must be aware of this.

It may happen that a certain discontent is expressed on some issues, but limited to comments. Those who are part of this club have always respected the rules. The Luis Alberto case is closed.
De Martino spoke about the Biancocelesti's apparent trouble in open communication.
Max Giusti's jokes are funny, it is not a problem. As far as the animosity is concerned, it has always been against us since the 80s. This is a constant of a certain type of media. The reasons? There is not a motive.

The president may have generated some discontent, but we have always gone on believing in our battles. We work and we don't get shocked anymore, we try to bring home results, we want to entertain the fans.

Unfortunately, you can't change people's minds. On the testing situation we can't add anything else following the club's choices since there is an ongoing investigation. When all this will be closed, then we will take action against those who have gone beyond the allowed and those who haven't acted well and haven't been fair.

We will certainly respond in the end. Nothing will go unnoticed. Certain things will not change, but just do not read them and do not listen to them.
He touched on the current position of Covid-19 testing for Serie A teams and how some aspects need to change.
There is a need to review this kind of system. We are not the ones who have to give ideas. Surely there is no clarity on many aspects, and we are here waiting to know if things have been done well or not.

We live in uncertainty, having to prepare for the games at the same time. We work with the approved protocols and move forward.
De Martino touched on the Lazio squad's strong spirit, will and determination.
This squad has a great spirit of sacrifice and it has been seen when, despite going on a European trip with only 13 players, they respond as they replied.

This makes it clear that our type of work has built a solid base and given certainties. We never make the biggest signing in the market and this involves the economic health of the team and to see these results is a great pleasure.

What remains today and what we have in front of our eyes is a healthy and respected team in Europe and this is thanks to the management model set by the presidency.
Finally, De Martino spoke about last season's title race against Inter and Juventus' and this campaign's race for the Scudetto.
I am convinced that if there had not been the pandemic, we would have been champions of Italy. I say this because, seeing the situation from the inside, an unstoppable situation had been created, we had only one game a week unlike our competitors and we would not have had all those injuries.

This year is a very open season, where those who were suggested to be favourites are struggling. Everyone is competitive, but with some difficulties. We will see what will happen.