On Tuesday, November 24, 2020, the Stadio Olimpico hosted Lazio vs FC Zenit Saint Petersburg in Matchday 4 of the 2020/21 UEFA Champions League. The final score was a 3-1 victory in favour of the Biancocelesti; Group G now looks as follows:
Borussia Dortmund: 3W-0D-1L (9 points)
Lazio: 2W-2D-0L (8 points)
Club Brugge: 1W-1D-2L (4 points)
Zenit: 0W-1D-3L (1 point)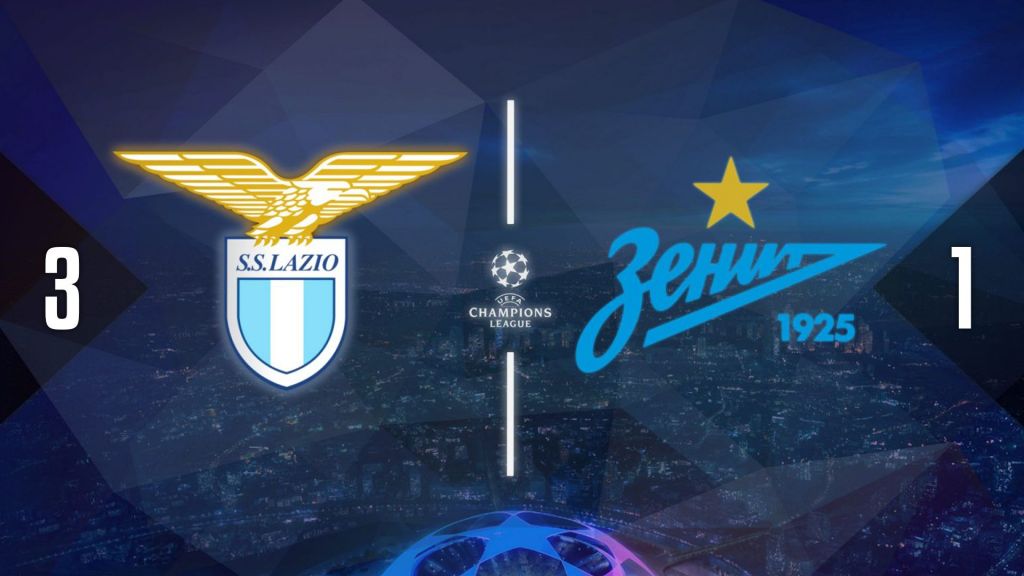 Referees
The Head Referee for this clash will be Michael Oliver, the Assistant Referees will be Stuart Burt and Simon Bennett, the Fourth Official will be Andrew Madley, and the Video Assistant Referee (VAR) will be Chris Kavanagh with the assistance of Craig Pawson.
Managers
Lazio: Simone Inzaghi
Zenit: Sergei Semak
Starting Lineups & Substitutions
Lazio (3-5-2): Reina; Patric (60′ Luiz Felipe), Hoedt, Acerbi; Lazzari (68′ Fares), Parolo (60′ Akpa Akpro), Lucas Leiva (68′ Cataldi), Luis Alberto, Marusic; Correa, Immobile (81′ Muriqi)
Zenit (3-5-2): Kerzhakov; Lovren, Rakitsky, Zhirkov (73′ Azmoun); Malcom, Kuzyaev, Barrios (59′ Driussi), Douglas Santos (37′ Sutormin), Mostovoy (59′ Musaev); Dzyuba, Erokhin (74′ Shamkin)
Goalscorers
Lazio: Immobile (3′, 55′ Penalty Kick), Parolo (22′)
Zenit: Dzyuba (25′)
Player Ratings
Simone Inzaghi 9 | Reina 6.5; Patric 7 (Luiz Felipe 7), Hoedt 7.5, Acerbi 7; Lazzari 8 (Fares 6.5), Parolo 7 (Akpa Akpro 7), Lucas Leiva 7.5 (Cataldi 7), Luis Alberto 8, Marusic 7; Correa 8.5, Immobile 9 (Muriqi 6.5)
Recap
This match started in the best possible way for Lazio, as within three minutes of play, they were already on the board through Ciro Immobile.
After receiving a pass from Lucas Leiva from outside the Zenit 18-yard box, the Italian striker smashed home a wondergoal; despite being surrounded by Zenit players, his dipping strike went over Mikhail Kerzhakov and into the top right corner.
Within the next 10-15 minutes, Lazio continued to look lively, controlling most of the play and pressing high. The attacking trio of Luis Alberto, Joaquin Correa and Immobile were linking up very well, with good crosses coming from both the left and right flanks.
In the 22′, after constant pressure, Lazio had their second goal. Luis Alberto drove up the left side of the pitch and found Correa. After dribbling inside, he then passed the ball to a late-arriving Marco Parolo; the Italian midfielder smashed home a low-driven right-footed shot into the bottom left corner.
While the game looked to be in full control by Simone Inzaghi's side, Sergei Semak's and his men were given hope when Artem Dzyuba scored in the 25′. After receiving a pass from Yaroslav Rakitskiy, the Russian forward (who was already situated in Lazio's 18-yard box) brought down the ball off his chest, turned, and fired a left-footed volley past Pepe Reina and into the bottom left corner. Dzyuba was not marked properly by Francesco Acerbi; this allowed him to get his shot off.
While the tide seemed to be turning, it was Lazio who came back strong for the remainder of the half.
The first chance came in the 27′ when Correa carried the ball forward from Lazio's half to lead a counter. He placed a perfectly timed pass into Luis Alberto's path; however, his chip shot was denied by Kerzakhov.
Following this, in the 39′, Correa dribbled through Zenit's backline from the left flank and found Marco Parolo; however, his shot just went wide of the left post from inside the box.
Then, right before half time in the 45′, it was Kerzakhov once again to deny Lazio from scoring their third goal. Correa once again pushed forward on the left side of the pitch and found Manuel Lazzari making a run. Unmarked, it was a perfect pass; however, the Russian goalkeeper parried the shot away.
In the second half, Zenit came out the better side. They continued their strategy of sending long balls forward into Dzyuba, where he would then hold up the play and try to lay it off to teammates, while Wilmar Barrios continued to drop between Rakitsky and Dejan Lovren to start each play.
However, Lazio continued to get behind the ball and defend well to prevent them from creating anything in the final third, and in the 47′, Immobile had a chance to put the game away. He brought down the ball inside Zenit's 18-yard box, but his shot was blocked at the final moment.
In the 53′, Lazio was awarded a penalty. Lazzari was found in space by Correa on the right flank, he carried the ball forward into Zenit's 18-yard box, and found a trailing Immobile at the top of the box. Barrios then made a silly sliding challenge, clipping Immobile and bringing him down. The Italian striker stepped up to the spot and smashed home his second of the night to put Lazio up 3-1.
In the 61′, Lazio had another chance to score. Immobile started the play by finding Marusic in space on the left flank. The Montenegrin then played Acerbi through; the Italian defender took his time to place a perfect cross to Correa. However, his header glanced over the bar.
In the final third of this match, both coaches made use of all of five of their substitutions. While Inzaghi made smart and tactical like-for-like changes, Semak brought on extra attackers to try and make something happen. However, this did not occur and the match ended 3-1 in favour of Lazio.