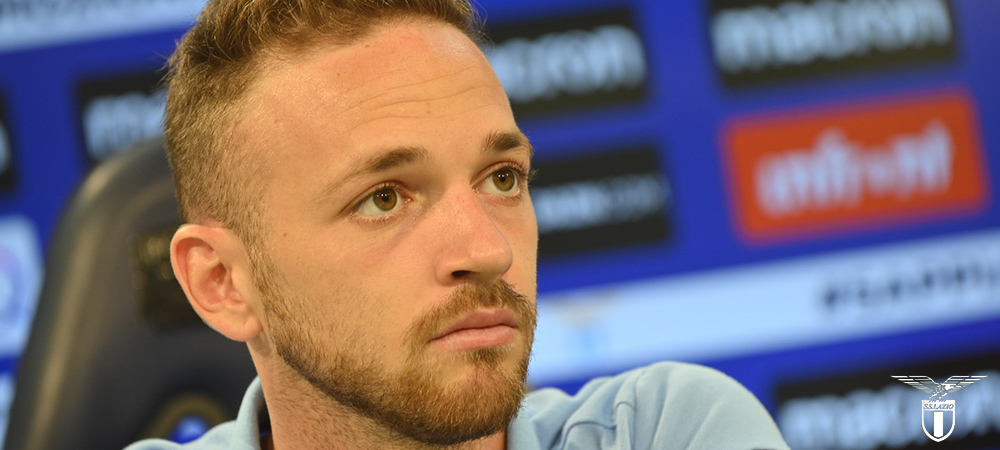 Lazio wing back Manuel Lazzari discussed footballing legend Diego Maradona, the club's Serie A campaign, the Champions League and more in an interview with Italian radio broadcaster Lazio Style Radio earlier today.
First, he spoke about Italian midfielder Danilo Cataldi.
We are very close friends even off the pitch there is a good relationship, when we go on the training camp we always sleep in the same room together.
The 26-year-old Italian wing back spoke about Napoli hero Diego Maradona, who passed away yesterday.
Maradona changed football, he's a real legend. It 'a very serious loss is right, there are these three days of mourning and the minute of silence on the pitch. Sorry to the whole world.
The former SPAL player spoke about the season so far.
This year there is no real favorite. Juventus in recent years have always dominated but this season there is not a team that stands out.

It will be an open season from start to finish and we will do everything we can to be ready.
Lazzari spoke about his first goal in the league, scored against Cagliari at the start of this season.
In recent years Immobile had always won and when you score the first goal of the season they give you a bottle of wine, I'm happy and I hope to continue like this.

My shot against Zenit? My fault because I could have angled it more but there are not many times when I am in those positions, I had to do more but the important thing was to bring home the victory, it brought us closer to progressing.
The 26-year-old Italian commented on how it felt to play in the Champions League.
From the pitches of Serie D to those of the Champions League, for every child who plays football it's a point of arrival that few can reach.

For me it has been something unique and if I think about all the things I have done to get where I am today, I get excited and I hope to continue like this.
The Lazio wing back spoke about his favourite moments as a player so far.
For now, the two most beautiful moments of my career are my debut with the National team and my debut in Champions League which is the most important competition for a player.
He touched on Lazio players Stefan Radu and Sergej Milinkovic-Savic.
They are both good guys, Radu is really nice, there is not a day when we do not laugh with him.
Lazzari spoke about Lazio in general.
For me Lazio, I already showed it last year when I showed up here, is unique. It's been an important year for me, the team is very important, it's a big Italian team and we are also making a name for ourselves in Europe, it's something incredible.

Coming to Lazio makes you change your mentality. You immediately understand the difference between a team that had the task of saving itself to a team where the objectives are different. You have to win every game whether you play against Juve or Crotone, the mentality is winning.
The Lazio wing back discussed his idols.
When I was little I really liked Kaka, my dad made me see the sufferings of Milan, now I really like Alphonso Davies and Carvajal.
Lazzari revealed why he uses the number 29 shirt.
29 because it is a number that has always brought me luck and is the date of birth of my sister and me.
He touched on his objectives.
For the future I hope to continue well with the whole team, we hope to go to the next round of the Champions League and to have a great season until the last day.
The 26-year-old Italian discussed the start of his career.
I started playing football when I was five or six years old and from there I never stopped. I had a difficult moment when I was playing in Vicenza, after four years a little because of the physical appearance they did not confirm me and I had to start from scratch.

With the help of my family I managed to roll up my sleeves and work.
Lazzari commented on how it feels to play in empty stadiums.
When we played at the Olimpico in front of our audience you went on the pitch with the awareness of playing as twelve because with 40-50 thousand fans pushing you it's all easier.

With the public it's another sport but we know that it's a difficult time and so we hold on.
The 26-year-old Italian spoke about teammate Mohamed Fares.
We are shy, we are very much among ourselves but this is part of our character. I talked to Momo, he is very happy to have arrived in Rome, let's say he is now settling in.

I did a lot of hard work last year too, but the player is really strong and he will prove it.
Lazzari commented on the differences between SPAL and Lazio.
They have two different ways of playing football, Lazio are very much looking for ball possession and we have the strength to do this as few, so it's normal that you have the ball a lot and you run a lot, there's the grit.
The 26-year-old Italian spoke about his first goal in the Europa League.
The emotion of scoring goals in a stadium like Celtic's, with 60,000 people in the Europa League in my second match was unique, this year I could do it in Champions League but unfortunately it went wrong.
The former SPAL man spoke about his physical condition currently.
This year I've been stuck for three weeks, first the injury and then Covid, I needed these matches to recover my condition. I hope to recover even better.
He discussed the importance of having five substitutes.
With the five changes everything is different and Lazio this year have a wide and strong squad. There are players arrived in the summer from which no one expected such a performance.

Lazio has an extra weapon.
The Lazio wing back touched on the win over Crotone last weekend.
In Crotone it was incredible, strong wind and rain and the field also held well. I think those three points were fundamental, we had a great game.

The wind is the worst thing that can happen in a match, you can't calculate well the bounce of the ball, you can hardly run.
He discussed the upcoming league clash against Udinese.
On Sunday there is a very important game and I think the Friulians have few points compared to the value of their squad.

We have a difficult game ahead of us but we had an extra day of rest and if we recover our energy we can have a great game. The time of 12:30 is a bit annoying because as soon as you wake up you have to have breakfast and lunch together.
Finally, Lazzari spoke about the upcoming Champions League clash against Borussia Dortmund.
After Udinese there will be the game with Dortmund and we will play for first place in the round aware of our qualities and also of their strength but first there is the game on Sunday and we must have consistency in the league.