Simone Inzaghi has proven himself, perhaps against expectations, a masterful tactician since taking over the managerial position at Lazio. So far, he has been able to adapt his philosophy to suit his players' abilities. However, this was of little help against Udinese in Matchday 9 of the 2020/21 Serie A, as they defeated the Biancocelesti this past Sunday.
What Is Simone Inzaghi's Tactical Philosophy?
In many ways, Inzaghi is an old-school manager taking his cues from the Italian tactical innovations of the 1980s. He prefers to use a 3-5-2 system and to encourage passing from the back. At least one of his central midfielders has a playmaker role. Those are usually Luis Alberto or Sergej Milinkovic-Savic.
Lazio's tough defenders are encouraged to dive into tackles. The team usually looks to create chances from the wings, crossing the ball towards Joaquin Correa, or Ciro Immobile, one of Europe's most competent goalscorers.
Inzaghi also embraces modern theories. The team will often employ a high-press, and strikers are required to act as Lazio's first line of defense, consistently hassling opponents into making mistakes.
So, What Went Wrong for Lazio Against Udinese?
First of all, the context in which the game was played is important. Lazio was in 8th place, having just played in the UEFA Champions League and dealing with several injuries. Udinese is hovering around the relegation line, playing highly defensive football, and desperate to earn, at least a point.
Inzaghi opted to employ his classic 3-5-2 formation. Stefan Radu and Thomas Strakosha returned to the fold. The goalkeeper is, however, still readjusting to the pace of a game.
Also, Milinkovic-Savic was still unavailable. Danilo Cataldi's attempts to replace the Serbian's playmaking efforts were ineffective. Cataldi had an 85% passing success rate but was largely ineffective in serving Correa and Immobile with quality vertical passes.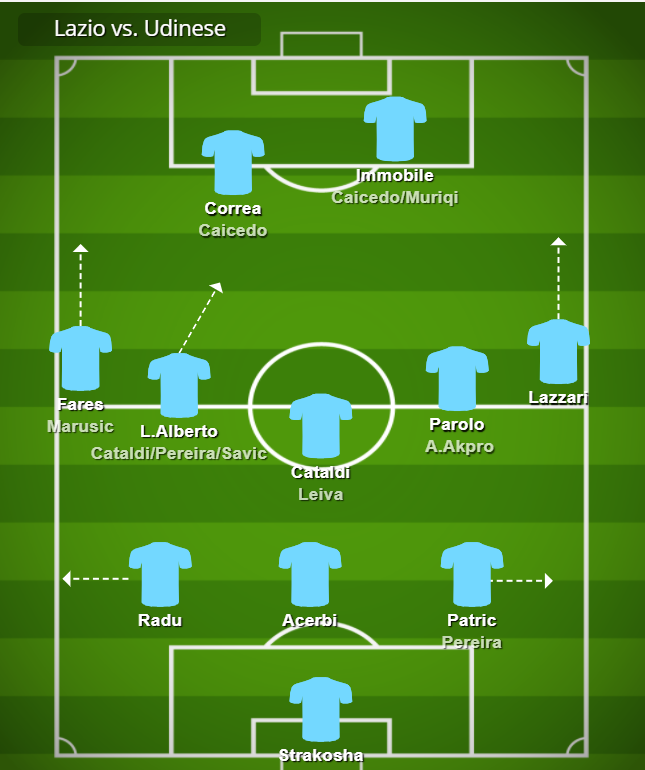 Udinese's coach, Luca Gotti, mirrored Lazio's 3-5-2 formation, hoping to nullify the tactical superiority of the Biancocelesti; and it worked. Lazio could rarely rely on their wingers and played through the middle of the pitch where Luis Alberto had a quiet, uninspired performance.
Finally, Lazio made considerable individual errors. Tolgay Arslan scored Udinese's first goal from a distance and Strakosha should have done better with that shot. They scored the second from a counter-attack where Lazio's back three could not defend against the quick run and pass in-field from Rodrigo De Paul. The final goal followed a failure to properly mark Fernando Forestieri. All of these errors could have been avoided.
Still, Lazio had its chances and was repaid by Immobile's goal scored from the spot. With that being said, Inzaghi should have made adjustments to counteract Udinese's tough defending.
Conclusion
It's a defeat that will hurt Lazio, especially at a critical point in their season. While the squad has shown to have considerable depth and great team spirit, in the absence of a playmaker with sufficient vision, the Biancocelesti's whole game suffers.
They will no doubt bounce back and Inzaghi is unlikely to make many concessions against his playing style. Against Borussia Dortmund and with Milinkovic-Savic back in the fold, these tactics might work much better.