On Wednesday, December 2, 2020, the Signal Iduna Park hosted Borussia Dortmund vs Lazio in Matchday 5 of the 2020/21 UEFA Champions League. The final score was a 1-1 draw; Group F now looks as follows:
Borussia Dortmund: 3W-1D-1L (10 points)
Lazio: 2W-3D-0L (9 points)
Club Brugge: 2W-1D-2L (7 points)
Zenit: 0W-1D-4L (1 point)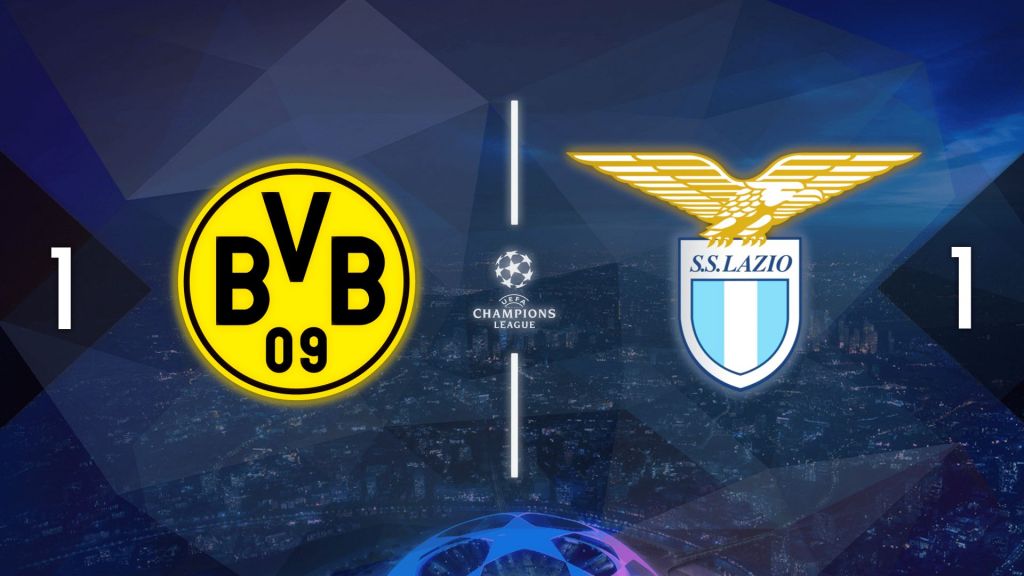 Referees
The Head Referee for this clash was Antonio Matéu Lahoz, the Assistant Referees were Pau Cebrián Devís and Roberto del Palomar, the Fourth Official was José Luis Munuera Montero, and the Video Assistant Referee (VAR) was Alejandro Hernández with the assistance of José María Sánchez.
Managers
Borussia Dortmund: Lucien Favre
Lazio: Simone Inzaghi
Starting Lineups & Substitutions
Borussia Dortmund (3-4-3): Burki; Piszczek, Akanji, Hummels; Morey, Bellingham (88′ Witsel), Delaney, Guerreiro (62′ Schulz); Reyna, Reus (76′ Sancho), Hazard (76′ Brandt)
Lazio (3-5-2): Reina; Patric, Hoedt, Acerbi; Marusic, Milinkovic-Savic (80′ Caicedo), Lucas Leiva (70′ Akpa Akpro), Luis Alberto (80′ Escalante), Fares (70′ Lazzari); Correa (70′ Pereira), Immobile
Goalscorers
Borussia Dortmund: Guerreiro (44′)
Lazio: Immobile (67′ Penalty Kick)
Player Ratings
Simone Inzaghi 7.5 | Reina 6.5; Patric 7, Hoedt 7, Acerbi 7; Marusic 7, Milinkovic-Savic 6.5 (Caicedo 6), Lucas Leiva 6 (Akpa Akpro 6), Luis Alberto 6.5 (Escalante 6.5), Fares 6.5 (Lazzari 7.5); Correa 6 (Pereira 7), Immobile 7.5
Recap
First place Dortmund hosted second-place Lazio in a highly contested game between two of Europe's finest football clubs. While the Black and Yellows needed a draw or a victory to book their spot into the next round, the Biancocelesti needed all three points to progress to the Round of 16.
As this match ended in a 1-1 draw, and as Club Brugge defeated FC Zenit St. Petersburg, Lazio will now have to wait until Matchday 6 to secure a place amongst Europe's greatest. They host Brugge at the Stadio Olimpico in less than a week.
While it was expected that both sides would come into this match testing each other out, Dortmund was the more superior side in the first half. Whether it be due to their home advantage (being used to the colder weather and/or having supporters in the stadium) or not, they seemed to dictate the tempo of this match with most of Lazio's squad dropping deep behind the ball and staying compact.
The first goal off of the last play of the first half through a well-worked move from Lucien Favre's side. They carved out Lazio; it was left wing-back Raphael Guerreiro who netted the chance past Pepe Reina in goal. This opportunity stemmed from a poor clearance from Reina; something that has not occurred too often thus far this season. After failing to find a teammate, Lazio was in shambles trying to defend against a quick attack from Dortmund. Guerreiro started the move and passed the ball to Giovanni Reyna. He then passed the ball off to Thorgan Hazard before continuing his run and receiving a flick-on from the Belgian international. He then found himself one-on-one with Reina and he slotted it home.
While both sides had their fair share of opportunities, it was Simone Inzaghi's men who struck next through no other than Ciro Immobile. In the 64′, Francesco Acerbi switched the ball to Sergej Milinkovic-Savic who was deep on the right-hand side of the pitch. He headed the ball into Adam Marusic (who was in Dortmund's 18-yard box) before receiving the ball back; however, he was fouled right on the 18-yard box line by Nico Schulz, which resulted in the referee pointing to the spot. Immobile stepped up and converted, placing the ball into the bottom left corner to earn Lazio a point. This is how the match would end, despite a few late chances from Inzaghi's men, with Roman Burki coming up big for the home side.