After a successful mid-week result that saw Lazio earn a point against Club Brugge to secure their spot into the UEFA Champions League Round of 16, they were not able to carry this momentum and positivity into Serie A play over the weekend. The Biancocelesti lost 2-1 Saturday evening at the Stadio Olimpico against Hellas Verona and continue to struggle in the Italian top flight this year.
With the game held scoreless for nearly 45 minutes, Verona struck first as Federico Dimarco's shot deflected off Manuel Lazzari and into the Lazio net for an own goal. Just before the hour mark, Lazio equalized off a brilliant individual effort as Felipe Caicedo showed great strength with his back towards the goal and swiftly turned to strike his shot past Marco Silvestri. However, things went from bad to worse as Stefan Radu made a crucial error as his pass back towards Lazio goalkeeper Pepe Reina was poor, and Adrien Tameze pounced on the opportunity. He went around the Lazio goalkeeper and slotted the ball into the goal. Lazio had their chances but weren't able to capitalize. As a result, Verona stole three points at the Stadio Olimpico and secured their first win against the Biancocelesti in Serie A since December 1984.
So, what are the three takeaways from Lazio vs Hellas Verona?
Ciro Immobile's Scoring Streak Comes to a Halt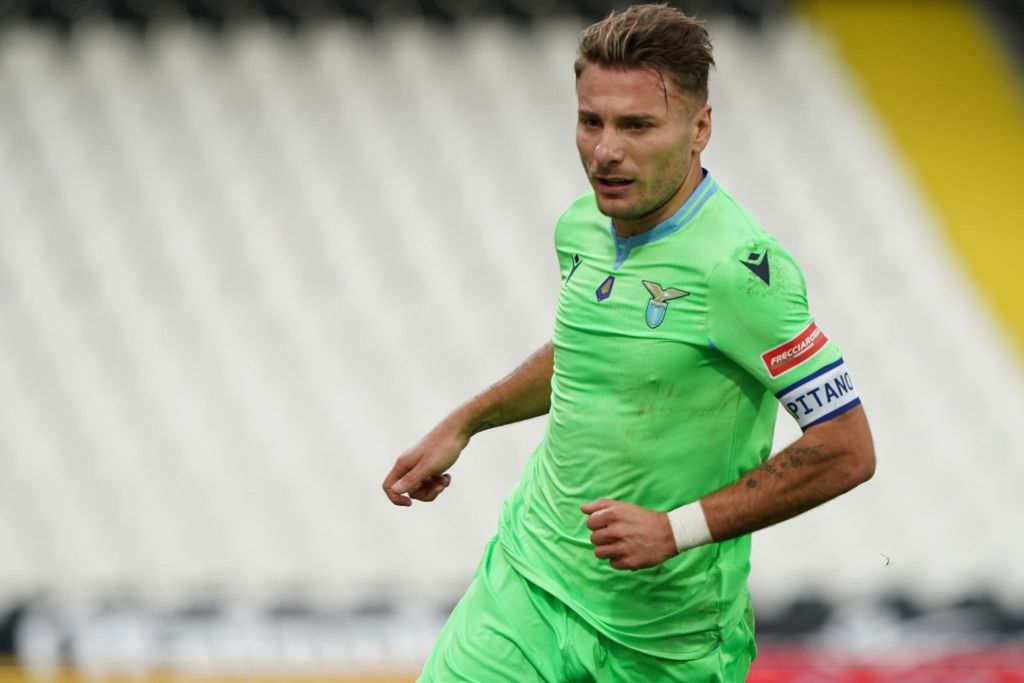 It has been an impressive few weeks for Ciro Immobile, who has been Lazio's saving grace.
The Italian entered the match versus Verona in great form as he had scored in nine straight games in all competitions. In the past four matches against the Gialloblu, he had scored seven goals in four matches; in their last meeting, the striker scored a hat-trick.
However, in this match, Immobile did not score. He wasn't clinical or decisive, which could have partially been due to fatigue setting in with the number of fixtures that he has played in recent times.
Early in the first half, Immobile had a clear break but his shot sailed left of the goal. It was unusual to see the Italian miss chances that he's been known to convert on most occasions.
Overall, credit must be given to Verona's defense, who made it a nightmare for Lazio. Matteo Lovato was a rock in the backfield as he gave little room for Immobile to work with. He finished with seven clearances and one interception; on many occasions, he read Lazio's tactics well and was tenacious.
Nonetheless, it was an impressive streak from Immobile which has helped Lazio in the Champions League and Serie A. They will now look to bounce back in their following fixture.
Costly Mistakes Are the Difference Maker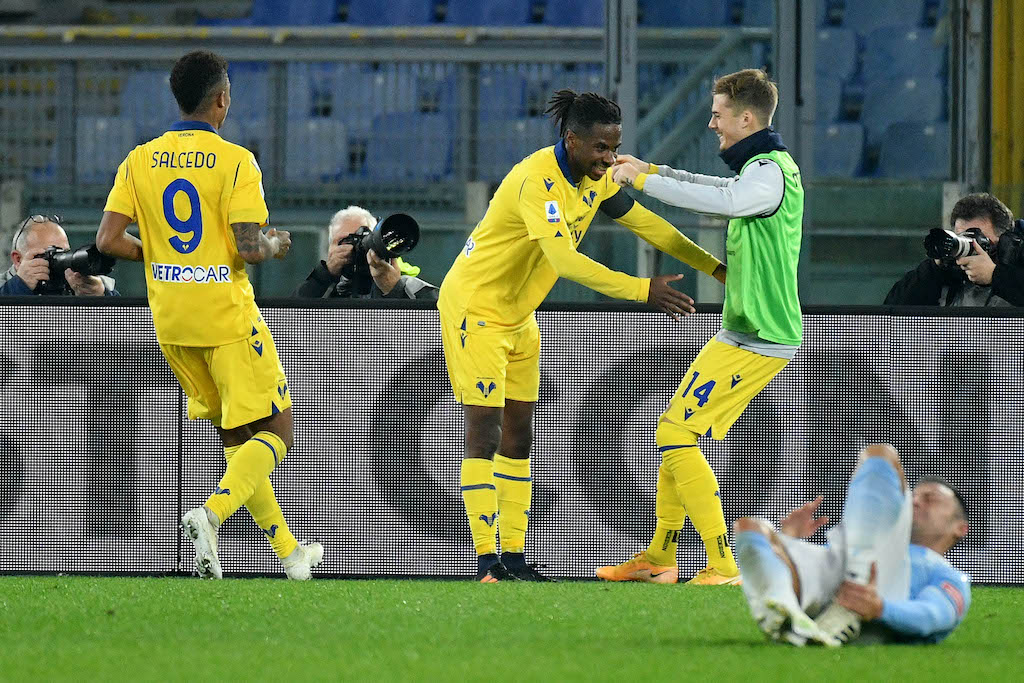 Verona finished with four shots on target, yet none of their shots were difficult for Reina to stop. Verona's chances came off corner kicks with the Lazio keeper doing his job of catching the ball and avoiding any opportunities. However, two of their shots converted into goals from Lazio's own doing as they made ill-advised errors.
Right before halftime, Lazzari decided to block Dimarco's shot which proved to be costly. The ball deflected off the wing-back and redirected into the Lazio goal. Reina had no chance of making the save as he was caught flat-footed and out of position.
With nearly a quarter of the match remaining, Radu made a poor attempt of passing back to the Lazio goalkeeper. Eddie Salcedo pressured the Lazio defender which caused him to make a bad pass. This resulted in Reina coming off his line and he tried to get to the ball yet Tameze did a good job of reacting and getting to the ball first. He then went around the Reina and slotted the ball into the Lazio goal.
A match where Lazio limited Verona's chances yet it was their own mistakes that let them down. This has cost the Biancocelesti vital points in the standings and it won't get easier moving forward with a condensed schedule for all clubs.
Lazio Struggling to Win at Home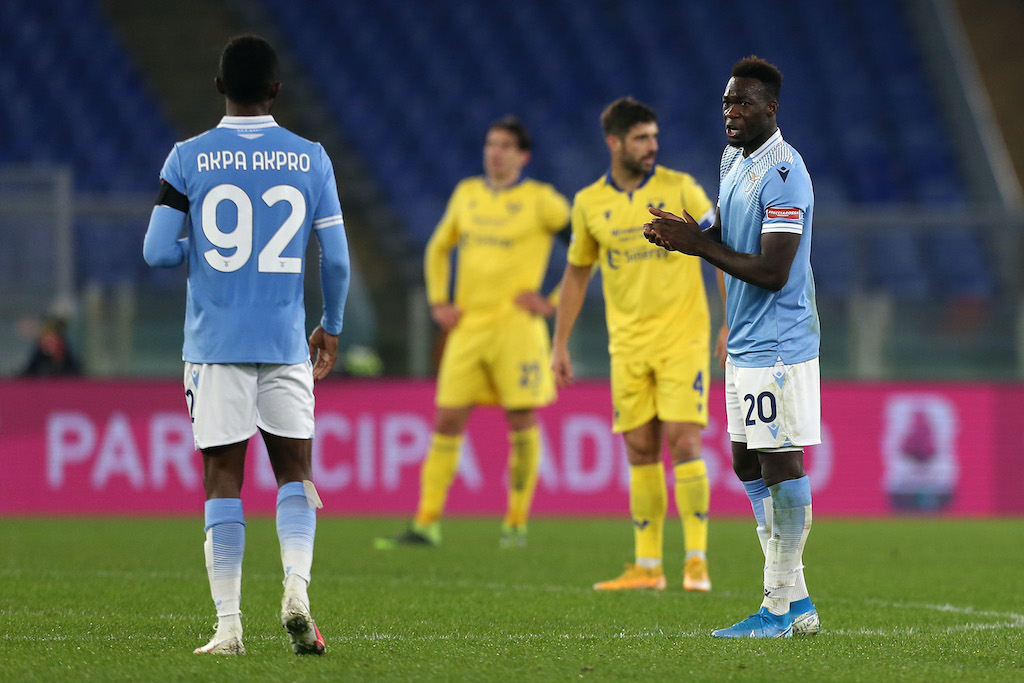 The Stadio Olimpico had always been a place where Lazio were able to find success and win matches.
Last year they were one of the best home teams in the league, as they had just lost twice in eighteen games in Serie A. This season it has been much different as, in their first six games at the Stadio Olimpico, they have won just once which (against Bologna).
While some players depending on the crowd to get them fired up or provide momentum, they will need to learn to adjust and overcome the loss. While it may be a case of bad luck or unlucky bounces, this needs to change quickly for Lazio or it could result in a run of bad form.
Furthermore, Luis Alberto was forced to miss the match with a muscle injury and this made way for Jean-Daniel Akpa Akpro to replace the Spaniard. Akpa Akpro started alongside Sergej Milinkovic-Savic and Lucas Leiva, with the latter starting mid-week versus Club Brugge.
While Inzaghi made four changes to begin this match, an overhaul may have been a wiser decision. Gonzalo Escalante and Andrea Pereira started from the bench and haven't been used regularly this season; Pereira should have started in place of Alberto.
Throughout the match, Lazio lacked creativity in the midfield as they struggled to advance upfield. When Pereira entered the pitch in the final ten minutes of the match, he provided a lift as Lazio started to move more freely and had quality chances on target.
When Lazio brought the midfielder on loan from Manchester United, he came with expectations to replace Alberto and assure him rest and days off. Games such as these need to see Periera enter the frame and be used. He may have been the difference-maker that joined a little too late.