Lazio lost 4-1 against European giants Bayern Munich in the first leg of the UEFA Champions League Round of 16. While the expectations before the match weren't too high for the Biancocelesti, the result was still shocking to a lot of football fans. The problem wasn't losing to Bayern or even the result itself; it was about the defensive errors and the silly mistakes made by Lazio that ultimately cost them the match.
---
First Half
Lazio started with their basic 3-5-2 formation but with Mateo Musacchio playing as a left center-back (due to the absence of Stefan Radu) and Manuel Lazzari returning to replace Senad Lulic, while Bayern lined up in their normal 4-2-3-1 with young prodigy Jamal Musiala starting the game due to Thomas Müller's absence.
From the first minute, one could see the intentions of each side. The Bavarians were playing long balls toward the area behind right center-back Patric while the Biancocelesti tried to take advantage of Bayern's high line; specifically, the space behind left-back Alphonso Davies.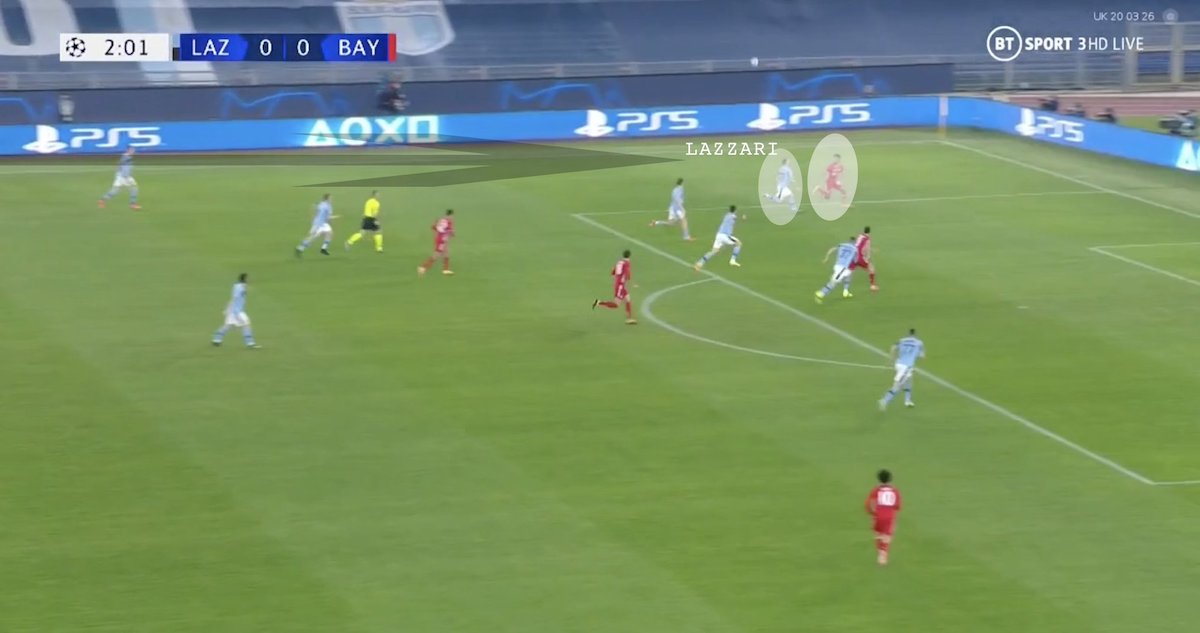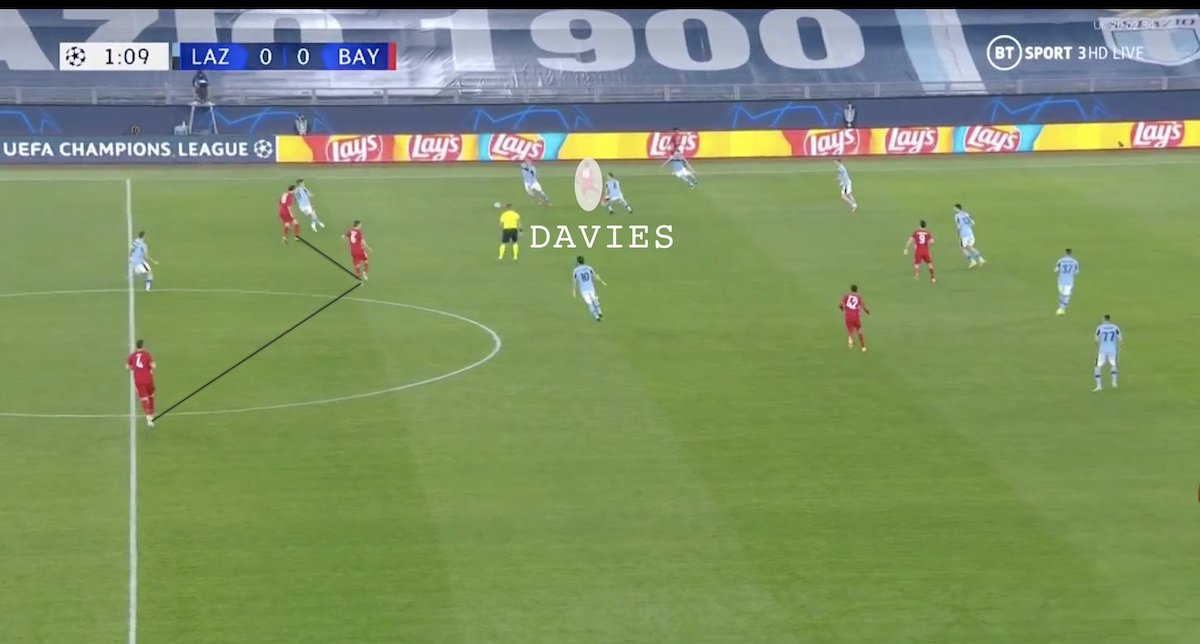 Niklas Süle and Davies helped in building up the play from the back before moving higher up the pitch.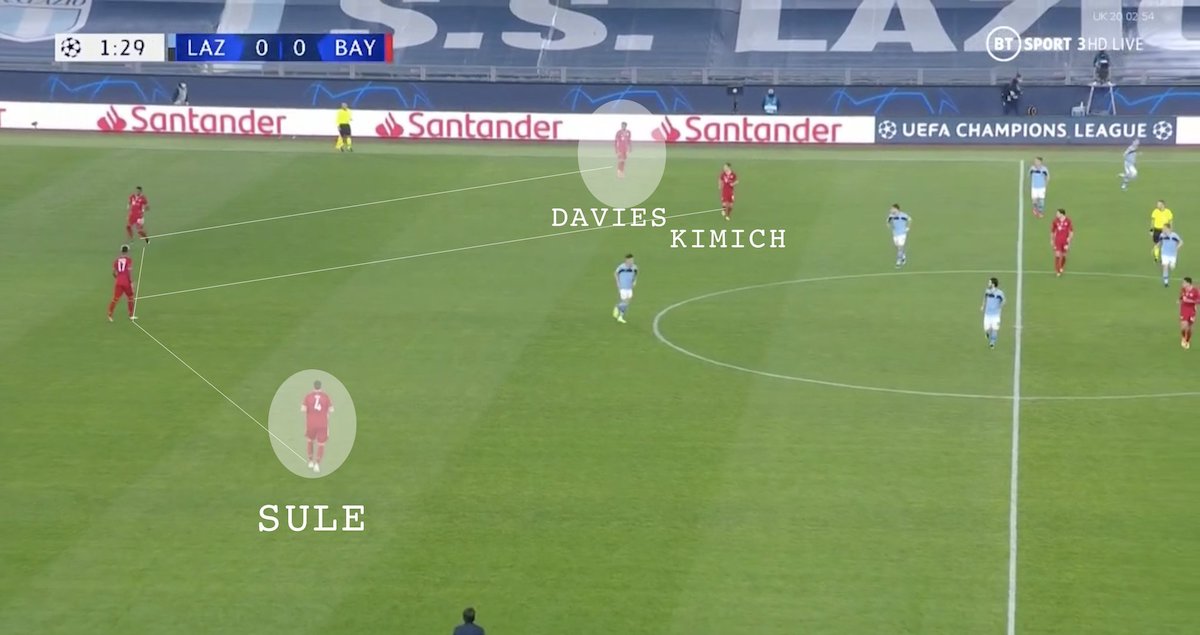 Süle was always moving up the pitch more than he usually does to create an 'overload' with Leroy Sané and Musiala (or Joshua Kimmich) on the right flank.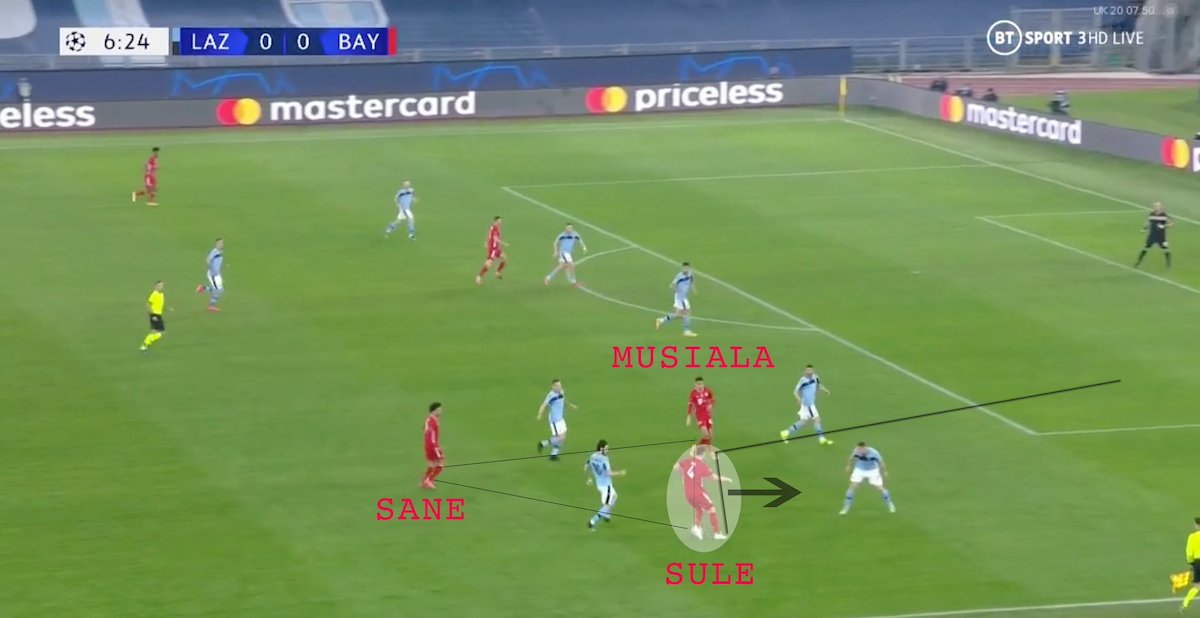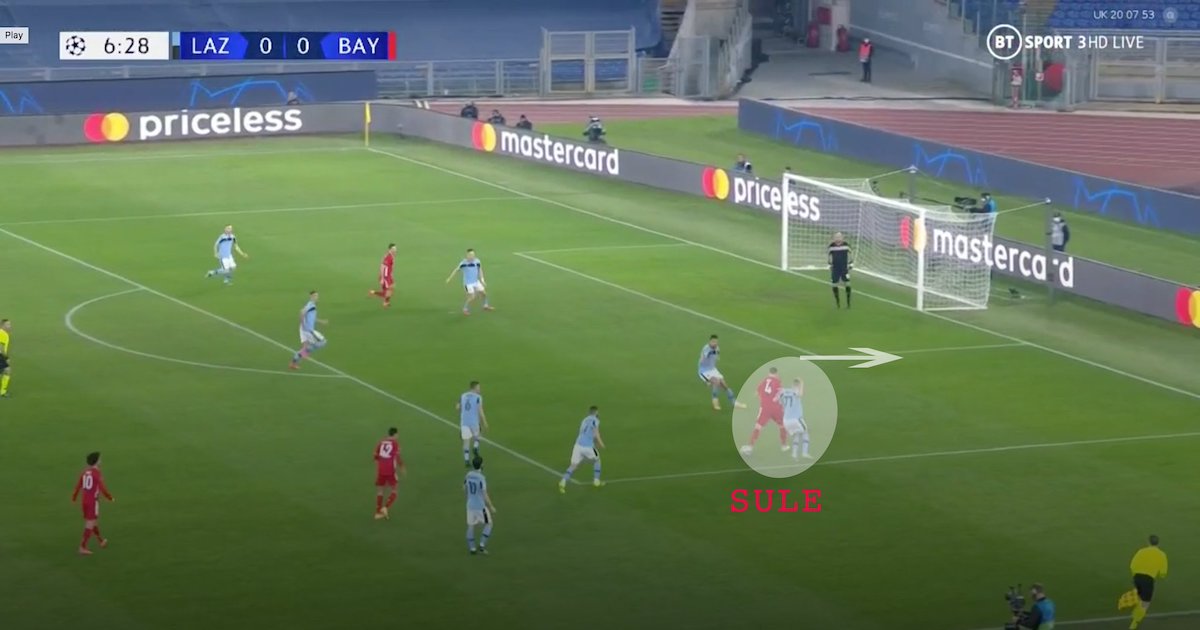 Sergej Milinković-Savić had a mission to man-mark Davies in the first half. He was always tracking him.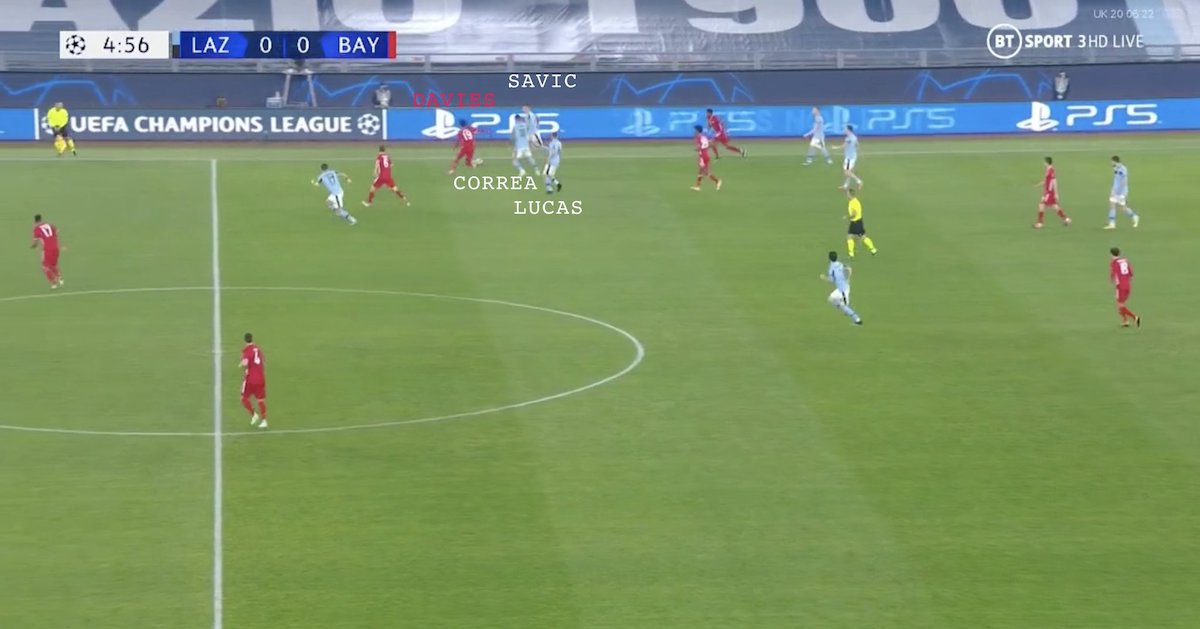 Bayern Munich pressed high as per usual, with Robert Lewandowski always chasing down Pepe Reina to force him to play long balls. Sané, Kingsley Coman and Musiala shadowed him, with one of Kimmich or Goretzka marking Luis Alberto to prevent an easy transition.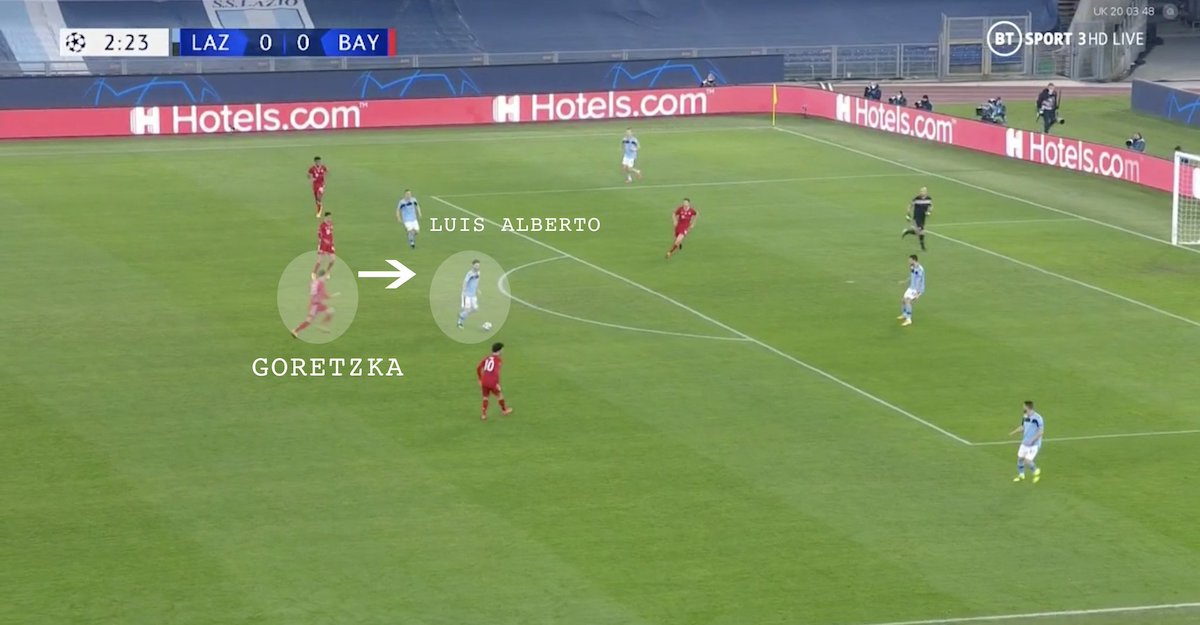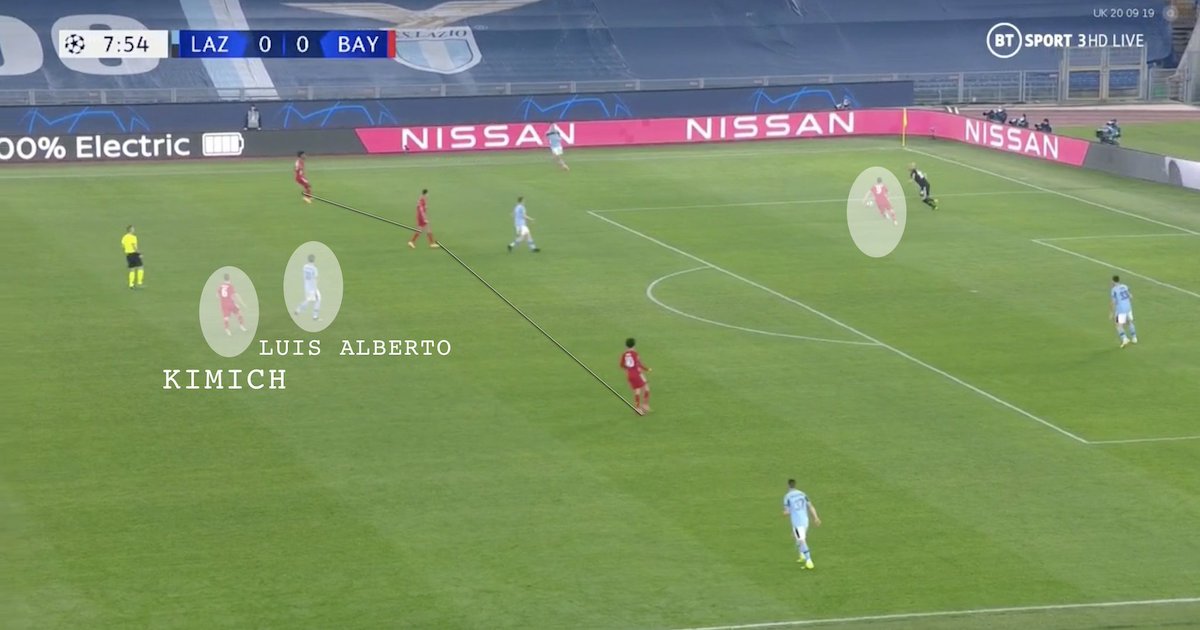 Bayern's goal came very early; in the 9th minute to be exact. Süle played a long ball to Kimmich. Although he tried a quick one-two combination between him and Sané, Lucas Leiva intercepted the ball and it fell to Musacchio. The following play outlined the power of Bayern's pressing. Kimmich chased down Mussachio and forced him to play the ball back to Reina; however, it was a very poor pass from Mussachio, who seemed to panic under pressure, and Lewandowski took full advantage of the opportunity to put Bayern up 1-0.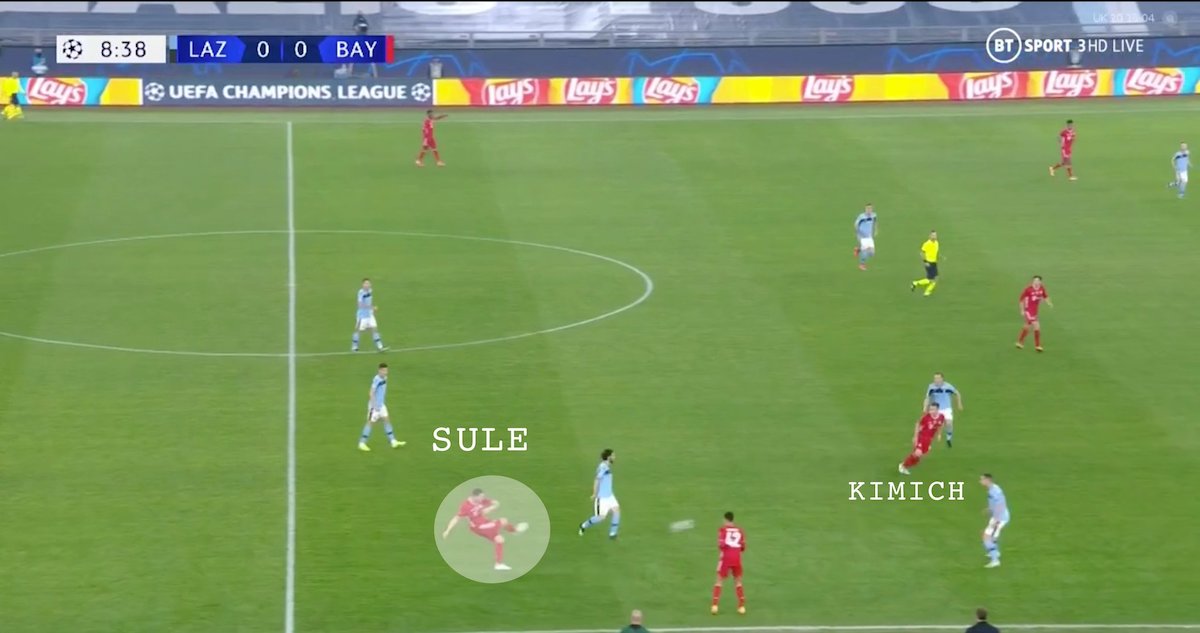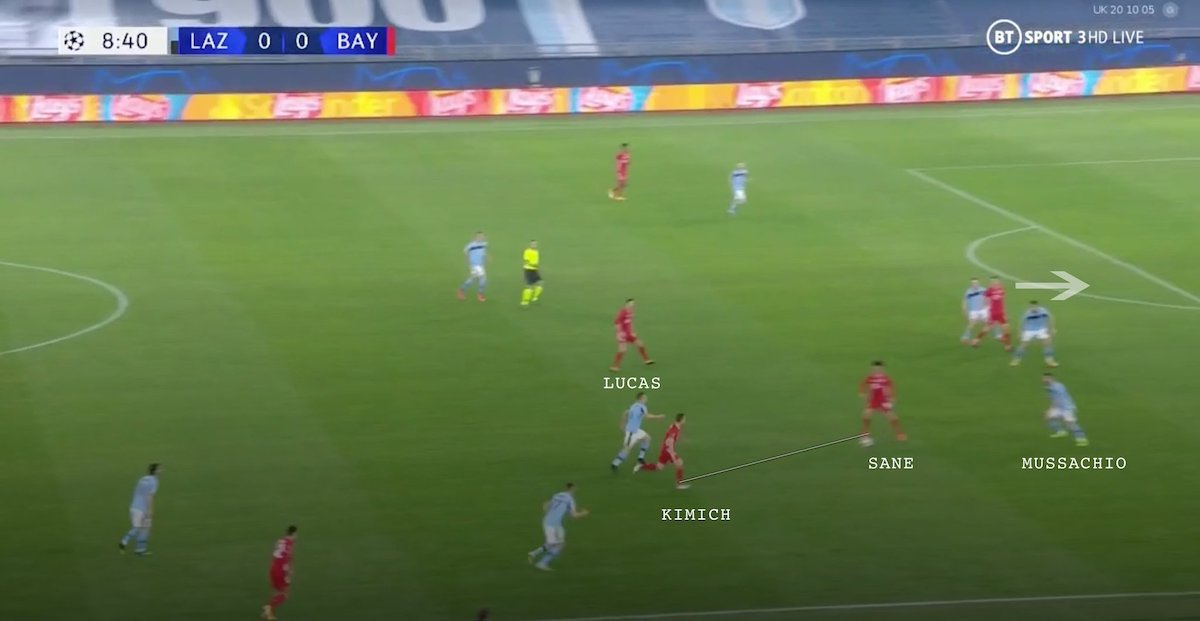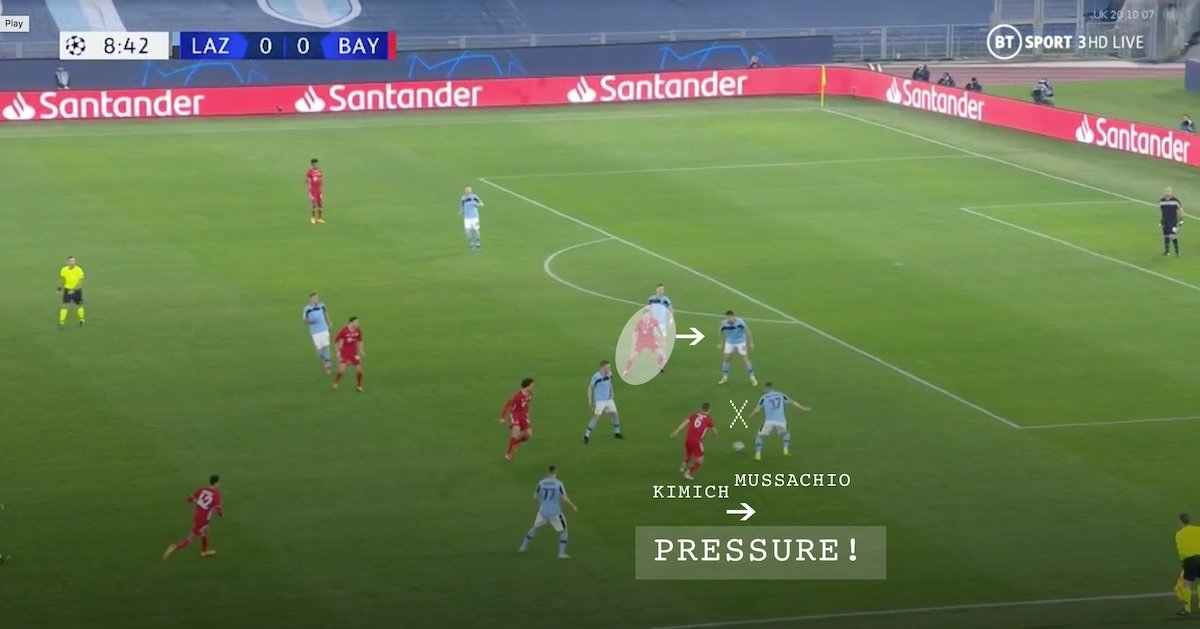 In the first half, the only player who was trying to search for space was Milinković-Savić. The Serbian, in many situations, knew how to exploit the space in the half-spaces and on the line of the 18-yard box. One of these runs resulted in the controversial but not given penalty and one of Lazio's shots in the first half.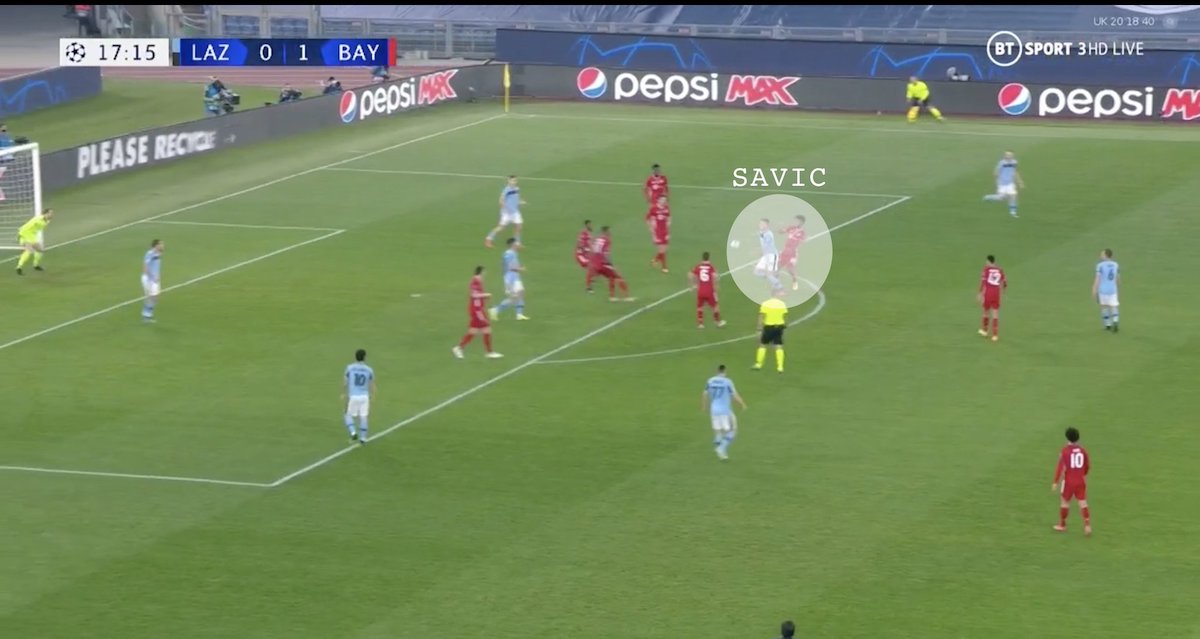 The difference in speed and pace between Bayern's attackers and Lazio's backline was clearly visible in this fixture. This was seen as clear as day in the following picture.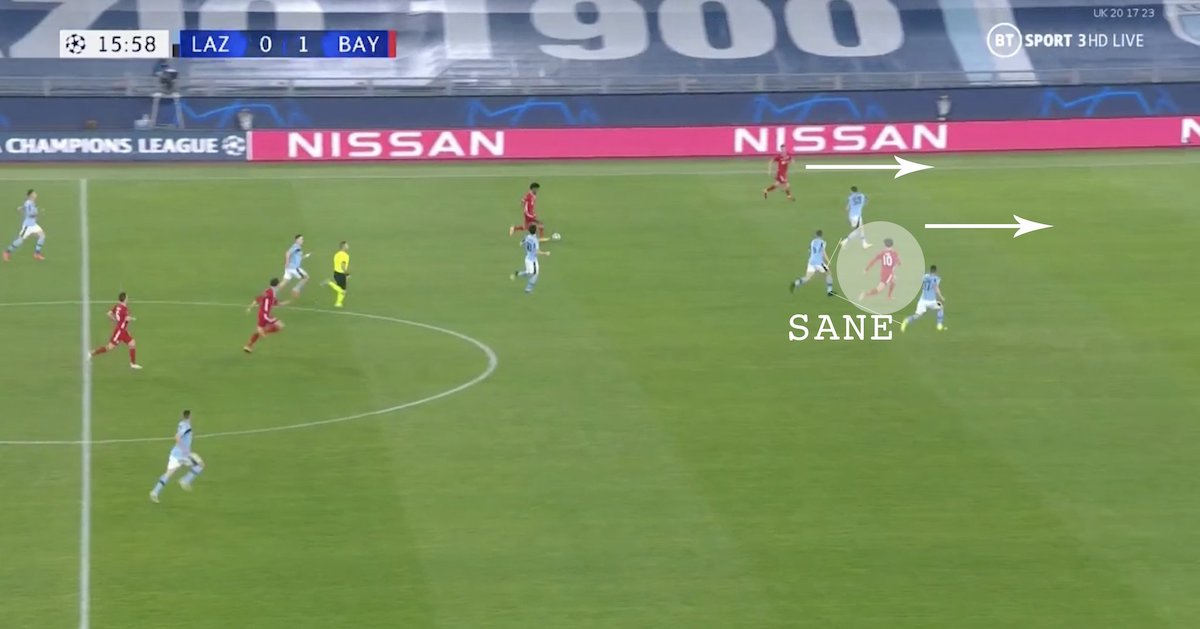 Sané knew how to exploit the space behind the backline; however, it was one of the rare praising moments for Patric through the match who made a sprint to cover him.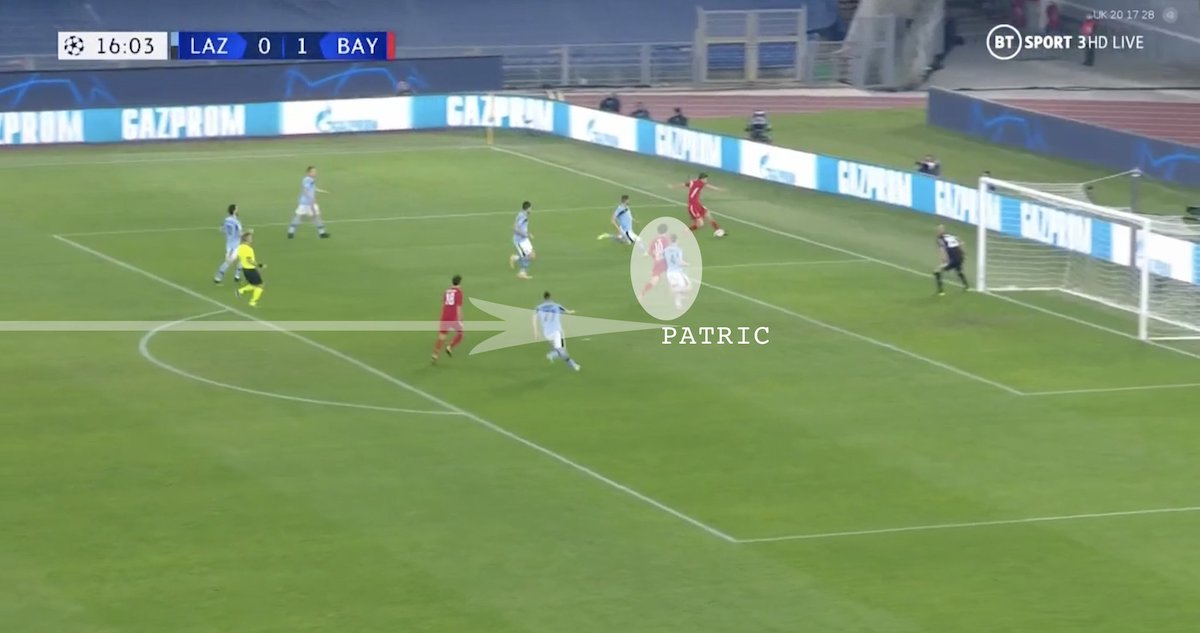 After Bayern's first goal, Lazio tried to defend deep and close the spaces for Bayern's front line to operate, but it wasn't easy to track them. There was always a player free in the half-space.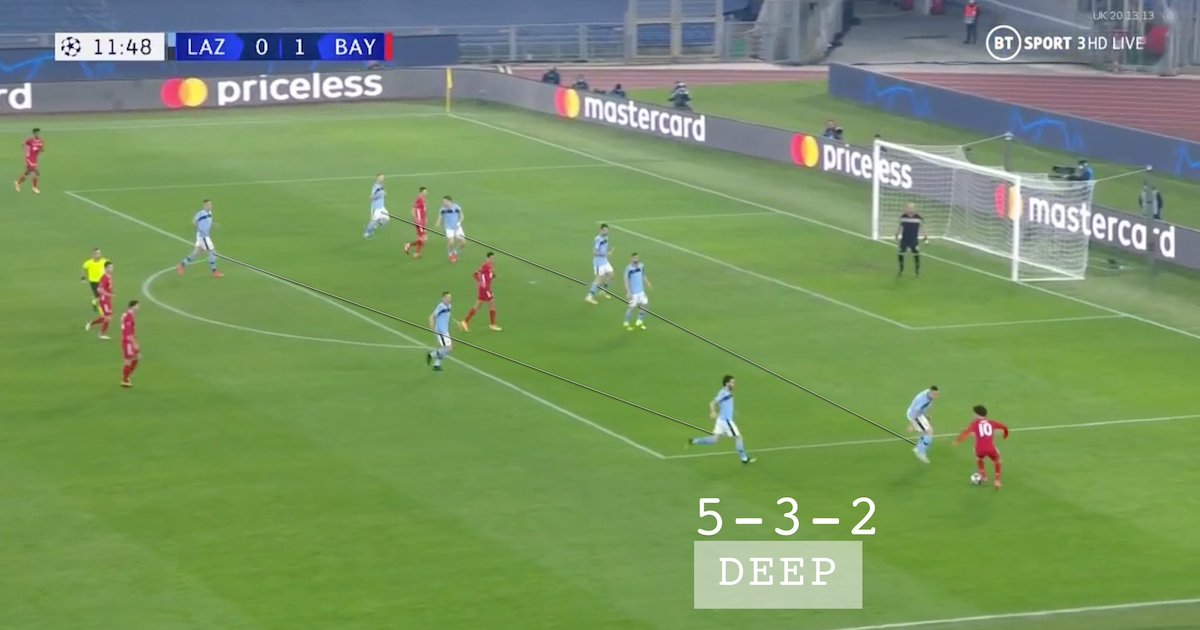 As previously mentioned, Bayern managed to have one or two free players in the half-spaces throughout the first half, with Musiala doing a very good job. On the second goal, Acerbi moved out of position in the hope of stopping Leon Goretzka. However, at this moment in time, Lewandowski – who was supposed to be marked by Acerbi – moved forward without the Italian by his side. This made Musacchio and Adam Marusic follow him into the box and out of the play. After a brilliant pass from Goretzka to Musiala, the youngster placed a perfect shot into the bottom left corner, despite having six Lazio players around him, to put Bayern up 2-0. Lazio were ultimately being outplayed by Bayern's dynamic movement.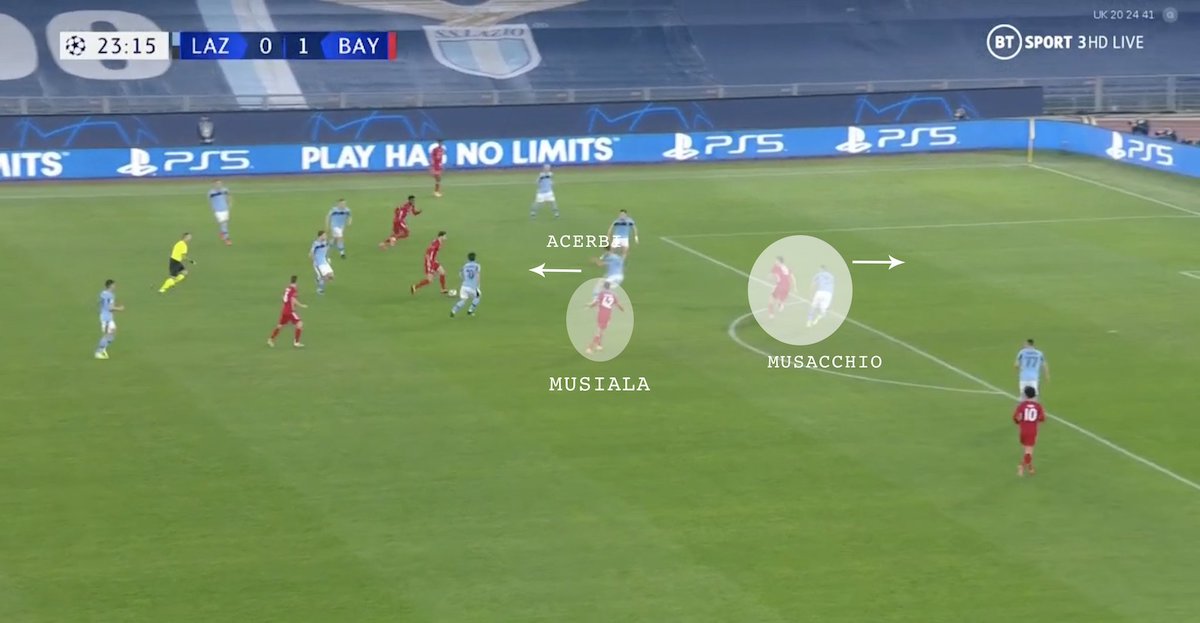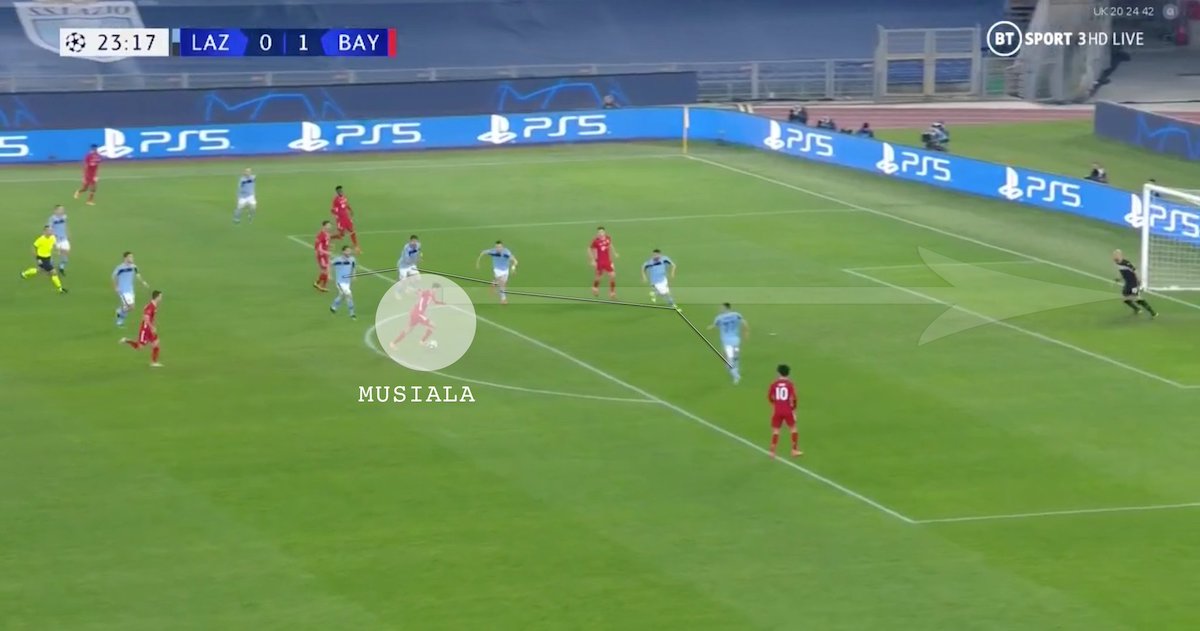 Throughout the first half, Lazio found a pocket of space on the left-wing when Süle was out of position, and it was used by Luis Alberto, Marusic and Senad Lulic when he came into the match. Most of Lazio's rare chances in the first half came from this space.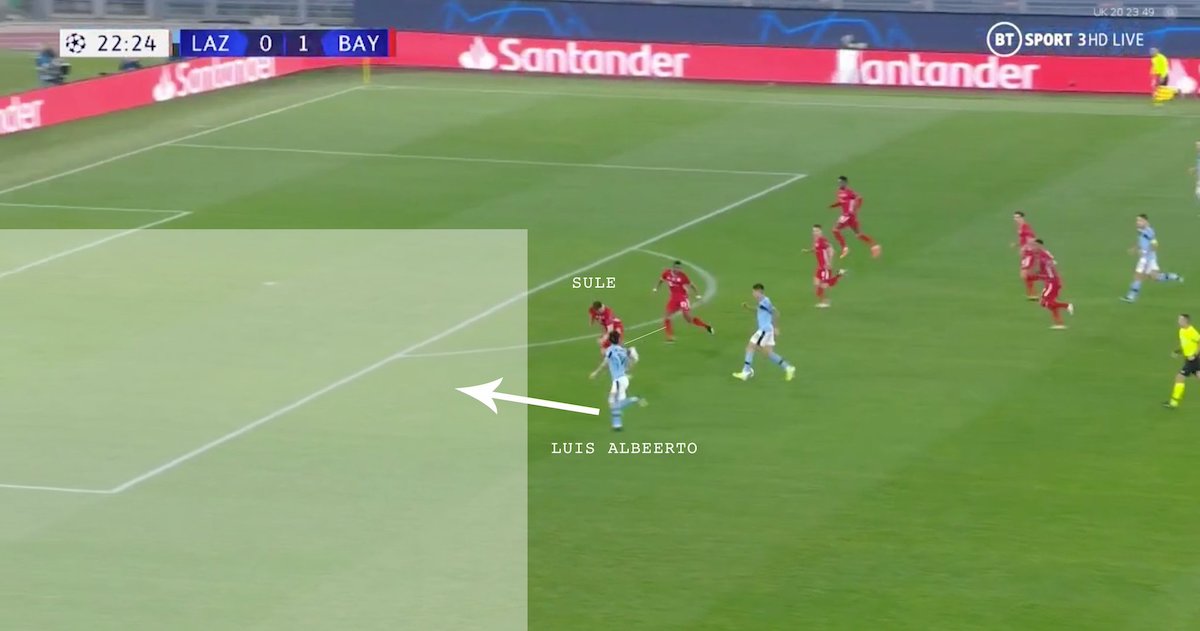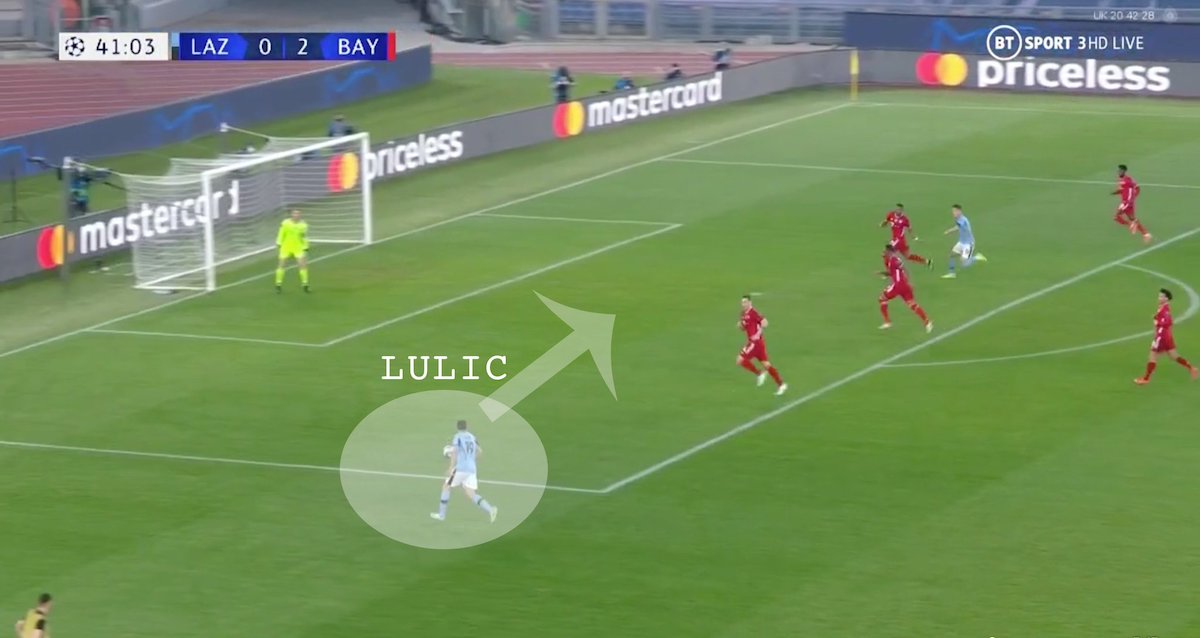 Another moment that outlined the difference of pace between Bayern's wingers and Lazio's backline was the Bavrarian's third goal, which also stemmed from defensive errors. Patric being high up the pitch made Lazio more vulnerable to counterattacks. Coman took the ball and used his pace to reach Lazio's 18-yard box in 8-10 seconds. This ultimately resulted in Sané scoring to put Bayern up 3-0.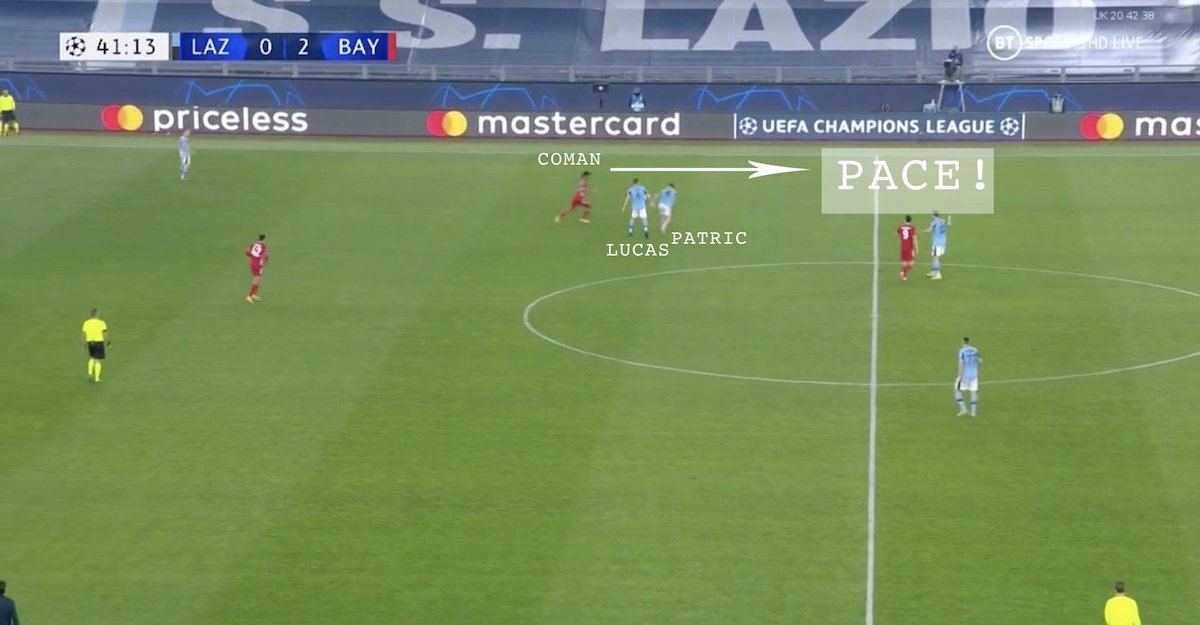 ---
Second Half
When Inter took on Lazio, Antonio Conte tried to exploit the space behind Patric. Claudio Ranieri tried it too when Sampdoria took on the Biancocelesti last weekend. However, against Bayern, Hansi Flick took it to another level. Their fourth goal stemmed from their wingers' pace following a Lazio corner and back to their normal high line attack.
Bayern countered, taking advantage of Lazio having 10 players high up the pitch. Sané won the race against Patric and played a ball across goal to Davies who was ready for a tap-in. While Acerbi tried to stop it, unfortunately, the ball went off him and into the Lazio goal to put Bayern up 4-0.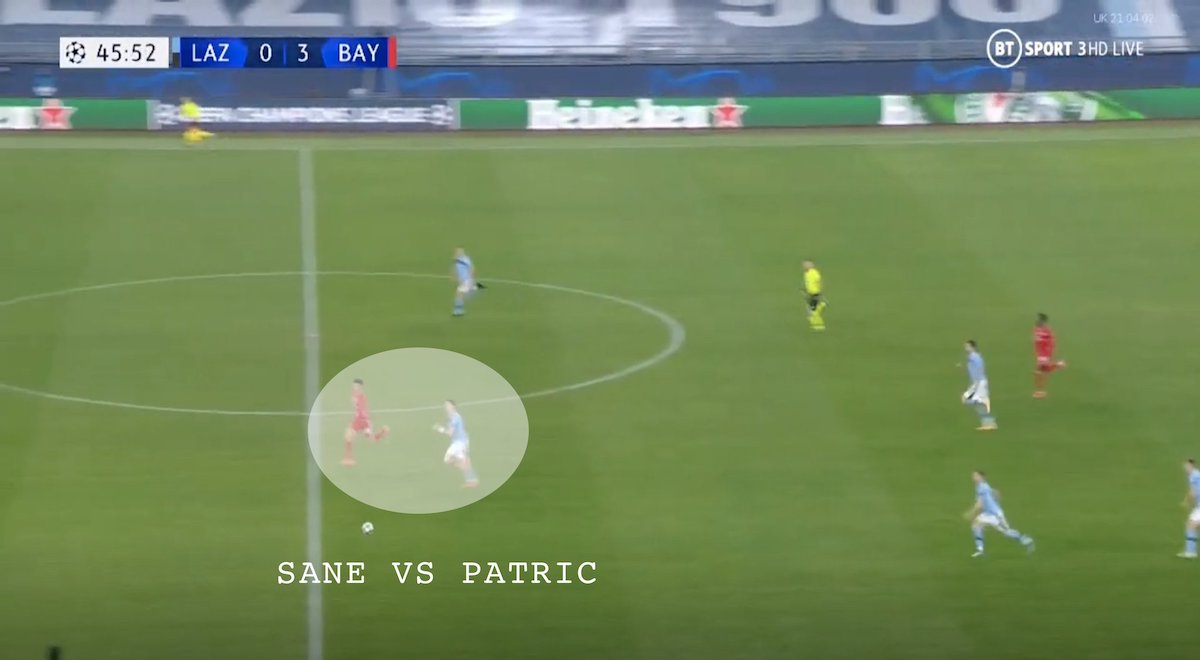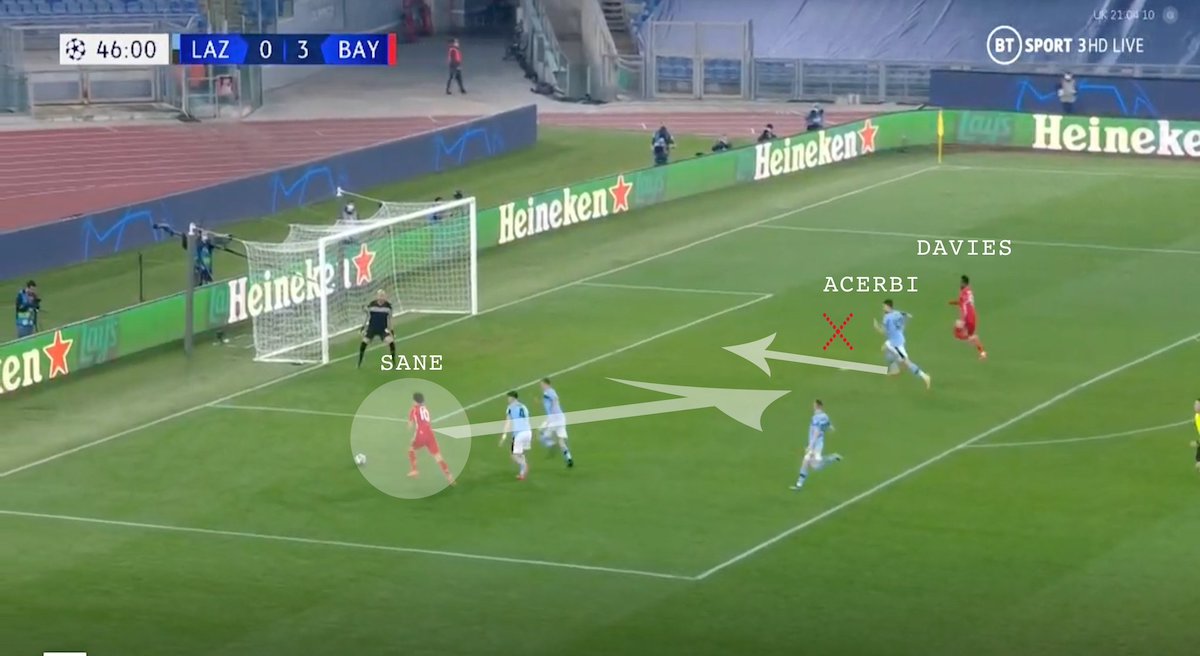 After having a difficult first half, Luis Alberto managed to have more freedom to receive the ball in the second half which gave Lazio more opportunities. For Lazio's only goal, he used his dribbling skills to win a one-on-one duel with Goretzka, drove forward, and found Correa in space. Gliding past several Bayern players, the Argentine ultimately found the back of the net. It was very lazy defending from Bayern, but Immobile did make a run to confuse Jérôme Boateng and David Alaba.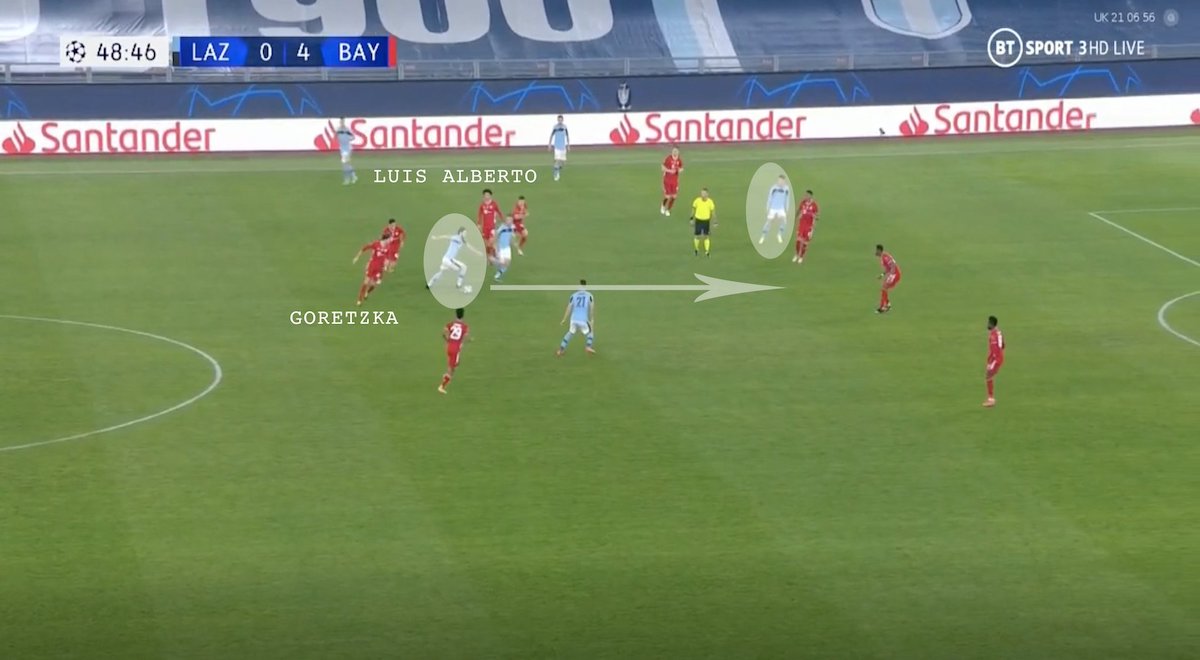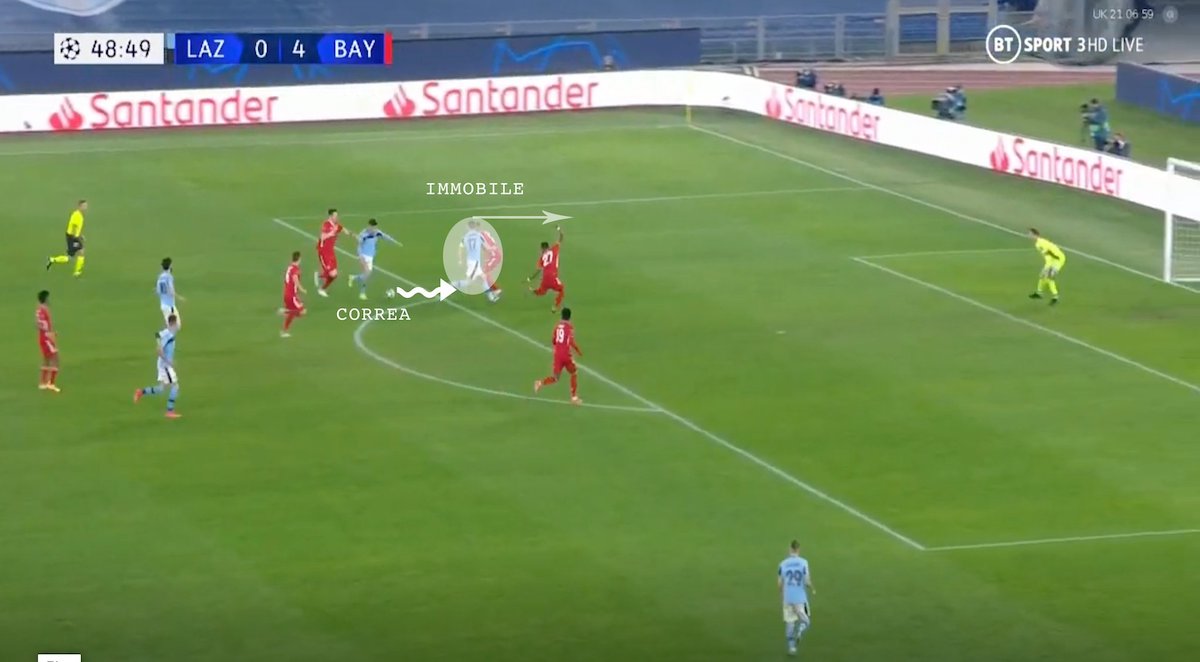 Both Luis Alberto and Milinković-Savić did a great job in the second half on defence and on the attack. The Serbian would press the right flank and try to intercept the ball before trying to start counter-attacks, while the Spaniard knew how to find space and escape from Goretzka who was marking him. In the photo below, there is a great combination play between both midfielders. Milinković-Savić intercepted the ball and passed it to Luis Alberto made a long pass for Immobile.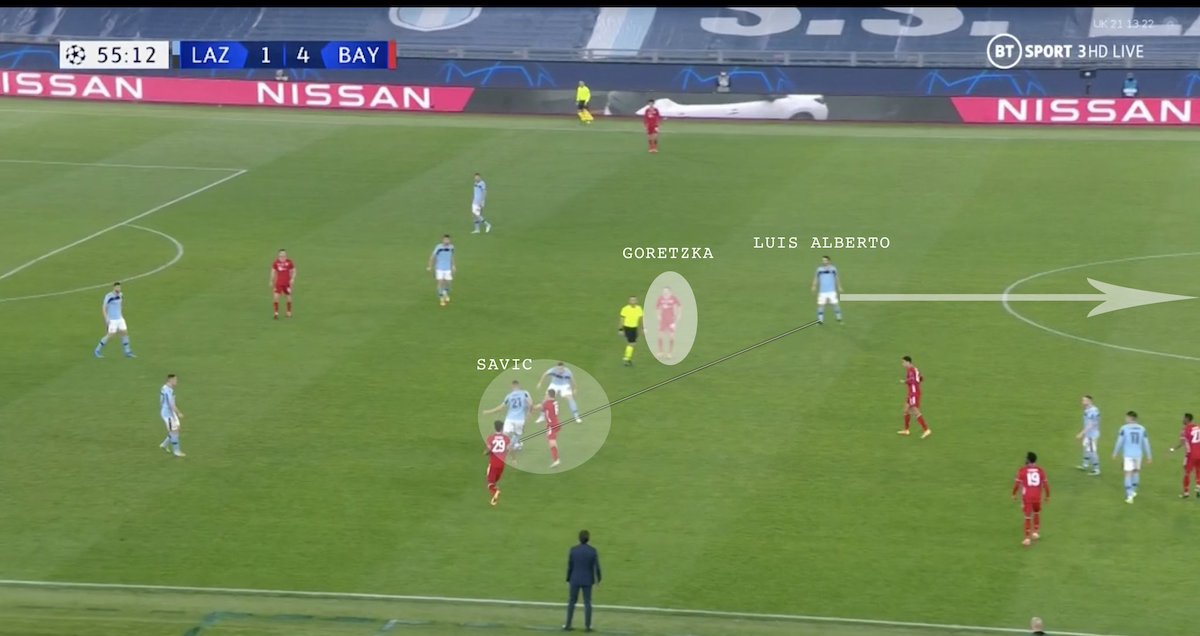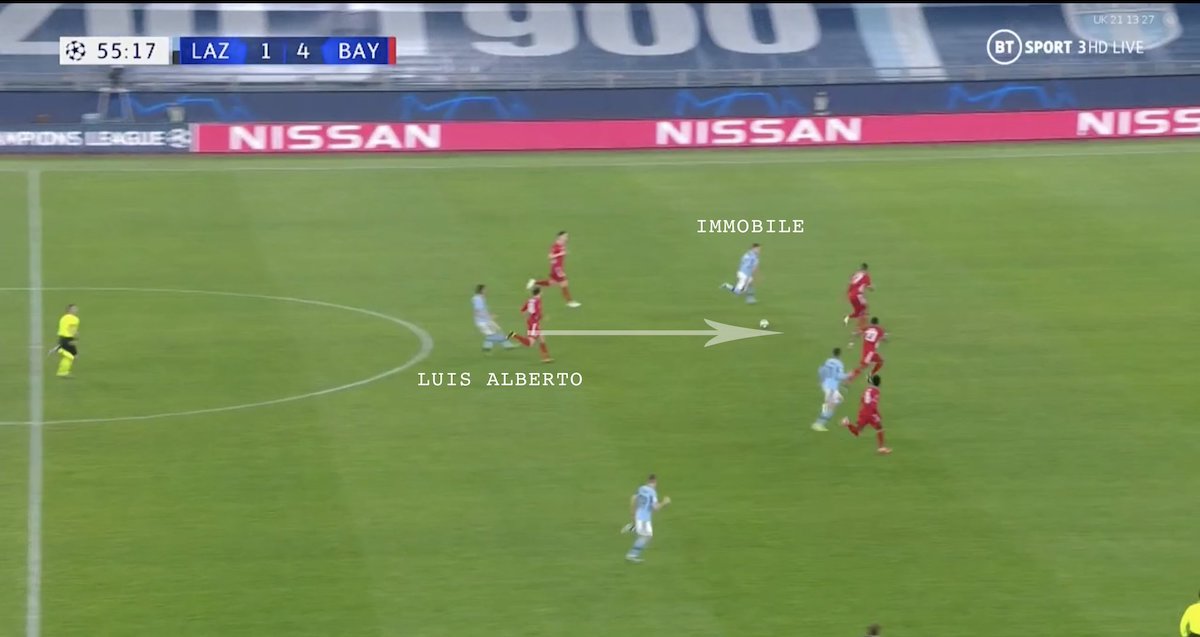 Acerbi started to make overlaps again in the second half, trying to 'overload' the left flank with Lulic but wasn't a great idea. This was seen following a poor pass from Hoedt, which was intercepted by Sané, and gave Bayern the opportunity to counter.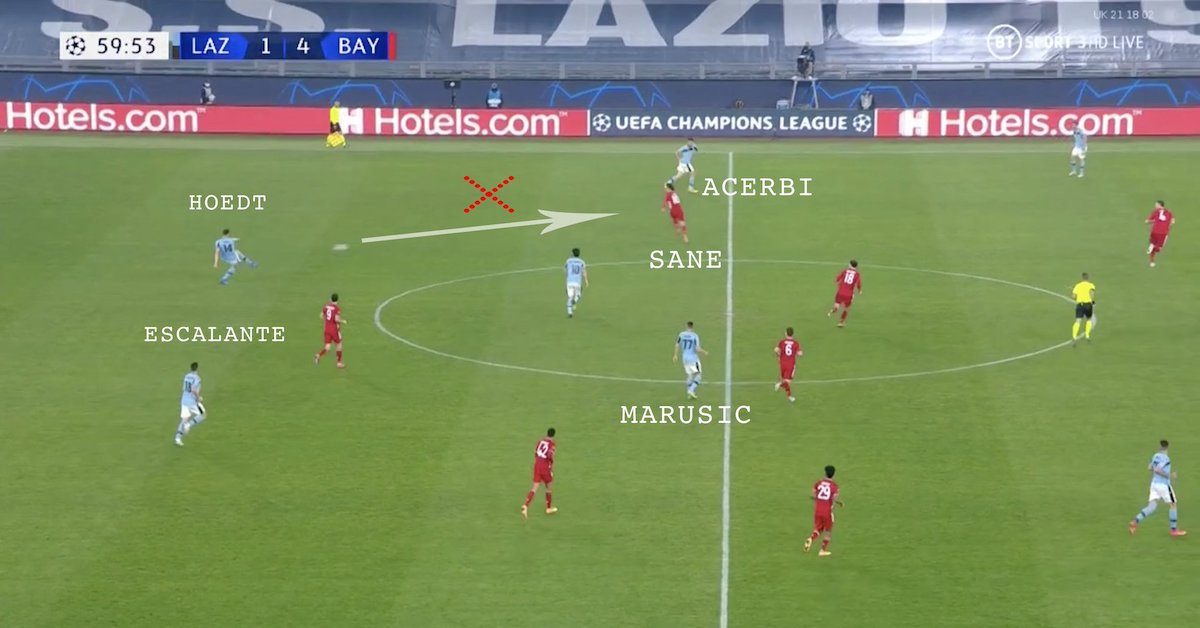 In the second half, Lazio brought back their normal style of play. After their goal, two further chances came from pressing high, forcing Bayern to play wide. Lazzari would press Davies, while Luis Alberto or Lulic would press Süle.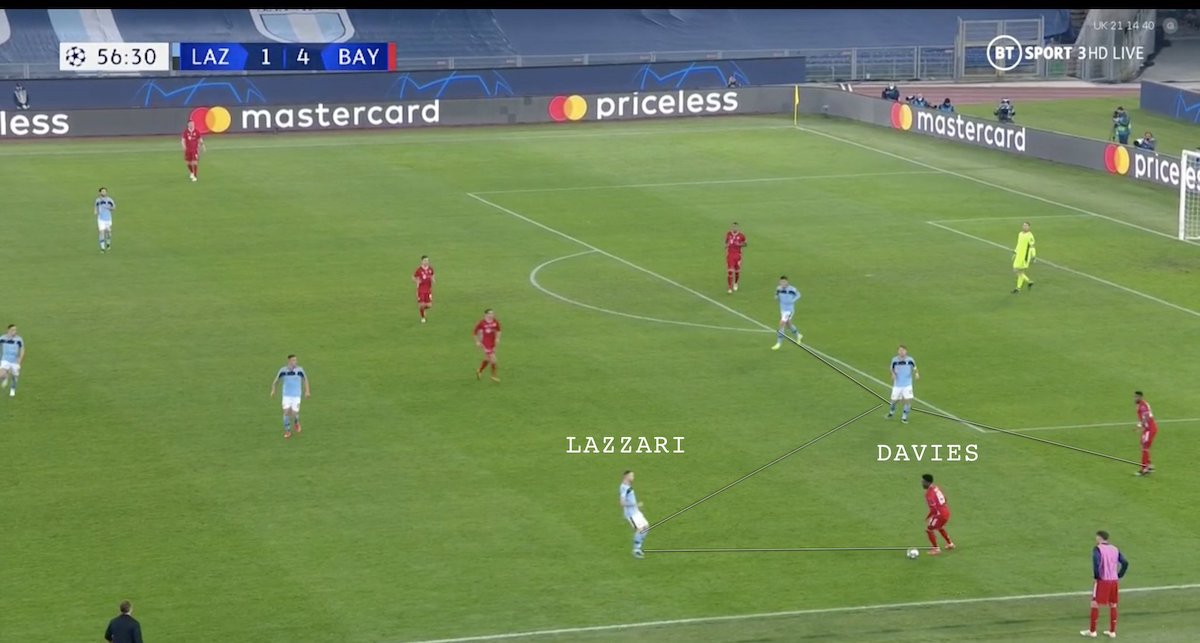 Lazzari did very well in the second half to stop Davies from exploiting the space behind him.
---
Conclusion
Lazio urgently needs to improve their backline
Lazio lost to a very talented and well-organized team
The match could have had a different scoreline if Lazio avoided some silly defensive errors
Simone Inzaghi's tactics were fine; it was just a matter of Bayern being on another level
Lazio need to focus on Serie A as a top-four spot is a must to play in the Champions League next year
While Lazio progressing to the Quarter-Finals seems extremely unlikely, miracles can happen; the important thing is to play much better in the second leg to impress on Europe's biggest stage.