One down, one to go when it comes to Ciro Immobile's pursuit of Giuseppe Signori's marks in the Lazio history books. Ten times, the Serie A season has concluded with a Lazio player atop the goal-scoring table. However, only one Lazio goal poacher has ever chased down a trio of goal-producing crowns. That one man was Signori; however, there's a very good chance that this season, that total could be doubled.
---
Ciro Immobile on a Roll in Rome
Lazio striker Immobile is currently situated in fourth in Serie A goal tallies. He's put the ball in the back of the net 14 times in 24 matches; only Juventus' Cristiano Ronaldo (23 goals in 23 matches), Inter's Romelu Lukaku (19 goals in 26 matches), and Atalanta's Luis Muriel (16 goals in 25 matches) are ahead of Immobile in the race to be the top scorer.
Already a two-time Serie A goal-scoring champion, Immobile is money in the bank when he's got the ball in the area with the goalkeeper at his mercy. Another scoring crown and Immobile will put his name next to Signori for the most Capocannoniere titles earned by a Lazio player.
Earlier this year, Immobile moved past Signori for second place on Lazio's all-time scoring list. In addition, he recently signed a five-year contract extension with the club. Immobile told Football Italia:
I'm happy with what I have won on a personal and team level. When I arrived, Lazio were sailing in the middle and we all managed to take them to the Champions League. The love I get from the people on the street can't be replaced by a big team fighting to win the Champions League.
Overall, he has scored 144 goals with the club in 208 fixtures.
---
Capocannoniere Awards
Although Immobile does own three Serie A goal-scoring titles, not all are with Lazio, as his first Capoconniere award came in 2013-14 when he played with Torino when he netted 22 times.
His second Capocannoniere award (and first with Lazio) came in 2017-18 when he and Mauro Icardi of Inter Milan were level top scorers in the league with 29 goals apiece.
His third Capocannoniere award was in 2019-20 when he scored 36 goals. That total also gave Immobile a share of the Serie A single-season goal mark with Gino Rossetti (Torino, 1928–29) and Gonzalo Higuaín (Napoli, 2015–16) and allowed the Italian international to win the European Golden Boot.
Furthermore, he was named as 'Serie A Best Forward', Lazio's 'Player of the Year', 'Italian Sportsman of the Year' and was ranked the 10th-best player in Europe by the Sky Sports Power Rankings (in December 2020).
---
In Pursuit of Signori's Record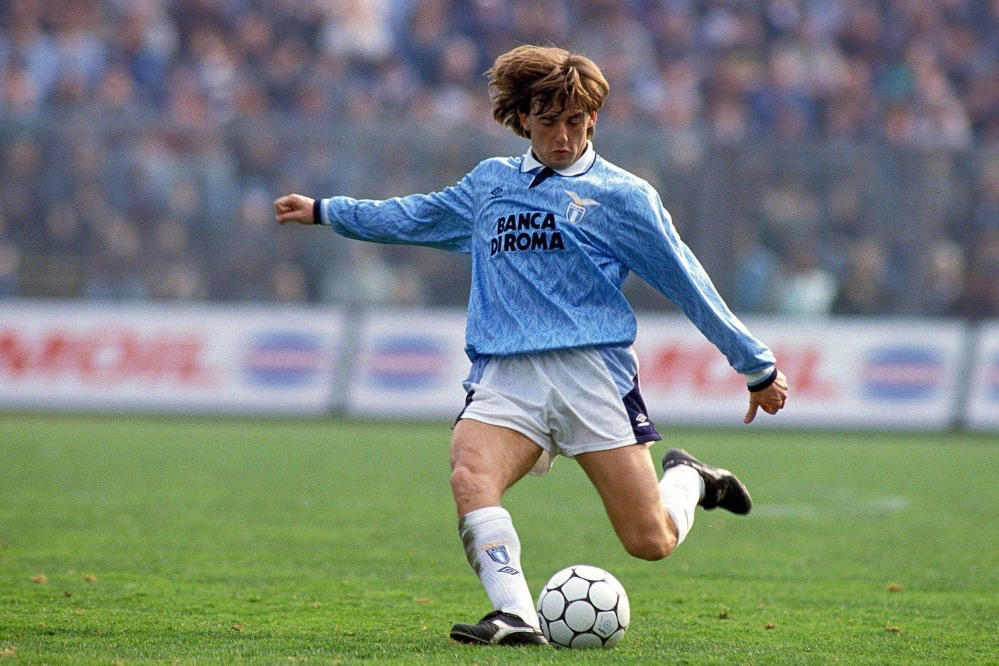 Signori earned his first Capocannoniere in 1992-93, scoring 26 goals. He became the only Lazio player to repeat as Serie A goal-scoring king when he netted 23 times in 1993-94. Then, in 1995-96, Signori and Igor Protti of Bari were level top scorers. Each potted 24 goals.
Italian international Signori played for Lazio from 1992-97, netting 107 goals in 152 matches. He was included in the Italian side for the 1994 World Cup, appearing in six matches. However, Beppe, as Signori was known, was not used in the final as Italy lost on penalties to Brazil.
With 188 goals from 344 matches, Signori owns a share of the ninth spot on the Serie A all-time goal-scoring list.
---
The Rest of the Best
Between them, Signori and Immobile have captured as many Serie A goal-scoring titles as all other Lazio players combined.
Argentine star Hernan Crespo wore the crown in 2000-01, Bruno Giordano won in 1978-79 and the great Giorgio Chinaglia topped the scoring charts in 1973-74 during Lazio's Serie A-winning campaign.
The legendary Silvio Piola, the most decorated scorer in both Lazio and Serie A history, led Serie A in goal scoring in 1936-37 and 1942-43. Piola, who netted a pair of goals in Italy's 4-2 victory over Hungary in the 1938 World Cup final, scored a record 143 times for Lazio.