Luis Alberto's teammates may owe him an apology. The Spaniard has had both the most chances created and the highest total xA (expected assists) without registering a single assist in the big five European leagues this season.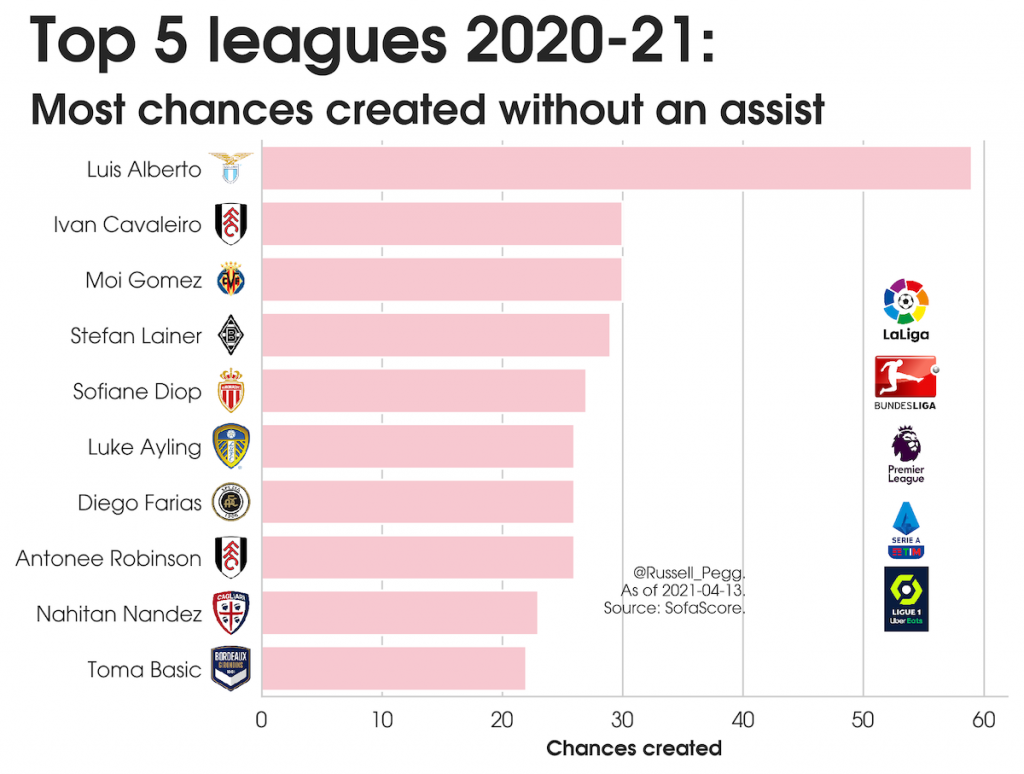 As many readers will already know, the expected assists metric compares each chance created by a player to a large number of similar previous opportunities to gauge how likely that chance was to result in a goal.
In broad terms, if a player is under-achieving in terms of xA – say they've created 4.0 xA of goal-scoring opportunities but only have 2 assists – then their teammates may be letting them down a little.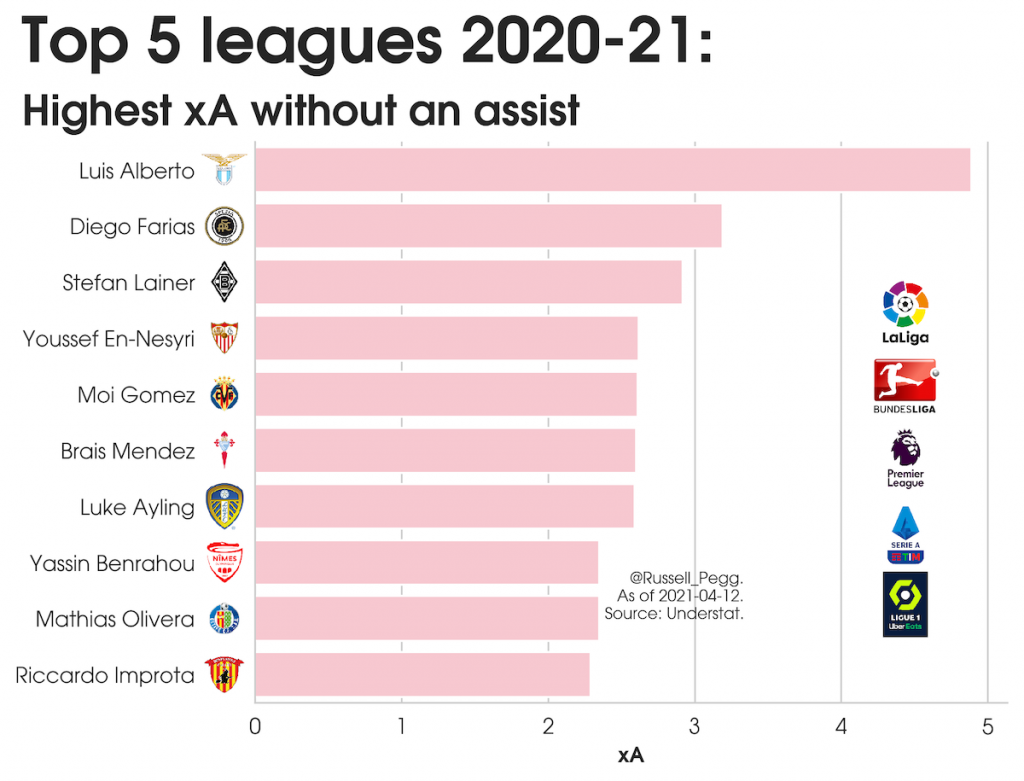 This certainly seems to apply to Alberto this 2020-21 campaign, as he has created 59 chances at a total xA of 4.89 without having a single assist to his name.
Udinese's Rodrigo de Paul is the only big-five player to have an even bigger xA under-achievement than Alberto this term (-5.6 xA), but the Argentine at least has five league assists so far.
In addition, nobody comes close to Alberto's 56 key passes without an assist – the second-highest total is Villarreal's Moi Gomez on 30.
It's a complete reversal of last season, where Alberto had 14 assists from 8.67 xA after 29 Serie A games.
But does this change seem to be due mainly to Alberto or his teammates? There are a few questions to address before we can answer that confidently.
Is Luis Alberto Playing In a Deeper Position This Season?
Comparing Alberto's touch plots from the past two seasons, the answer is no.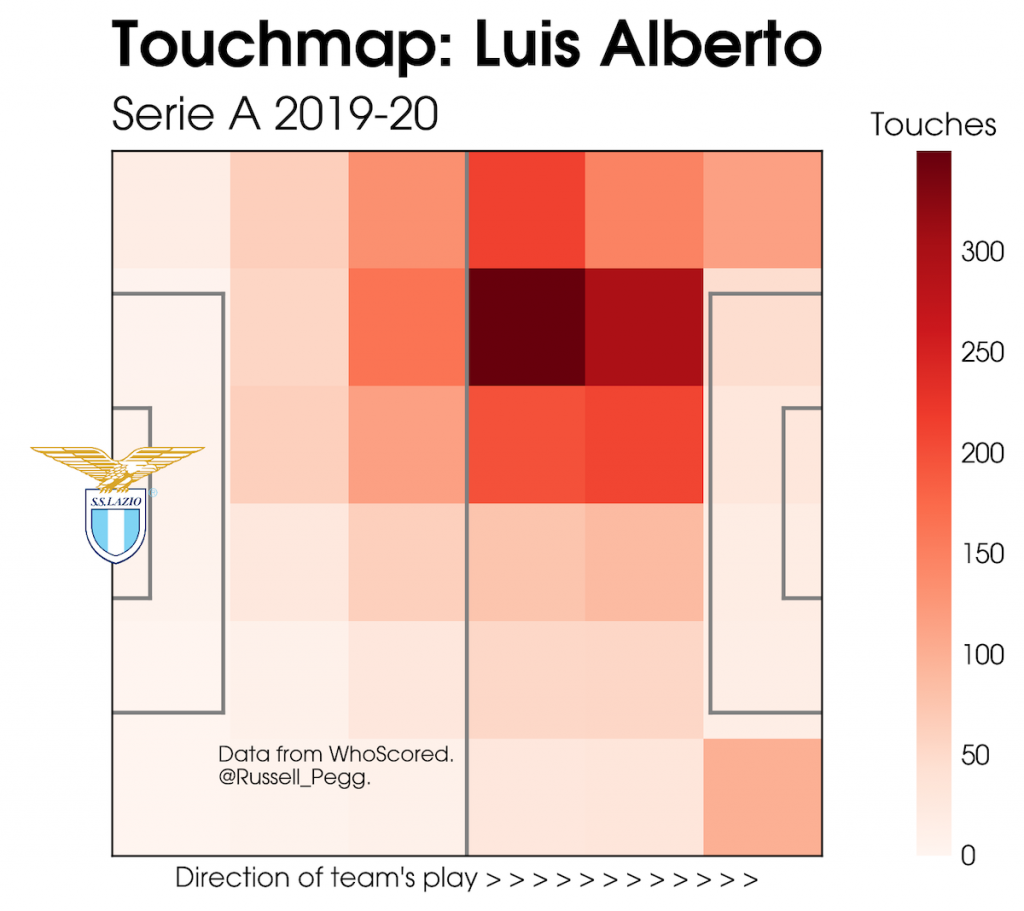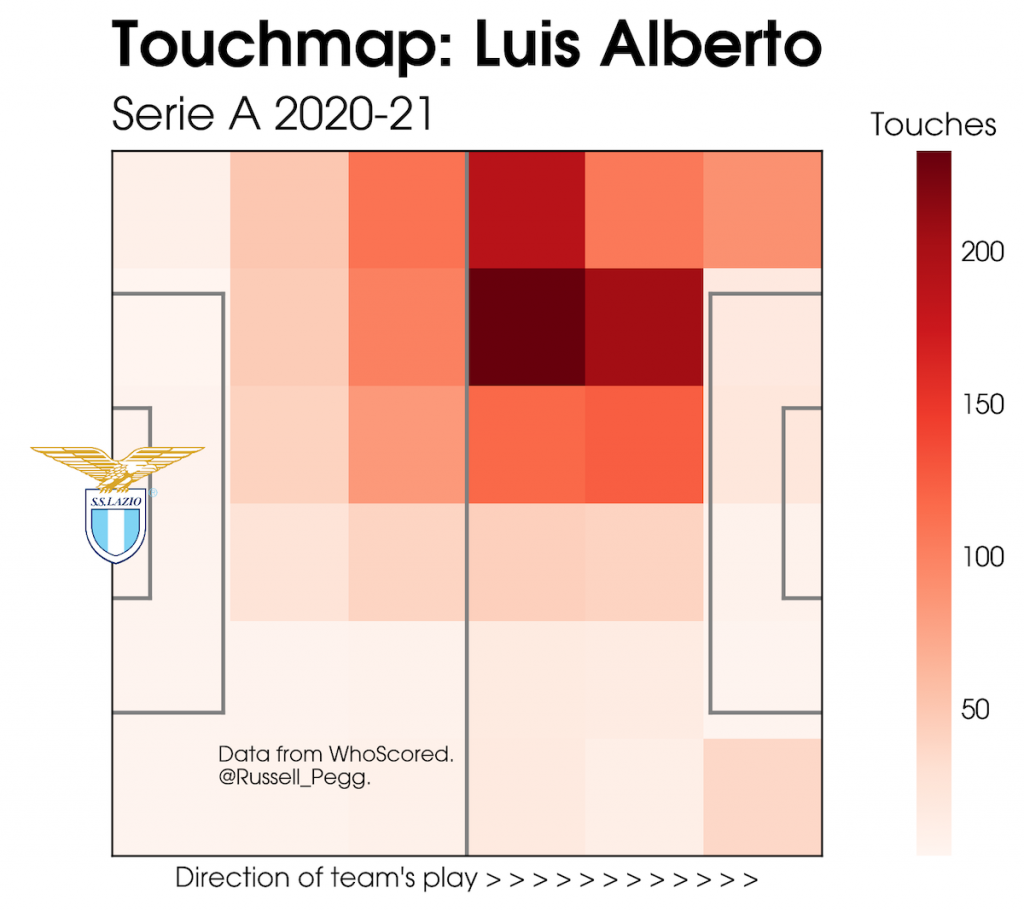 Yes, proportionally he's spending a little more time on the ball in that zone just over the halfway line on the left. But in general terms, he's been involved in much the same areas of the pitch as the last term (2019/20).
So Is He Creating Chances From Different Parts of the Pitch?
Again, broadly the answer is no.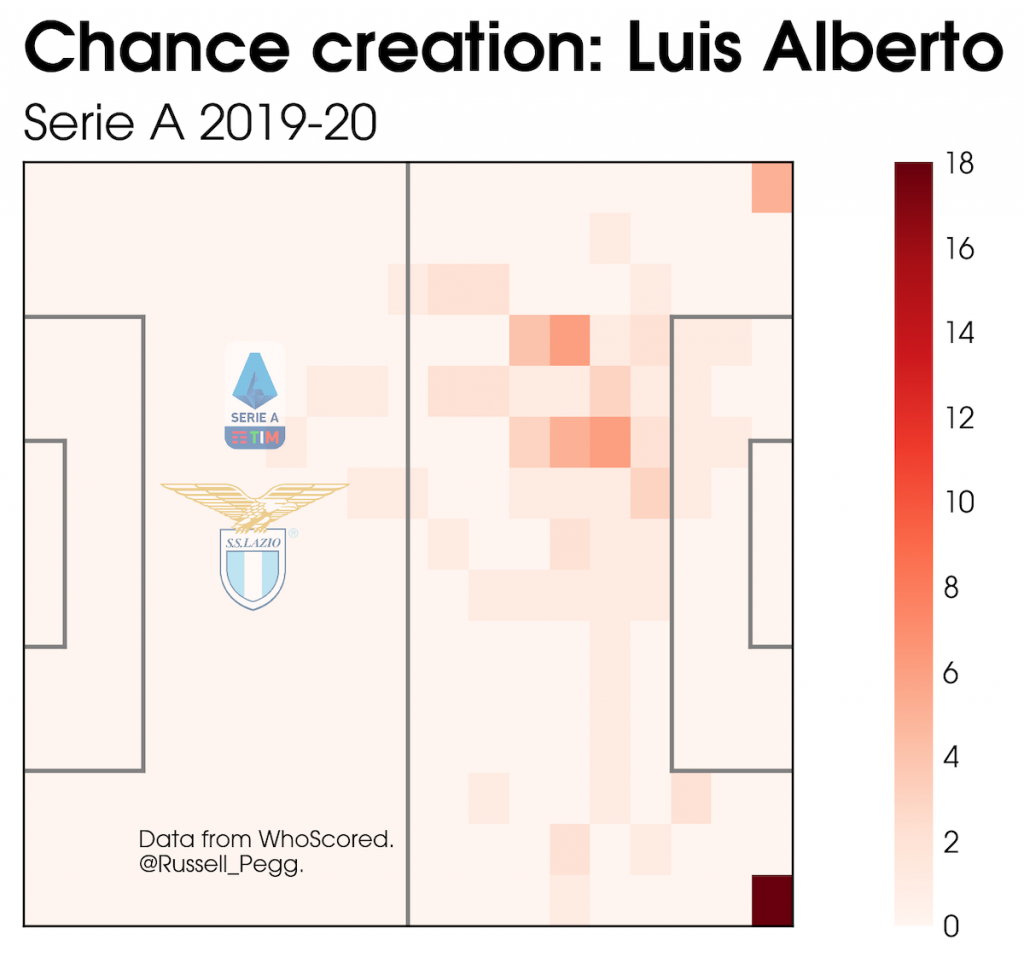 Corners were a big part of his creativity last season, and they are again this term.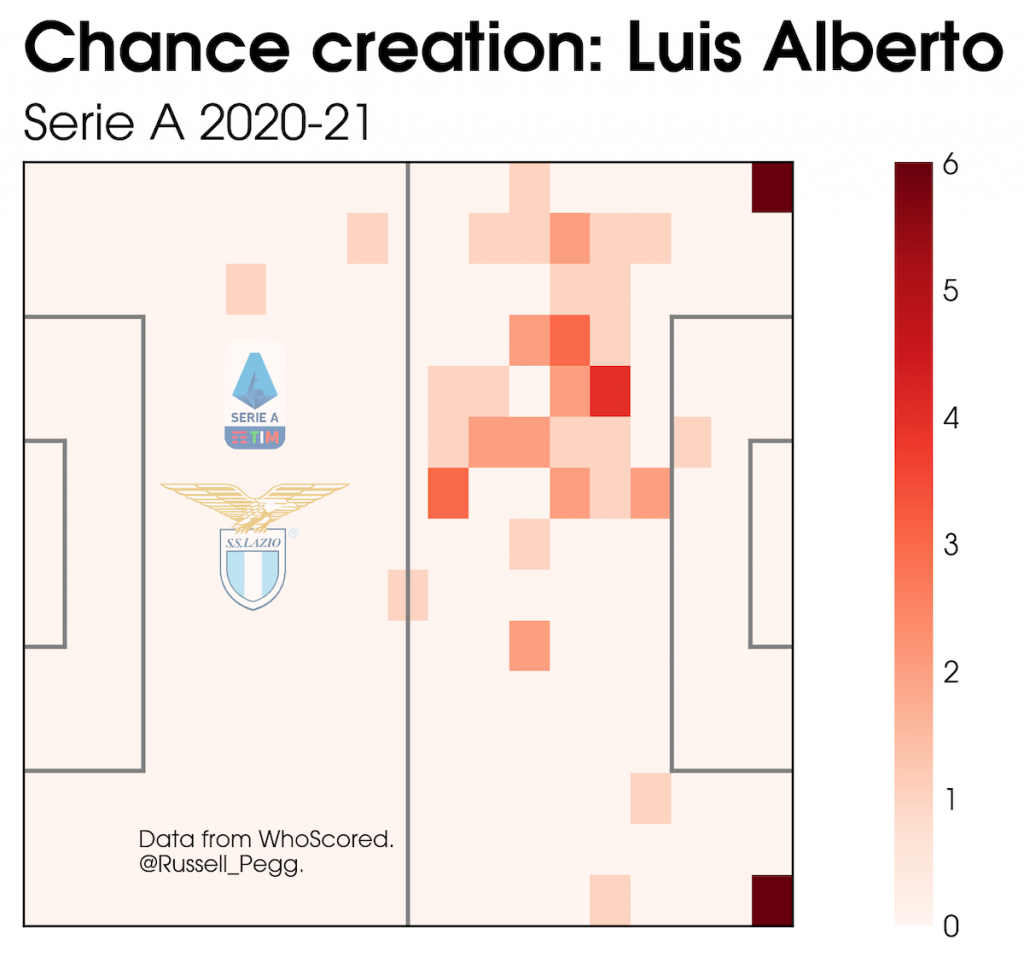 Aside from those set-pieces, the left half-space has been where he's been most dangerous both this season and last.
At the same time, though, those bars on the right of the plots indicate that Alberto's chance-creation numbers seem to be down.
To see whether that's the case, we can look at his chance creation and xA averages over the past six seasons, going back to his time on loan from Liverpool in La Liga at Malaga (2014–15) and Deportivo La Coruna (2015–16).

The seasons are of differing widths because of the variation in games played by Alberto in each campaign. For instance, he only made nine league appearances for Lazio in his debut season at the club, in part due to injuries and him not signing until after the league campaign had started.
While we can see that Alberto's chance creation has suffered a dip this season, we can also see that:
His creativity certainly hasn't fallen off a cliff, as his assist numbers suggest.
The quality of the chances he's creating was good at the start of the campaign and has also improved markedly in recent weeks.
Finally, if we look at a map of Alberto's chance-creating passes this season, it's very hard to feel that he hasn't deserved at least a little better from his colleagues.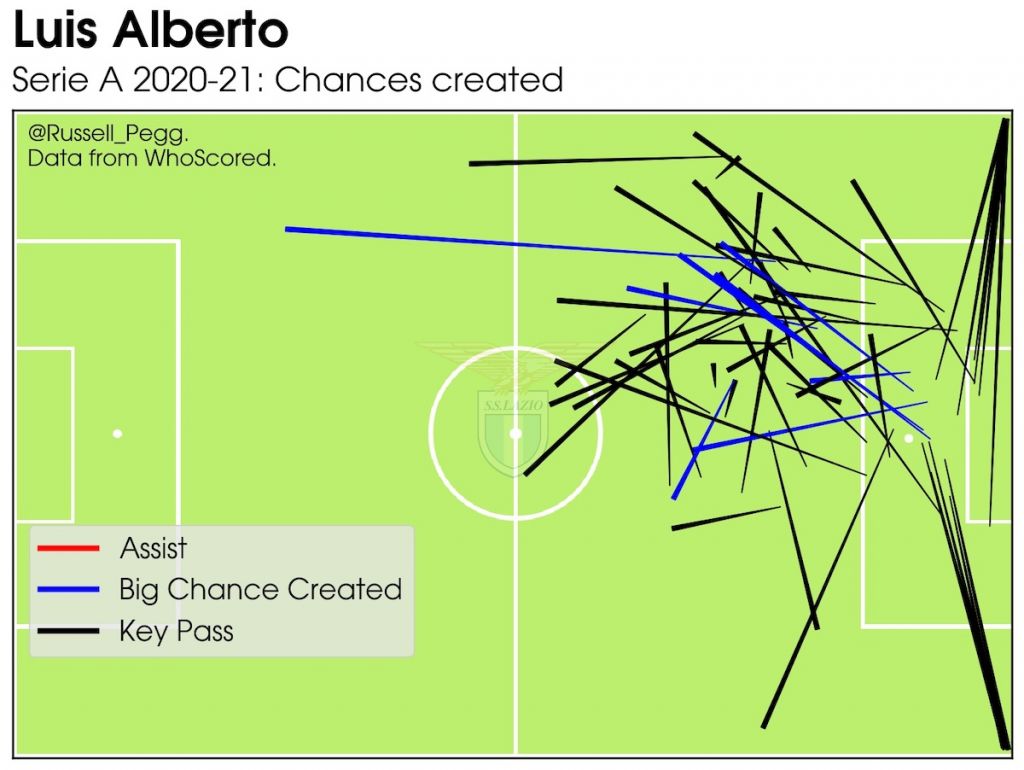 This article was written by Warren Pegg. You can follow him on Twitter @Russell_Pegg.