Many times, Lazio striker Ciro Immobile comes across as a mystery to some. There have generally been question marks about his capability to lead the line for the Italian national team and at other times, there have been occasions when things haven't worked out for him at a club level too.
As much as he has found a home at the Stadio Olimpico for many years now, the former Sevilla, Borussia Dortmund and Torino man has had seasons of peaks and troughs. The curious part about Immobile's ability is that while he's a regular scorer, there are seasons when he either scores more than 20 goals but later drops off below the 20 goal mark in the next one. More often than not, it makes fans question his reliability and it leads to a lack of mention in the list of elite strikers in Europe.
There is little doubt about his importance to Lazio though. His recent performance against Milan was a fair reflection of that, as Immobile and Joaquin Correa proved to be Lazio's main targets for the through balls from midfield. Immobile's hold-up didn't just allow Lazio a reliable outlet, it allowed Correa to move in behind regularly and for the wing-backs to make regular late runs wide. In a way, Immobile lays down a key foundation of the club's system.
---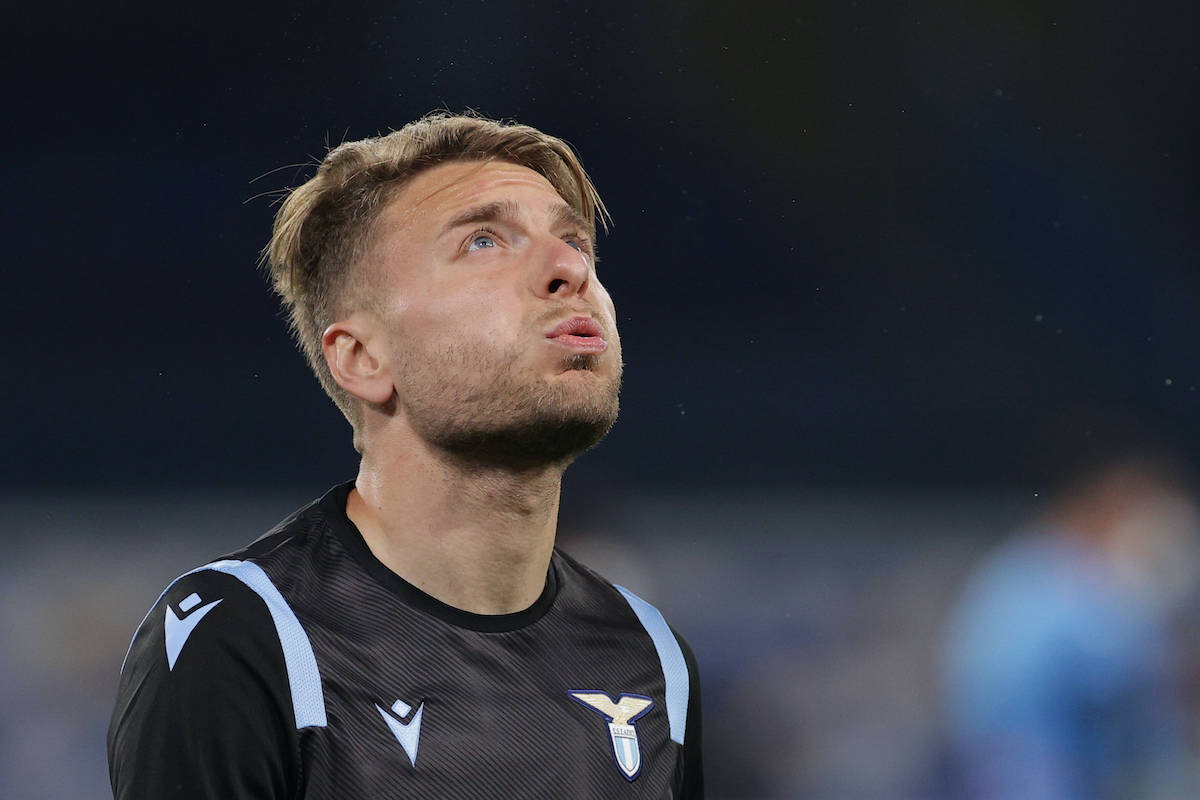 ---
Last season was brilliant for Ciruzzo, as the 31-year-old scored 36 times to mark the highest-scoring season of his career. His goals per 90 minutes tally stood at an impressive 1.02. That tally is better than his numbers from the 2017/18 campaign when he scored 29 goals at a rate of 0.97 per 90 minutes. His tally this season is similar to that of the 2016/17 season under Simone Inzaghi, as he's got 0.66 goals per 90 minutes tally in both the campaigns.
Having a goals per 90 contribution of over 0.50 regularly is certainly healthy for any striker and it certainly is pretty good for Immobile. Not just that, but his non-penalty goals per 90 minutes (nP xG) tally has also been over 0.50 throughout his time at the Biancocelesti. There is a constant narrative around Immobile that he essentially 'stat pads' through penalties, but his non-penalty goals per 90 minutes metric clearly show something else.
He did score as many as 14 penalties last season, which is a huge number. But as much as that makes his numbers look exceptional for any top five European league, Immobile scored 22 non-penalty goals from a nP xG of only 15.5. It was a non-penalty overperformance of as much as 6.5 and it shows that while Immobile made the most of the penalties he got, the 31-year-old was brilliant at scoring more than many expected.
---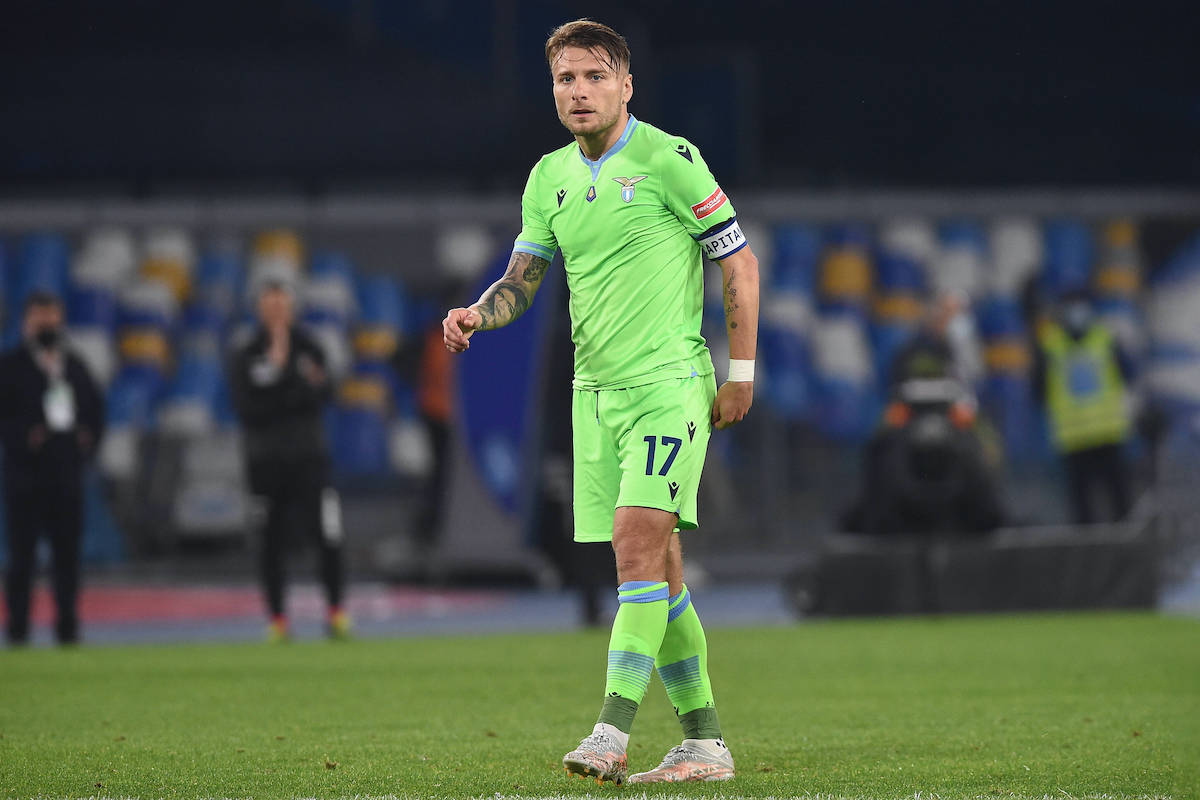 ---
A single season of overperformance does come about for many strikers but Immobile has barely been that one-season man. Andrea Belotti had one massive goalscoring season in 2017, but he's failed to reach those levels since. What makes Immobile special is that he's overperformed on xG multiple times to boost his numbers – to basically score more than he should have on a regular basis.
The 2017/18 campaign was impressive for him and even then, he scored 22 non-penalty goals while overperforming on np xG by as much as 7.9. It is generally stated that the 2018/19 season wasn't Immobile's best and he took a drop in performance and so did Lazio. But interestingly enough, his teammates created a np xG of only 12.4, but he still managed to score 11 non-penalty goals, which wasn't a bad return on what he got from those behind him.
Even this season has been about scoring penalties efficiently and overperforming on non-penalty xG regularly. It has almost become a pattern for him to do that, even though the Italian's goalscoring numbers don't always reach the absolutely elite numbers on a consistent basis.
---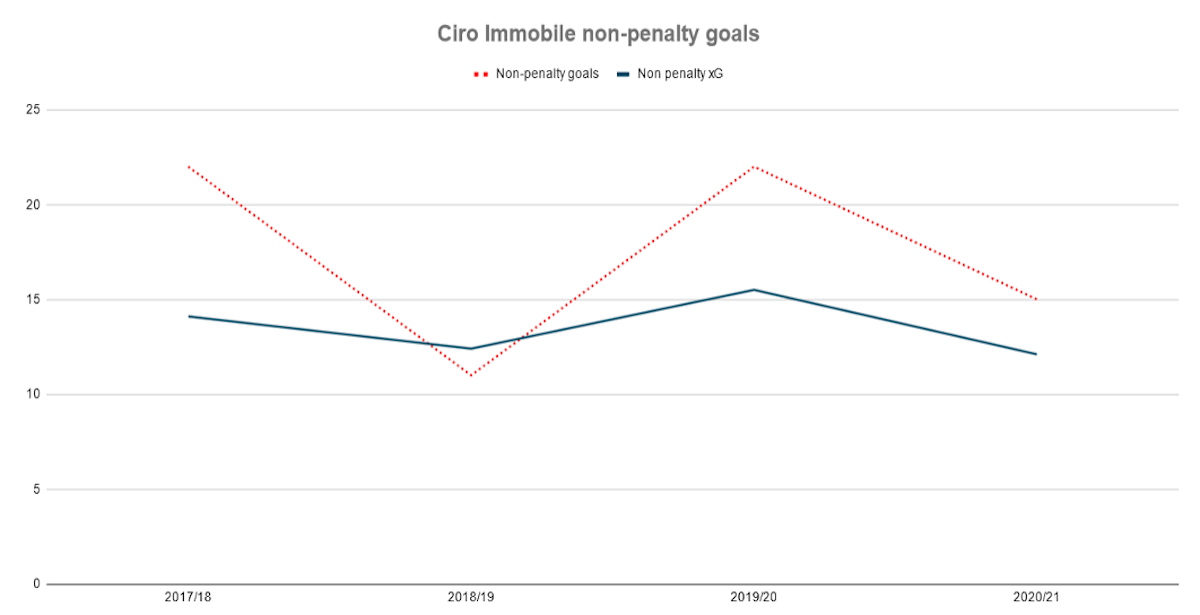 ---
The chart is a fair reflection of things, as it showcases Immobile as a top-class finisher who constantly overperforms on xG. There has been only one season when he didn't overperform on xG and that was the 2018/19 season.
To go deeper into that, the 2018/19 campaign wasn't a great one for Luis Alberto or Sergey Milinkovic-Savic. The Serbian came back after a disappointing World Cup and perhaps disturbed by the lofty transfer speculation around him. Luis Alberto's numbers took a drop too. From contributing to 25 Serie A goals in the 2017/18, his contributions fell to nine in the 2018/19 campaign.
His shot map from that season (via Understat) shows that he rarely got high-value shots away on goal, with only six of them coming from the six-yard box. That number has been generally high for the Italian but perhaps because of the poor form sustained by his midfield teammates, he barely got enough to feed off in critical areas of the pitch.
---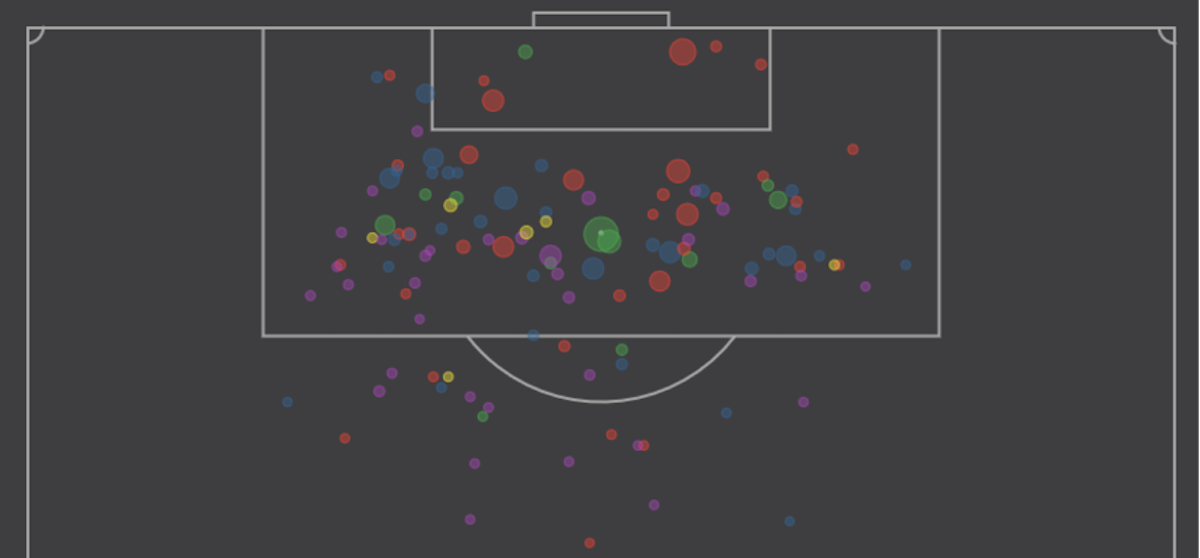 ---
Compare that to the 2019/20 campaign, when Immobile racked up his highest goalscoring tally at Lazio and in Serie A. It was perhaps Luis Alberto's best season in a Biancocelesti shirt, as the Spaniard picked up as many as 15 assists and this tally was the second-best in the league. He finished only behind Papu Gomez in that regard.
Milinkovic-Savic also got nine assists, scoring eight goals and he racked up his highest goal contribution tally at the Stadio Olimpico. All of that supplemented Immobile in getting the goals that he did.
While this season Alberto's contributions have taken a dip and Lazio have failed to add squad depth, Immobile's non-penalty xG has suffered the most since he began at Lazio. It stands at the lowest in his stint, but despite a low input, Immobile has continued to overperform quite a bit in that aspect, which again brings to the fore his ability as a poacher in the final third.
All of this points to the fact that perhaps, Immobile is very reliant on service and he's a proper final third scorer. When those behind him don't fire, his numbers drop and that's only for namesake, as he consistently manages to overperform on expectations.
---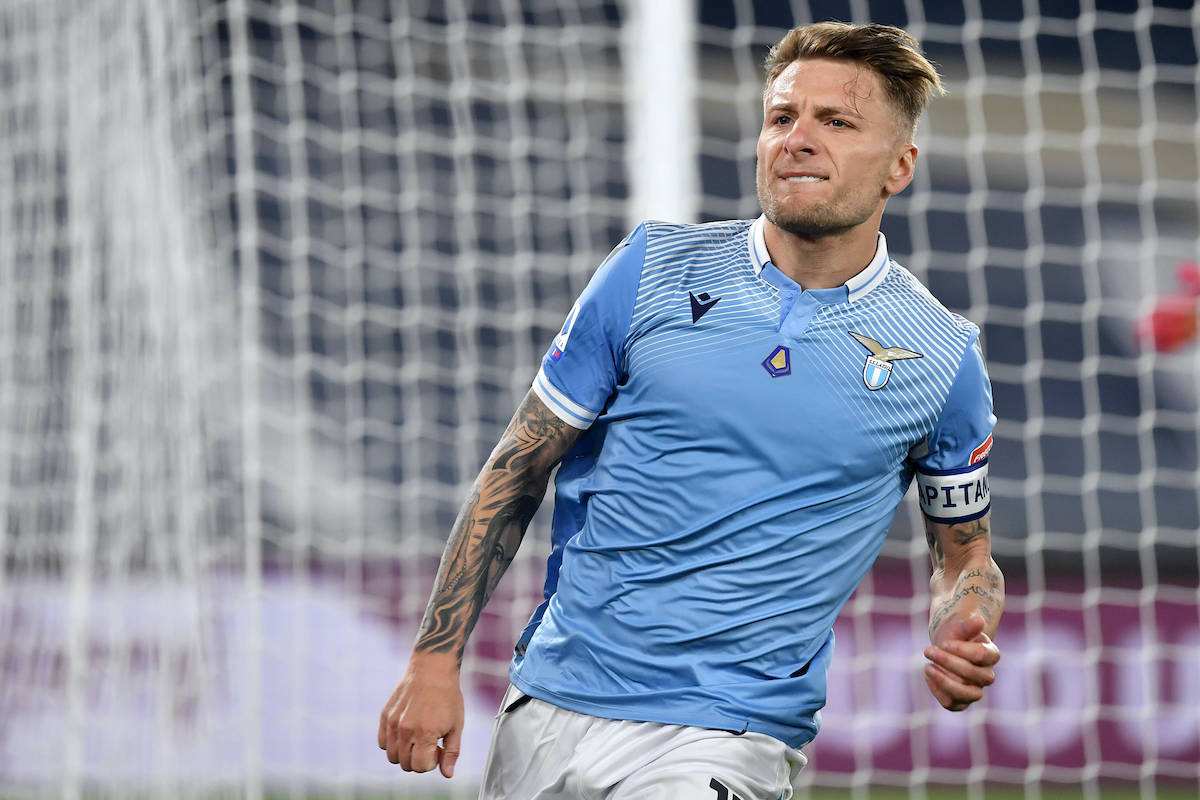 ---
Lazio do not play in a system where they dominate possession and allow him too many touches in the box. The likes of Robert Lewandowski and Erling Haaland (Harry Kane is an exception because of his playing style of dropping deeper) enjoy more touches in the final third and often take more shots on goal. Immobile doesn't have that privilege because of the system at Lazio, which relies more on quick attacking transitions through midfield.
While it can well be said that Immobile can score more consistently at another club, the fact that he regularly scores more than expected should be valued by Laziali and all of calcio in general.