It has been a hectic transfer market for Lazio as they have been linked to numerous attackers to bolster their squad.
These rumours have stemmed from the arrival of new manager Maurizio Sarri, as the Biancocelesti have shifted from a 3-5-2 (that was used religiously under previous manager Simone Inzaghi) to a 4-3-3 which requires wingers (that Lazio do not have many of).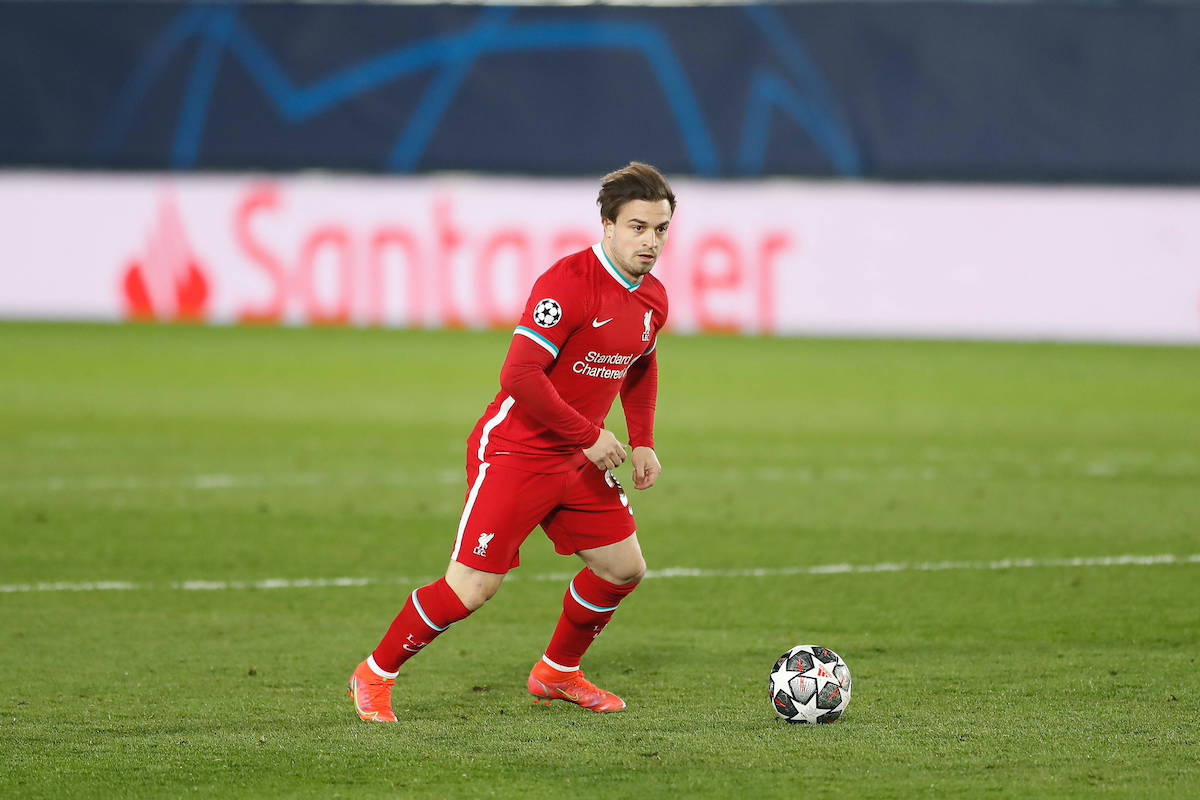 One player in particular who has been heavily linked to Lazio is Xherdan Shaqiri. While Ligue 1 side Lyon are negotiating with Liverpool to purchase the winger, there still remains the possibility of the Biancocelesti making a late pitch for the player; the transfer market has many uncertainties and so a late offer from the Serie A side should not be ruled out.
To get a breakdown on the Liverpool winger and Switzerland international, The Laziali's Jerry Mancini spoke to Richie Slack, who is the writer and podcast host of LFC Transfer Room and Sports Illustrated Now.
---
How would you describe Shaqiri's performances in the past three seasons with Liverpool?
In the past two seasons, Xherdan Shaqiri has only played 21 times in the Premier League for Liverpool due to a really unfortunate spell of injuries. To put that into context, in his first season at Anfield he featured 24 times and scored six goals, two of which put the nail in the coffin for Jose Mourinho as Liverpool beat their rivals Manchester United 3-1.

Shaqiri has also had to play in the central midfield role, almost as a number 8 for Liverpool, so he has not been in his natural position which doesn't help his plight for first-team football, that and the fact he is behind Mo Salah in the pecking order, who is seemingly never injured!

The Swiss sensation in his first season though was a revelation. His intelligence, guile and creativity saw the Swiss superstar play 30 times in his debut season and was an integral part of Klopp's squad.

Xherdan Shaqiri will always be remembered as the man who put Barcelona to the sword and provided those two assists for Liverpool in their famous 4-0 win in the semi-final second leg, in a year that Liverpool would go on to lift the European Cup and the second time Xherdan Shaqiri has done so in his career. Liverpool would not have won the Champions League in 2019 if it wasn't for Xherdan Shaqiri.
---
Why are Liverpool eager to sell Shaqiri and why does he want to leave?
Liverpool want to get players off their books in order to bring new ones in.

In England you can only register 17 non-homegrown players and that limit has been reached, so getting players who were born outside of England unregistered is key if The Reds are going to transfer in talent from overseas. That and the fact the Liverpool owners tend to use a 'sell to buy' approach when it comes to transfers. Liverpool have to sell players in order to raise funds for new ones. Therefore, the sale of Shaiqiri will help Liverpool in raising funds.

The emergence of Harvey Elliot has also been a key reason why Shaqiri is deemed as surplus to requirements. The youngster (Elliot) had a great season in the Championship last season and is destined for minutes at Anfield this year and most likely at Xherdan Shaqiri's expense, given that Elliot naturally plays on the right-hand side of attack but also in the middle of the central midfield role, the two positions Shaqiri has played most recently for Liverpool. There are high expectations for Harvey Elliot, so giving him the most amount of game time is going to be crucial for his development.
---
What does Liverpool want for the forward?
The rumoured price tag is around the €8 million mark.

Liverpool's Director of Football, Michael Edwards, is somewhat classed a cult hero from Liverpool fans in his negotiations. This is the man who sold Dominic Solanke, Jordan Ibe and Rhian Brewster for £50m+, so he is a man who gets the best price for The Reds to reimburse that money.

Personally, though I think Xherdan Shaqiri is worth the money if he can keep fit, he scores goals wherever he goes (74 goals at club level) and would bring dynamism and winning experience to Lazio.
---
What type of player is Shaqiri? How was he used at Liverpool, and what are his strengths and weaknesses?
Shaqiri is an enigmatic and exciting player when 100%. He is direct and likes to run at players. His confidence is second-to-none when the team is built around him and he can put a run of games together.

Most recently in the European Championships Xherdan Shaqiri was deployed as a 10 for Switzerland, playing just behind the striker Haris Seferovic and he thrived. Shaqiri seemed to love to play in an almost free role where he can drift from flank to flank but also penetrate the middle of the park.

He is a long-shot specialist and free-kick maestro. He is deft at crossing a ball too, as his 72 assists in his time at Inter Milan, Liverpool, Basel, Bayern and Stoke highlight. Due to Xherdan Shaqiri's high number of assists, he actually finds himself in the 99th percentile in terms of expected assists, averaging 0.5 assists per 90 minutes he plays.

Although he is extremely strong physically – and perhaps has the best calves a footballer has ever possessed – a weakness though has been his fitness. Whether through injury or not being fully trusted to play the full 90 minutes, Shaqiri has only played 741 minutes of Premier League football over the past two seasons at Liverpool. Compare that to the 3,000+ minutes he played in 2017/18 at Stoke and you'll understand what I mean.
---
Which formations has Shaqiri played in?
For Liverpool, Jurgen Klopp usually deploys a 4-3-3, with the attacking wingers acting as inside forwards, getting inside the full-back and centre-backs as often as possible with Roberto Firmino creating space as the Deep Lying Forward/False 9. Shaqiri has played as a right-winger 159 times in his career and has good success in doing so: he has registered 26 goals from that area and 28 assists.

Shaqiri can also play in the attacking midfield role, playing there 55 times, scoring 9 goals and registering 15 assists. His versatility is perhaps what makes him so valuable in terms of teams who like to play different formations.

As with most wingers, he has also played on the opposite flank. Shaqiri has featured 39 times on the left-hand side of the attack, scoring 10 goals and creating 11 assists. Wherever he plays, he has a good record in goalscoring and totting up assists.

For Switzerland recently he has played in a 4-2-3-1/4-3-3 with Shaqiri being positioned as the attacking midfielder. He is most deadly when he has time to look where the goal is to line up a shot and bend the ball majestically into a rippling net, the man has a rocket of a left foot but is equally as deadly on the right.
---
Lastly, do you think Shaqiri would thrive under Maurizio Sarri?
I think the Sarri-ball style of football does suit Shaqiri because he will not be having to chase down opponents for possession.

Shaqiri is creative and clever when the ball is at his feet and can find pockets of space and an intricate pass to a teammate in tight positions. He can play a killer ball from both feet and is an expert at whipping in crosses. If a move to Lazio is on the cards, Ciro immobile will love playing with Shaqiri.

Out of possession, Shaqiri has a good record in interceptions and blocks as well. On average he makes 2 blocks a game, something Sarri will find extremely useful in his demand of winning back possession. Sarri will request the most from his players and make his players feel special, that is what Shaqiri needs, to be the man at the centre of everything in order to drive, create and deliver.

I personally wish Xherdan Shaqiri all the best for his future. Shaqiri is one of the most decorated footballers of all time too, winning the Champions League twice, Premier League once, Bundesliga three times, Swiss league three times and the FIFA Club World Cup twice as well amongst six other domestic cup competitions.

Shaqiri has found success and silverware everywhere he goes (except for at Stoke) and if nothing else, he is a good luck charm worthy of having in your squad. I believe you will see good things from Shaq, I wish him nothing but the best.