Inter striker Joaquin Correa apologised for the situation with Lazio defender Luiz Felipe on Sunday.
As seen in a story on Correa's Instagram page yesterday, the 27-year-old Argentinian forward was unhappy with the episode that took place after the final whistle, when the Lazio defender hugged him from behind and was subsequently sent off.
Luiz Felipe Apologises for Red Card After Lazio's Win vs Inter, "It Was an Innocent Act"
Below is Correa's comments on the incident:
I'm sorry for what happened yesterday, from all points of view. First of all for the football fans of whom we should always be a positive example. 

Surely my friend Luis made a mistake, the gesture and the timing, and then in the heat of the moment, that was my reaction. 

I wish it had never happened. But now let's turn the page and let's all move on. 

Focus on the next match with Inter and to the next challenges trying to make the fans cheer for the beautiful things in football.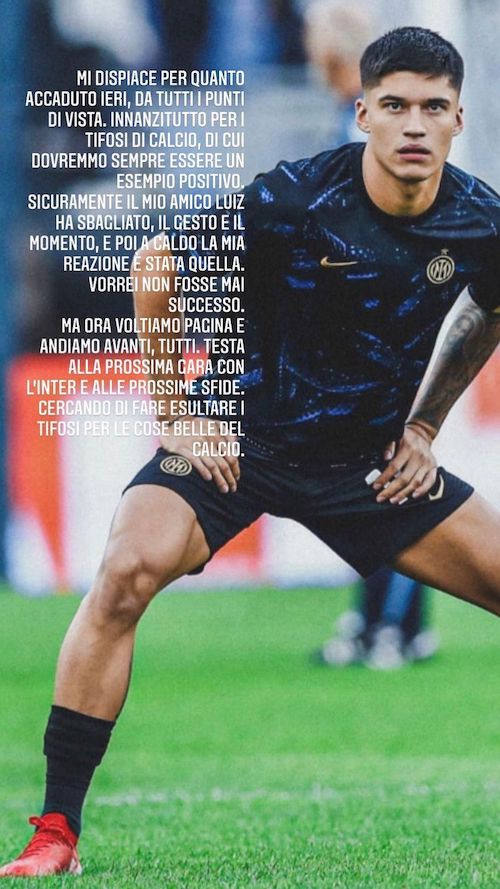 The 24-year-old Luiz Felipe was given the first red card of his career following the incident with Correa, which brought the Brazilian defender to tears on the pitch, clearly hurt by the misinterpreted gesture.
Italian Press Satisfied With Referee Irrati's Key Decisions in Lazio's Win vs Inter
The incident has also put coach Maurizio Sarri in a difficult position, as he is now without either of his two first choice centre backs for Lazio's next league game against Hellas Verona this weekend.
It is likely now that the 62-year-old Italian coach will start Patric and Stefan Radu in the match against the Gialloblu.