Lazio midfielder Luis Alberto may again find himself in trouble after liking a tweet mocking coach Maurizio Sarri's comments.
As highlighted by Italian media outlet LazioNews24 last night, the 28-year-old Spaniard liked a tweet from a Serie A fan on Twitter who was ridiculing Sarri's statement that he is not able to play Luis Alberto and Sergej Milinkovic-Savic at the same time currently.
Below is a photo of Luis Alberto's liked tweet, which says: "Wow you think that asshole Simone Inzaghi who made them play and win for 5 years… strong players must always play if not you are not a great coach dear Sarri…"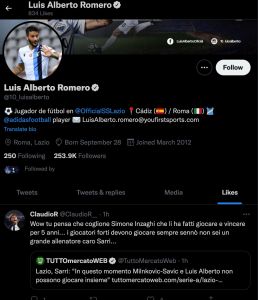 Luis Alberto's act may cause him to be in hot water yet again with Lazio, something that is seemingly becoming a yearly occurrence now. 
Around 12 months ago, the 28-year-old Spaniard publicly complained about the Lazio Boeing 737 and was unhappy with late salary payments.
Lazio Defender Luiz Felipe Handed One-Match Suspension & €5,000 Fine
The aftermath of this incident caused an irreparable rift between president Claudio Lotito, who is tired of Luis Alberto's poor behaviour, and team manager Angelo Peruzzi, who left the club at the end of last season. 
There is a chance that Luis Alberto could be fined by the club or left benched for the next game against Hellas Verona.