Lazio star Ciro Immobile has only scored one goal from open play this season, looking a shadow of the talismanic striker that's scored 198 goals in 305 games for the club.
The 33-year-old Italian forward has seen 516 minutes of Serie A action in the first six weeks of the new season, managing just two goals in that time – a penalty against Monza and a decent strike in the season opener against Lecce.
Previously Lazio's focal point in attack, Immobile is now one of many Biancocelesti players to hit a long patch of poor form, leaving Maurizio Sarri's side in dire straits after seven Serie A matches.
Looking at the underlying numbers, it's clear that the Lazio captain is not performing up to standard, even if his low goal haul has made this plainly apparent. Despite this, it is still early in the season, so you can visit bonuscodebet.jp to make your predictions about the total goals he will score.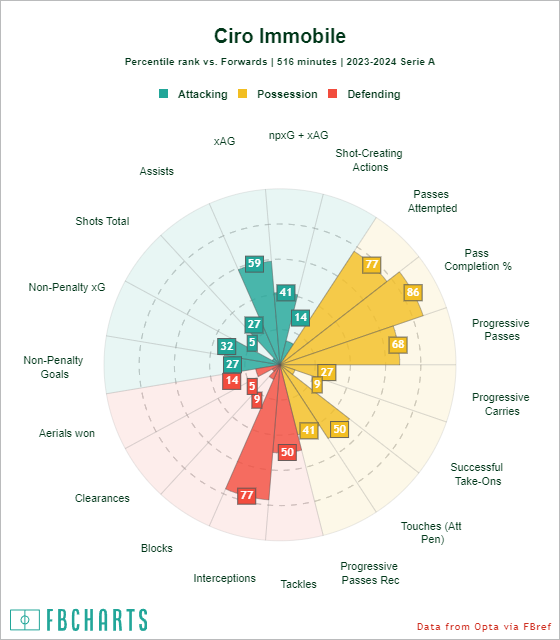 The graph above shows Immobile's percentile ranks compared to other forwards in Europe's top five leagues. What immediately stands out is the lack of many positive numbers in the attacking third, such as his shockingly low total shots – managing just 1.40 per 90 minutes on average this term.
Sadly for the Lazio captain, this is just one of many disappointing stats. His 1.05 shot-creating actions per 90 are too low for a player of his importance and experience, his 0.17 successful take-ons show he struggles far too often to get past his man and his non-penalty xG of 0.23 per 90 highlights how he's failing to pose much threat to his opponents.
Once upon a time, however, Immobile was one of the most dangerous and prolific strikers in Serie A. Let's compare the graph above to one showcasing his work in the 2021-22 season, Sarri's first in charge in Rome, where the striker scored 27 goals in 31 league games.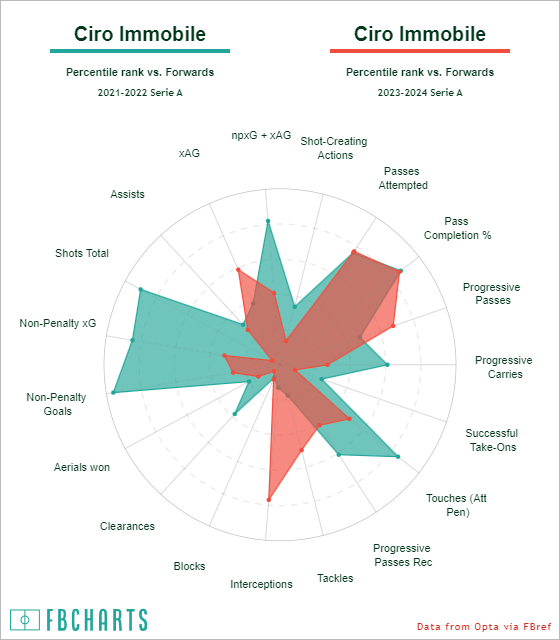 Blue in the graph is Immobile's percentile ranks for the 2021-22 season, with this term's work overlayed in red. The difference is frankly stark. In that campaign, the Lazio captain averaged 3.62 shots per 90 minutes, a non-penalty xG of 0.47 per 90 and 2.39 shot-creating actions per 90.
The Italian striker also took far more touches in the opposition penalty area – 6.31 per 90 then compared to 5.58 per 90 now – and was a more involved figure in the final third.
Whilst Immobile did suffer a number of frustrating injuries and physical issues last season, is that really enough to explain such a dramatic regression?
Regardless, Sarri needs to find the solution soon, with new signing Valentin Castellanos eagerly waiting on the bench for his chance to shine.