Looking to attend the Stadio Olimpico to support S.S. Lazio? The Laziali understands that there are several factors that one needs to consider.
Whether it be where to purchase tickets, where to sit at the stadium, how to get to the stadium, or what songs to learn, below is an extensive guide that will allow each supporter to have a safe, fun, relaxing, and stress-free experience.
---
Purchasing Tickets…
Purchase tickets (only) at one of the official sale points listed below:
List-Ticket Stores
LIS-Authorized Betting Shops
Note: Do not buy tickets on viagogo or other unauthorized online shops, nor from strangers! When purchasing tickets, you need to provide a piece of identification (ID) and take that same ID to the match.
---
Deciding Where to Sit at the Stadio Olimpico…
Curva Nord: To experience the best atmosphere, one must buy tickets in the Curva Nord. On the North-Tribune you will not be able to sit and watch the game, as everyone will stand on their seats and wave flags. If you want to be in the place that you booked, you must be there in advance, as some of the Tifosi will not be in their booked places. A downside to this area is the sight to the pitch is not the best, because of the running track at the Stadio Olimpico. Note: We would not recommend taking children or elders to the Curva Nord.
Tribuna Tevere, Monte Mario: For the best view of the match, The Laziali recommends purchasing tickets in the Tribuna Tevere (less expensive) or Monte Mario (more expensive) sections. Note: Try to purchase a seat near the halfway-line to obtain a proper view of the entire stadium.
Distinti Nord Ovest, Distinti Nord Est: The section to the left and right of the Curva Nord. It is not as crazy as the aforementioned section but still has a great atmosphere. Note: Try to purchase a ticket in this section when you are travelling with others who are not a dedicated fan of Lazio and/or not as knowledgeable or passionate about the club.
---
How to Get to the Stadio Olimpico…
Listed in the picture below are all of the possible methods of transportation (car, bus, tram, or subway) to get to and from the Stadio Olimpico.
Below are the directions from the Piazza Mancini Bus Terminal to the Stadio Olimpico:
Below are the directions from Piazzale Ponte Milvio to the Stadio Olimpico:
Note: If you are wearing S.S. Lazio colours (white and light blue), The Laziali recommends that you cover these colours until you reach Ponte Milvio; individuals supporting the Biancocelesti should head towards the area to get out of Romanisti territory.
---
Meeting Up with Fellow Laziali Before the Match…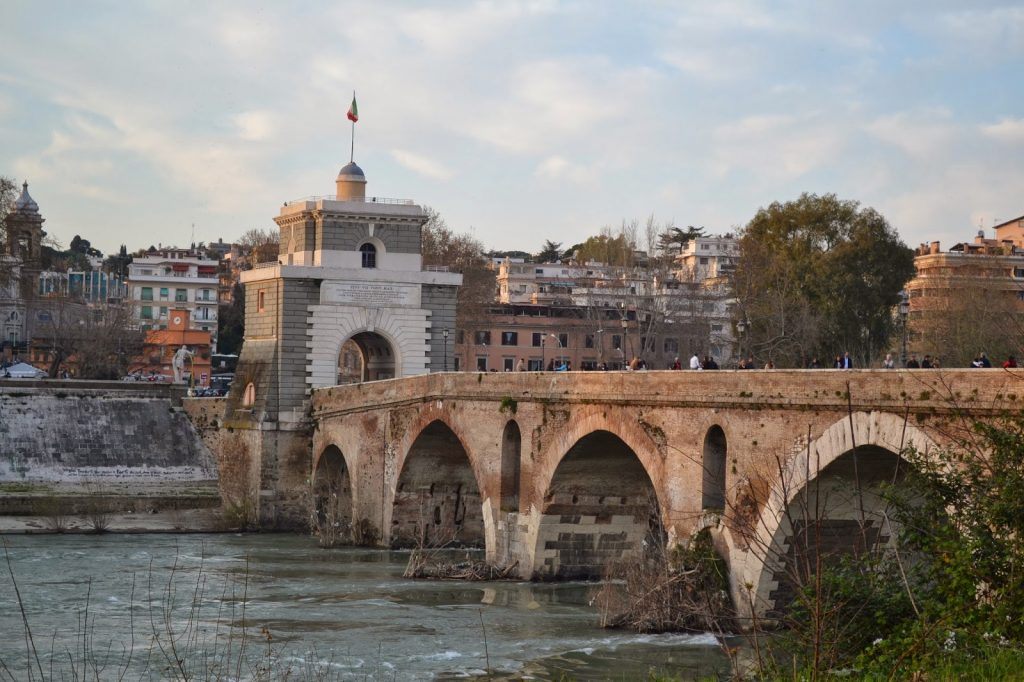 A bridge over the Tiber in northern Rome. When the Derby della Capitale takes place (between Lazio and Roma), Laziali tend to gather here.
Piazza della Libertà (Location)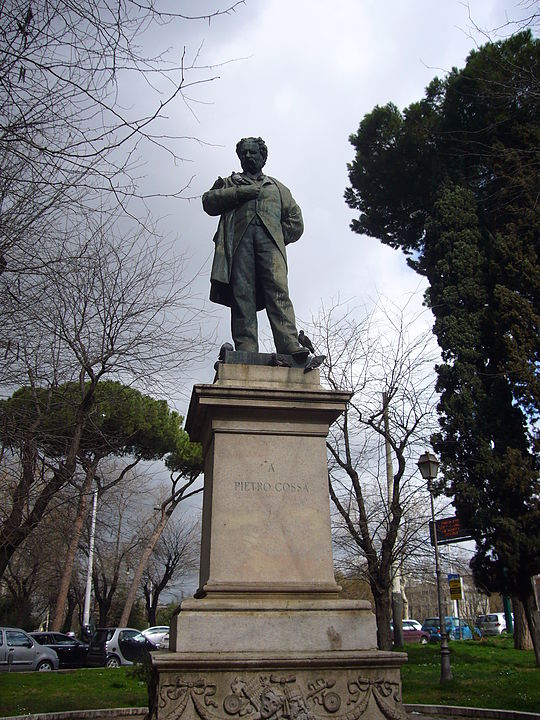 A square in the rione Prati in Rome. In this square, on January 9, 1900, a group of nine Roman boys made official Società Podistica Lazio (now known as Polisportiva Società Sportiva Lazio. Laziali tend to gather here before Lazio plays.
Al Grottino del Laziale (Restaurant)
Owned by a Laziale, covered in Biancocelesti swag, and is 10-15 minutes away from the Stadio Olimpico by car (40-50 minutes on foot).
L'Osteria di Birra del Borgo Roma (Restaurant)
Right near a bus number 32 stop and is 10-15 minutes away from the Stadio Olimpico by car (40-50 minutes on foot).
There used to be several other Lazio pubs in this very traditional Lazio district, but Excalibur outlasted all of them. Open for lunch at 12:30 pm and closes at 2 in the morning from Monday to Saturday, this family-run pub offers a variety of beer selections and food. You will be greeted with 'Ciao! Forza Lazio!' by Giada, the sister of the pub owner. Scarves of Lazio and rugby teams hanging proudly on the wall, it is a pub you shouldn't miss if you are in the Eternal city. Occasionally, you might also bump into some West Ham supporters enjoying a pint or two. An especially important landmark for Laziali stands just outside the pub entrance – the mural of Gabriele Sandri. Place some flowers to mark your respect.
A 

cozy neighbourhood pub located outside Rome's historical centre in Monte Verde, where the oldest Ultra group of Lazio, CML'74 is based. Massimiliano, a massive Oasis and Lazio fan, is the owner of the pub. He is a very kind and fantastic lad who speaks fluent English and will make you feel at ease regardless of who you are. It can feel awkward for a foreigner stepping into a pub filled with locals but not here in Mad For Beer. As long as you are a Laziale, they welcome you with open arms. They seem have so many rare beers that most have never seen or heard of; Massimiliano is kind enough to run through every single draft beer. Try the delicious chicken nuggets or if you are in the mood for tea, they serve great Chamomile as well. If you are looking for a place to chill and to complete your Lazio experience, drop by Mad For Beer.
Neither a Lazio nor Roma pub but situating in Piazzale Ponte Milvio itself, come match day, this place is super packed with Laziali. Drop by four or five hours before kick-off to have some cold beer and watch the crowd clad in Biancoceleste colours pour in. The beautiful scenes of Lazio fans singing, lighting up flares, hurling smoke bombs and waving huge flags is simply a pleasure. Don't be surprised if the waitresses switch your glasses to plastic cups, it is a Roman regulation that forbids pubs in Ponte Milvio to serve beer glasses 1-2 hours before kick-off.
Songs & Chants to Learn
Click here for the complete list of Lazio-focused songs and chants (compiled by LazioLand).
---
A Brief Message From The Laziali
We hope that this guide has assisted you; make sure to post pictures of your visit to the Stadio Olimpico by using the hashtag #TheLaziali on Facebook, Instagram or Twitter! A big thank you to Fabi, Alasdair, Marc, Aleksandar, Jim, Scott, and Nigel for your insight.